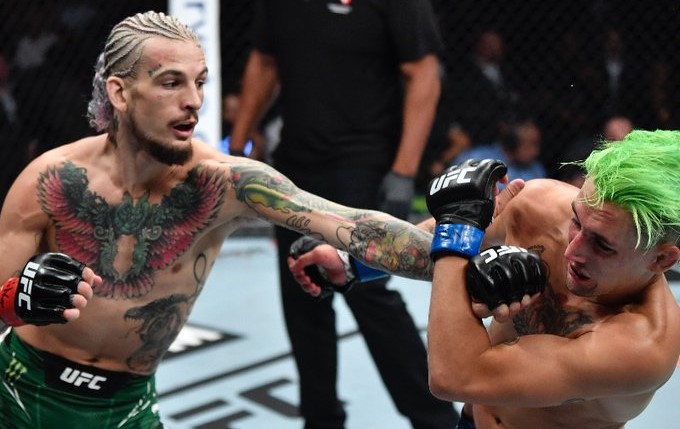 The bantamweight contest between Kris Moutinho (9-4 MMA, 0-0 UFC) and Sean O'Malley (13-1 MMA, 5-1 UFC) marked the debut of Moutinho in the UFC, he accepted this fight on short notice and was looking to make the most out of this opportunity.
Round 1: Moutinho quickly grabbed the center of the octagon as soon as the fight started O'Malley kept him at a distance with a front kick to the body and brutal leg kicks, Moutinho was moving in a straight line and O'Malley kept landing flush punches to his head. Everything O'Malley threw was landing, and he put up some significance on Moutinho, just as the round was ending Sean dropped him and Moutinho was saved by the clock. Great start to the main card of UFC 264
Round 2: The narrative of the sound round was pretty much the same, Moutinho kept the pressure high he kept on moving forward but he was not able to put up any damage on O'Malley. Sean was timing his punches, he waited for the shots and landed them perfectly, constant pressure from Moutinho started to show some effects on O'Malley.
Kris Moutinho was still fighting but the damage from Sean O'Malley forced Herb Dean to stop the fight
Round 3: Moutinho showed incredible toughness, he absorbed all the shots from O'Malley but kept on moving forward. O'Malley was way too comfortable in the octagon, he was landing almost all the punches he was throwing but Moutinho just kept on moving forward, with 30 seconds remaining in the fight O'Malley just landed a barrage of strikes on Moutinho, he was still fighting but the referee had seen enough, and he stopped the fight.
Also read: UFC 264: Early Prelims and Preliminary card results