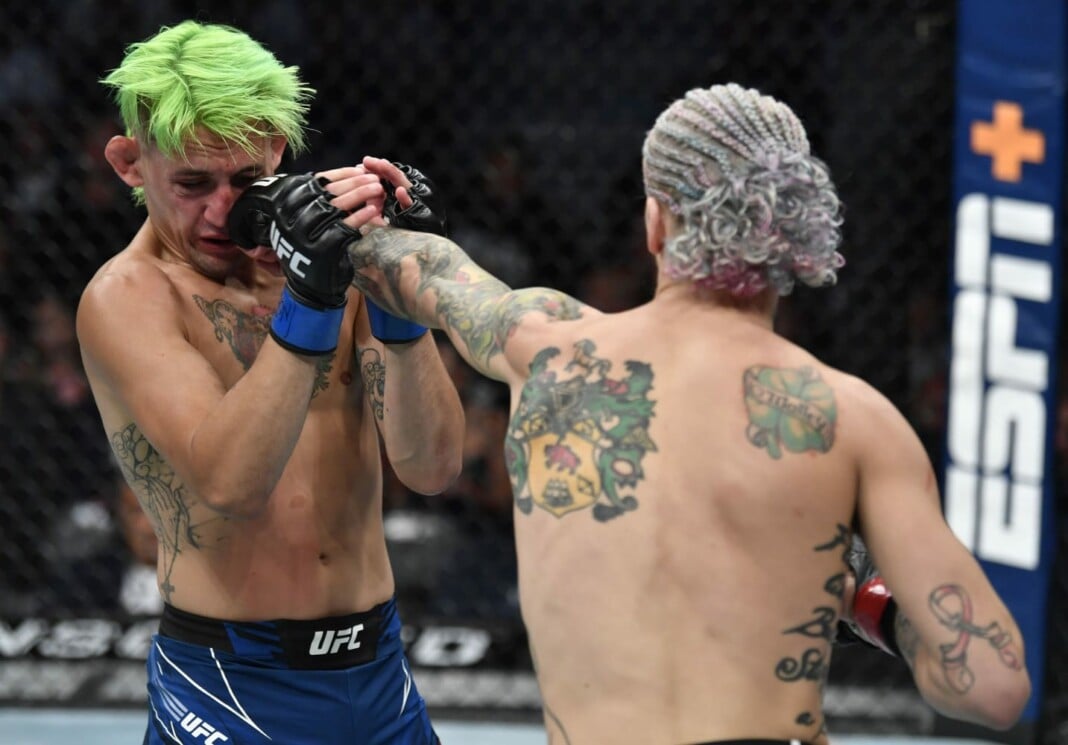 Sean O'Malley vs Kris Moutinho kicked off the main card of UFC 264. Moutinho was the replacement fighter after Louis Smolka pulled out close to the fight week after suffering from an undisclosed injury. It is worth noting that Moutinho was making his UFC debut.
Despite being the massive underdog, Moutinho showed heart, grit and courage throughout the fight. O'Malley landed a ton of strikes when compared to the debutant Moutinho. The fight went well into the fifth round, as Moutinho kept eating strikes from O'Malley, but stood his feet.
However, with just 30 seconds left for the fight, referee Herb Dean stopped the fight, in the most unexpected of times and awarded the fight to Sean O'Malley (via TKO). A lot of fighters were upset with Dean's unnecessary stoppage. Here is how Twitterati reacted to UFC 264: O'Malley vs Kris Moutinho and Herb Dean's stoppage.
'What TF kinda stoppage was that'
Aljamain Sterling was irate with Herb Dean's stoppage.
Michael Chiesa felt that the fight should have continued.
Light-heavyweight champion Jan Blachowicz acknowledged Moutinho's heart and courage.
Newly-released women's fighter Megan Anderson made her opinion known.
Justin Gaethje took a cheeky dig at Herb Dean.
Ariel Helwani didn't hold back.
What are your thoughts on Herb Dean's stoppage? And how good was Moutinho for a debutant?
Also Read: Instagram Rich List 2021: Conor McGregor and Floyd Mayweather feature in the top 100
Also Read: Sean O'Malley Net Worth, MMA Career, Income, Personal life, earnings and more