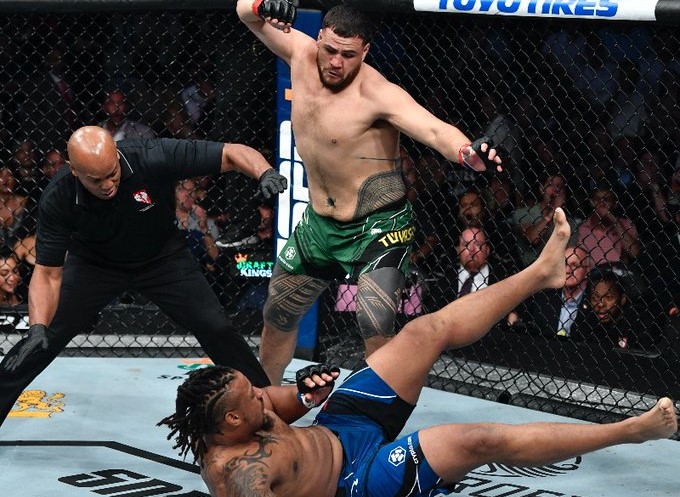 The heavyweight clash between Greg Hardy (7-3 MMA, 4-3 UFC) and Tai Tuivasa (12-3 MMA, 5-3 UFC) just went down at UFC 264, and as promised these two fought with the intent to kill, Hardy wobbled Tuivasa in the first round but as soon as he went for the kill he got knocked out by a big punch from Tuivasa.
Round 1: Tuivasa started the fight with some solid leg kicks Hardy was not checking them, and they started to show their effects, Hardy managed to get some distance between Tuivasa and him, but Tuivasa stayed aggressive. Hardy then started landing jabs, he hurt Tuivasa with a big punch, Tuivasa wobbled but as soon as Hardy went in for the kill Tuivasa landed a perfect counter to stop the fight at UFC 264.
After an impressive performance at UFC 264 Tai Tuivasa wants to face someone from the Top Ten
Tai Tuivasa is on a three-fight win streak now, he has been knocking guys out and drinking beer from the shoes, during the in-ring interview with Joe Rogan, Tuivasa was asked who would he like to face next, he said that he doesn't necessarily have a name in mind but he would like to compete against someone from the top ten.
Also read: UFC 264: Irene Aldana stops Yana Kunitskaya in the very first round of their contest