At UFC 267, Welterweight Khamzat Chimaev put on one highlight-reel finish in his as well as UFC's record books. Twitter went crazy over Chimaev's first-round rare naked choke finish of phenomenal Chinese fighter Li Jingliang, that too after a year lay off. But it seems like someone was not really impressed by it.
Chimaev called out UFC megastar Nate Diaz in the post-fight press conference for a fight as Diaz has one bout left under his current UFC contract, and it seems most probable that he may get a deal outside of the UFC to explore his options as a phenomenal personal brand.
The fight on paper seems to be amazing considering the ongoing magnitude of both the fighters on the UFC roster, it would certainly be Chimaev's biggest fight of his career too. But Diaz thinks otherwise.
Twitter: Nate Diaz's unsatisfied reaction to Khamzat Chimaev's callout based on Chimaev's UFC 267 win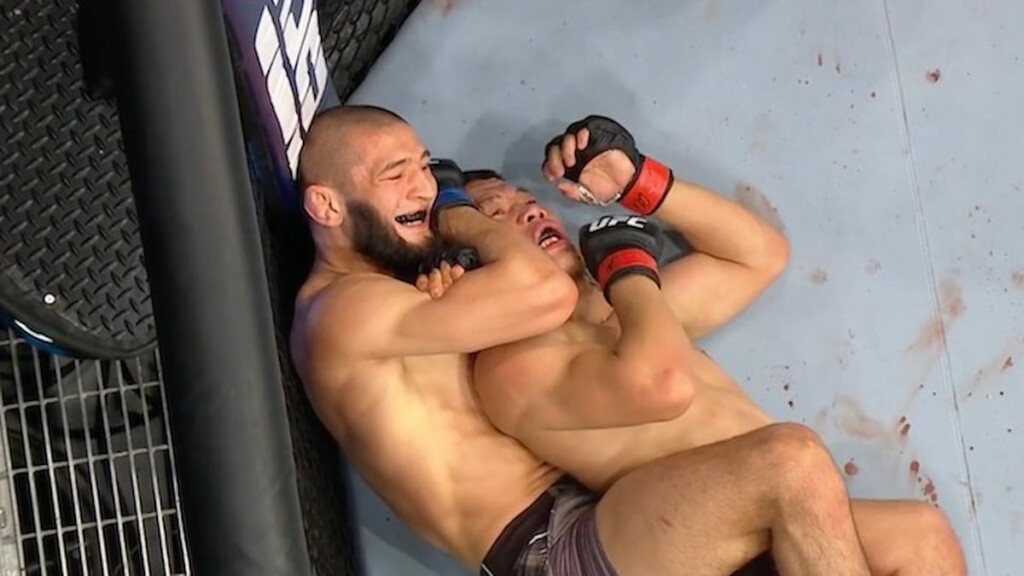 Diaz went to Twitter to state in a few lines why he wouldn't consider Chimaev as his next and probably the last opponent of UFC. He tweeted "These guys trapping out blue belts (next line) Not impressed." In another tweet, Diaz corrected himself but stayed true to his earlier stance saying "Purple (next line) Same"
Now it depends on the UFC President Dana White to think about it and maybe consider Chimaev's callout and work on the deal between both the welterweights. The fans although wanting Diaz to share the octagon with Tony Ferguson, surely wouldn't deny the hype of this fight either.
We now potentially can think of Tony Ferguson and Khamzat Chimaev as the preferable options for Diaz's final fight. What else we have on the table is either to complete rivalry with Conor McGregor in a trilogy or have another round for the one time BMF title against Jorge Masvidal. Who do you think is the best matchup for Nate Diaz if you were to consider his final time inside the UFC octagon?
Also Read: "This is what I dreamed for 20 years," Glover Teixeira emotionally reflects on winning the Light Heavyweight title at UFC 267