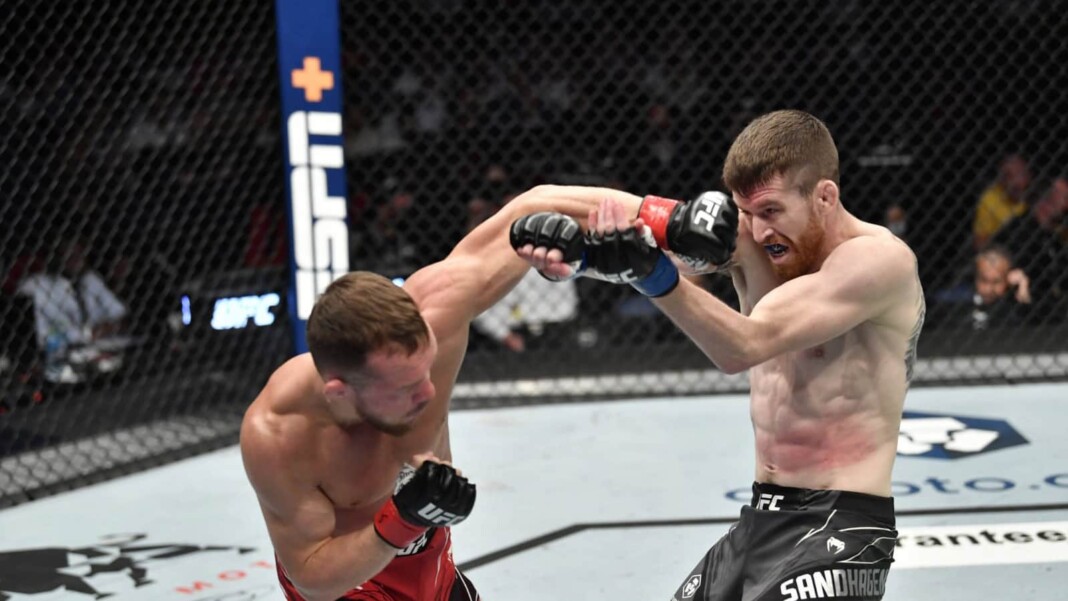 After Aljamain Sterling pulled out from UFC 267. Petr Yan decided to stay on the card and Dana White decided to introduce an interim bantamweight belt. As a result, the former champion, Petr Yan (15-2) faced Cory Sandhagen (14-3) at the co-main event of UFC 267.
Round 1 – Sandhagen and Yan got the center of the octagon to get things started. Cory was moving really well and he was touching Yan with short jabs and outside leg kicks to stop Yan from starting his offense. Cory landed a bunch of combos and just as Yan got comfortable in the striking, Cory shot for a takedown, although it got stuffed it forced Yan to worry about those takedowns as well. Yan was not opening up but he blasted Cory with a couple of body kicks. Great round for Cory. Great start to the co-main event of UFC 267.
Round 2 – Yan looked a little better in this one, he made some valuable adjustments, but Cory stayed light on his feet and was landing some crisp shots, he landed a couple more leg kicks, but Yan is now countering well and he is getting more and more comfortable with the striking. He landed a couple of combinations that hurt Cory, but the fight remained pretty even up to this round.
Round 3 – Yan is now putting up the pressure, and he is hurting Cory with some nice punches. Cory moved well but Yan just chased him down. Cory got a perfectly timed takedown but Yan is right back up. He blasted Cory with a couple of leg kicks and kept the pressure high with his boxing combination. The duo engaged in a clinch, and Yan dropped him a well-timed spinning back kick, a great round for Yan.
Petr Yan stayed true to his boxing and defeated Cory Sandhagen to become the interim bantamweight champion at UFC 267
Round 4 – Yan is now turning up the volume, Cory knew he was down on the judges' scorecard but Yan was not letting him off the hook. Those boxing combinations from Yan were just flowing, and Cory had no answer for them. The pace and pressure from Yan were just too much, but he stayed in the fight and was looking for the moment to turn things in his favor. Unfortunately for him, Yan kept things tight and kept the momentum in his corner.
Round 5 – Cory knew he needed a knockout and he turned things up. Yan was looking fresh and wasn't letting Cory off the hook. The fight turned into a brawl and both of them kept each other on their toes. Yan landed another beautiful combination that hurt Cory, but he fired back with a jumping knee. Cory moved forward and blasted Yan with some punches before getting countered once again. Just as the round was ending, both of them psychotic and exchanged a barrage of strikes before the referee pulled them off.
Result – Yan def. Sandhagen via unanimous decision
Also read – Conor McGregor, Justin Gaethje, Daniel Cormier, Aljamain Sterling and other UFC Aces reacts to Islam Makhachev's stunning performance at UFC 267