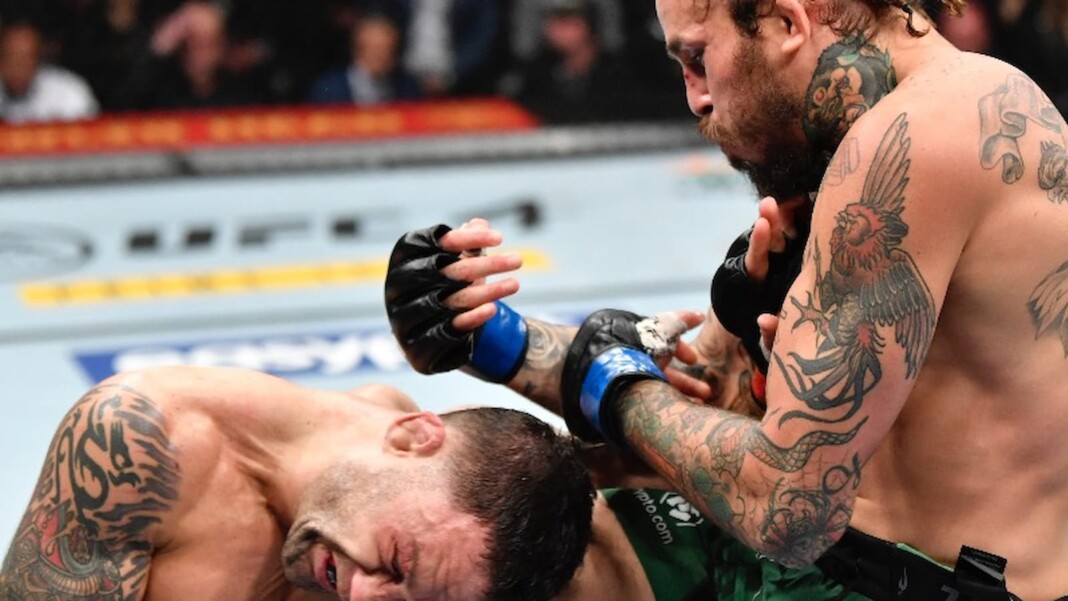 After two back-to-back possible fights of the night contenders at UFC 268, it was time for the bantamweight contest between Frankie Edgar (24-9-1 MMA, 18-9-1 UFC) and Marlon Vera (19-7-1 MMA, 11-6 UFC). Vera was coming off from a victory, and the former lightweight champion Edgar was coming off from a loss, it was an important fight for both of them, and they fought accordingly.
Round 1 – Edgar and Vera acquired the center of the octagon and Frankie immediately put Vera on his heels. Edgar was throwing long and crisp combinations and they were all landing, Vera kept his guard high and stuffed a tight takedown from Edgar. Edgar stayed busy with his punches and got the takedown on his second attempt. Frankie stayed on the top and kept on touching Vera from time to time. Vera landed a couple of up kicks and Edgar immediately pulled guard, he stayed on top and landed some big elbows.
Round 2 – Vera was trying to put on the pressure but Frankie moved well and connected with a nice 4 punch combination, Vera went for a body kick but Frankie caught it and completed the takedown, he stayed heavy on the top but Vera defended well and got up with a perfect scramble. Frankie looked a little bit fatigued and Vera capitalized on the opportunity, he landed a jumping knee that dropped Frankie, he recovered well, and another elbow from Vera dropped Frankie. He immediately got up and survived the round.
Frankie Edgar succumbed to Marlon Vera's pressure and got knocked out
Round 3 – Vera continued to put up the pressure but Edgar was very much in the fight, he fought well moving back and blasted Vera with some nice long combinations. Vera was looking to finish the fight, and Frankie was trying to take him down. He caught one of his knees and got him down, Vera got right back up and dropped Edgar with a beautiful front kick to get the victory at UFC 268.
Also read – UFC 268: Billy Quarantillo showed incredible heart but Shane Burgos got the unanimous decision victory