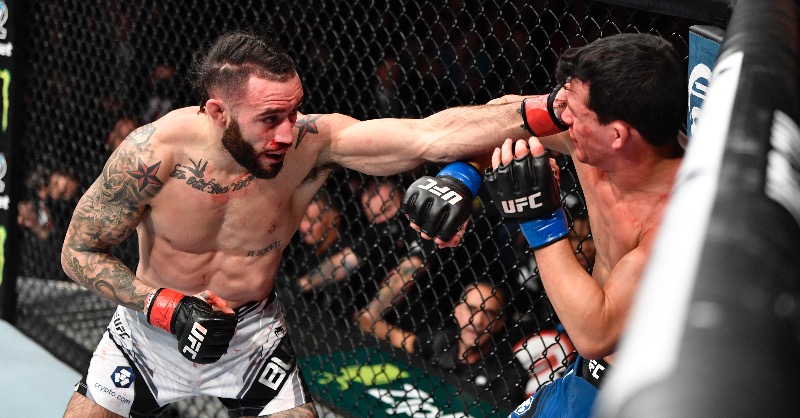 One of the most exciting fight cards of this year was the live event of UFC 268. After a sensational start to the main-card by Michael Chandler vs Justin Gaethje. Shane Burgos (13-3 MMA, 6-3 UFC) and Billy Quarantillo (16-3 MMA, 4-1 UFC) took the baton and they didn't disappoint.
Round 1 – Burgos and Billy came to fight and started the fight in a similar manner. Billy came out swinging and Burgos blasted him with a leg kick, Billy tried to overwhelm his opponent with pressure but Burgos stayed calm and fired back with a straight right. Burgos initiated the clinch but failed to get the takedown. These two weren't slowing down and Billy kept the pressure high with his jabs, Burgos fired back but nothing significant landed until he connected with a big right hand that dropped Billy, he recovered well and kept fighting.
Round 2 – Burgos was landing with a better clip in this one, he got his reads and he was now hurting Billy with his leg kicks. Billy stuck to his boxing but Burgos tripped him on multiple occasions with those leg kicks, Billy was resorting to clinch but Shane stayed calm and continued to do the damage. Burgos landed a big shot just as the round was ending, and he was very close to getting the stoppage but Billy was saved by the clock.
Shane Burgos picked Billy Quarantillo apart and got the victory at UFC 268
Round 3 – Billy was hurt and he was fighting accordingly, Burgos kept the pressure high but Billy stayed in the fight and managed any big significant strike. Billy was trying to initiate the clinch, and he was successful in doing so, he got Burgos down once but he got right back up, significant damage was done in the clinch, but Burgos was clearly getting the upper hand in those exchanges. Billy once again got Burgos down and went for a knee-bar but Burgos stayed calm and finished the round strong. Another great addition to the main card of UFC 268.
Also read – Jon Jones, Amanda Nunes, Stephen Wonderboy, and others react to Alex Pereira KO Andreas Michailidis with flying knee at UFC 268