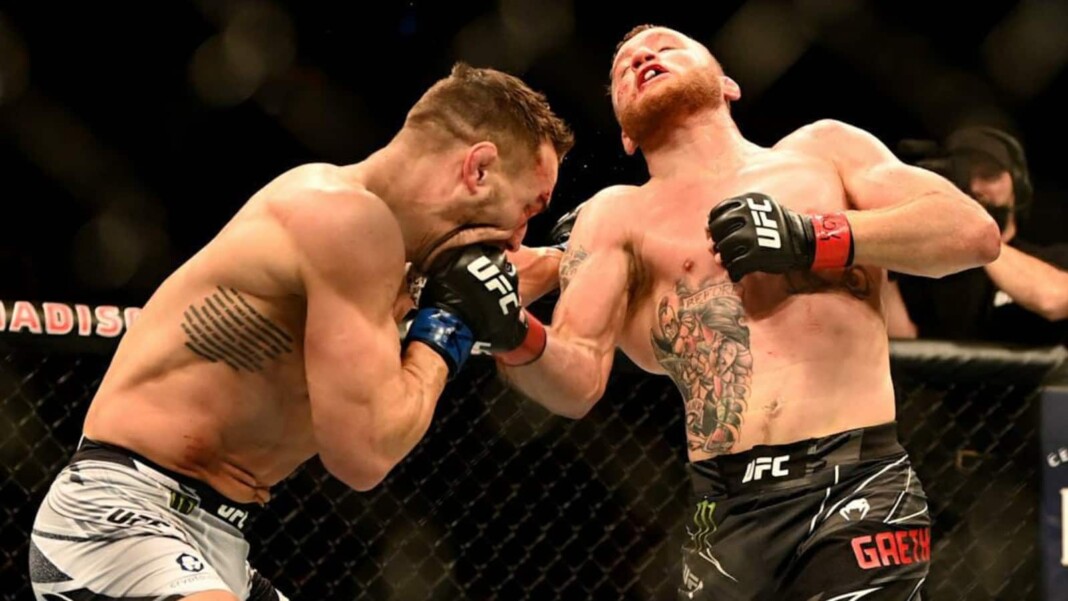 Justin Gaethje and Michael Chandler are cemented in the history of the mecca of the sporting event i.e., the Madison Square Garden itself. The lightweight clash as the main card opener of UFC 268 went up to deliver more than the expectations and hence kept the fans around the arena and world on their toes biting their nails.
Gaethje defeated Chandler via unanimous decision which was obvious for Gaethje's knockdown secured over Chandler and the damage the former did to the latter. Gaethje now wants to settle for nothing less than a title shot now. As for Chandler, he may need some time off after taking the damage he did.
WATCH! These tweets from UFC Europe unravel through the heart of Justin Gaethje and Michael Chandler calling the war on each other at UFC 268
Justin Gaethje is the #2 lightweight in UFC rankings while Chandler is the #4 ranked lightweight in the same. Gaethje and Chandler opened the first round by Chandler wobbling Gaethje first but then Gaethje having his won moments that wobbled Chandler and the exchange goes on till the end.
Chandler gets knocked down in Round 2 but hats off to the heart of "Iron" that keeps moving forward for more of the war that Gaethje had to bring himself while Gaethje took some serious body shots from Chandler as well.
The final round had Gaethje taking all over Chandler's leg but Chandler was not going to stop either to throw the power punches. The fight ends with Chandler hyping up Gaethje and the crowd for more!
The fight has been cemented by many as one of the best lightweight bouts in UFC history, where do you put this fight on the all-time list? What are some of the other wars at the lightweight division at this magnitude?
Also Read: UFC 268: Billy Quarantillo showed incredible heart but Shane Burgos got the unanimous decision victory