The title rematch between Aljamain Sterling and Petr Yan is long due. These two fought in March 2021 for the first time, their fight had a controversial ending when Yan hit Sterling with an illegal knee, and Sterling was crowned as the champion.
Sterling has been dealing with lingering neck issues ever since, and he even pulled out from his fight against Yan at UFC 267, Yan then went on to face Cory Sandhagen for the interim bantamweight title, and he won that fight, Yan stated the rematch is now inevitable, and Sterling congratulated him for his victory.
While breaking down Yan vs Sandhagen on his personal Youtube channel, Sterling says, "He did a great job of walking him down, that defense is very, very tight, very technical. He does a good job of looking through the eyebrows – just touching, slight parries, so every time you throw a jab, he just catches it, catches it nice and clean where almost nothing gets by."
"Yan fought a beautiful fight, I got the surgery. I still need a little bit more time. I'm aiming for January, February…get ready to unify this belt and give the fans the fight that they deserve."
"That fight with him and Sandhagen gives me all the confidence," Aljamain Sterling is very confident that he can beat Petr Yan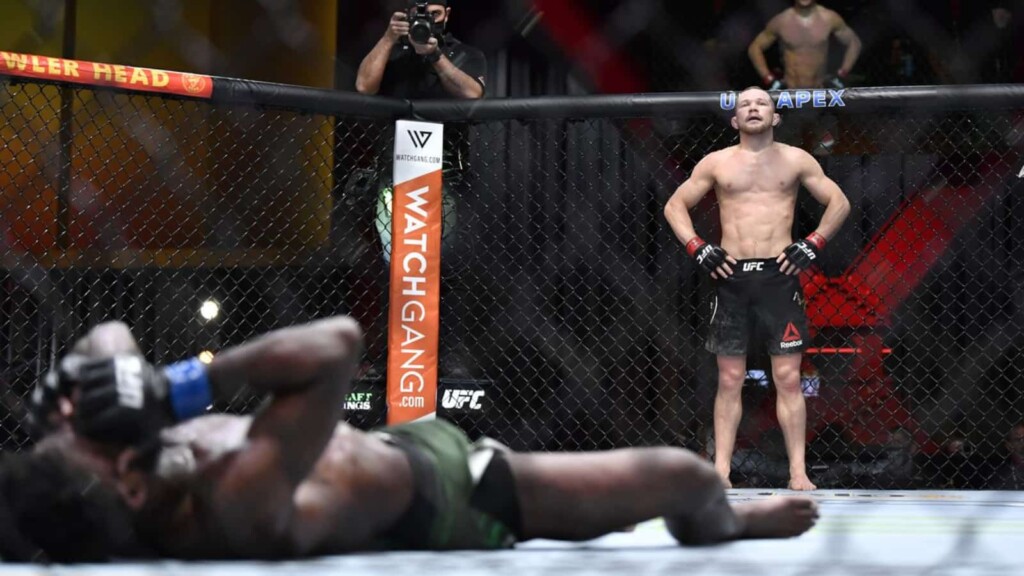 Sterling attended the live event of UFC Vegas 42, and talking to Michael Bisping he revealed that he is aiming his return for February or March. Bisping then went on to ask him how does he feel about his first title defense, and Sterling claimed that he is more confident than ever.
Sterling stated, "Hundred percent. And that fight with him and Sandhagen gives me all the confidence in the world because he's a human being. I know he can bleed, and I know he can be choked the f**k out. And that's what I'm going to do."
Also read – "The man who ran away once will always run again," Petr Yan can't wait to get his hands on Aljamain Sterling