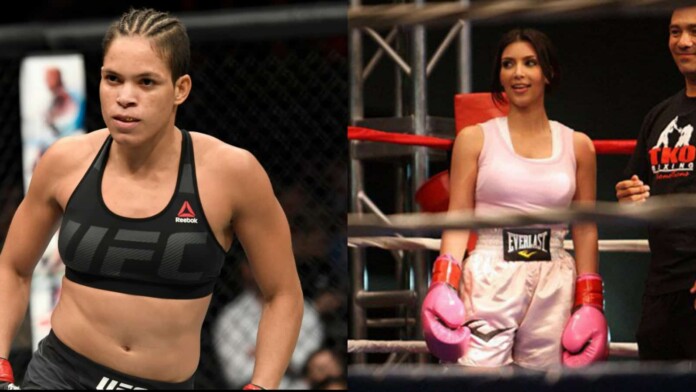 Amanda Nunes has challenged Kim Kardashian for a fight, and this all started after the boxing exhibition match between Floyd Mayweather and Logan Paul. After 8 rounds of hugging and somewhat boxing the match was declared as a draw, although it was announced that there will be no winner for this fight still the event was a great success.
Logan's brother Jake Paul is also fighting the former UFC welterweight champion, Tyron Woodley, in a boxing match, Jake is currently 4-0 in his professional career and he knocked out Ben Askren in his last fight.
Jake has called out many UFC fighters including Conor McGregor, Kamaru Usman, and more, but UFC president Dana White is not interested in doing anything like this, he acknowledges that there is a market for this kind of matchups but he is not interested in it.
Recently he mentioned a match between Kim Kardashian, and Nunes, as crazy as it sounds at least Nunes is down for it. She challenged Kim via a Twitter post, and wrote, "Hey Kim Kardashian, let's do this! Lol"
Kardashian competed in a celebrity boxing match in 2009 for the Charity where she fought Tamara Frapasells, but that showed that she possesses no hints of boxing skills and was not victorious.
After the fight, she wrote, "The boxing match was crazy! I'm a little banged up today but all worth it for charity!!!"
"Imagine if Kim Kardashian wanted to fight Amanda Nunes," Dana White jokes about this match
Dana White recently appeared in an interview with Farah Hannoun on UFC Arabia, where he talked about the boxing match between Logan and Floyd and how there's a market for these kinds of fights.
He said, "If you've got people that are stupid enough to spend that kind of money, then they deserve to take those dummies' money. Those guys who went out and fought and got you to pay 50 bucks, they deserve your money."
"Imagine if Kim Kardashian wanted to fight Amanda Nunes," White jokingly questioned. "How big do you think that fight would be? It'd be huge!"
"There's always going to be a market for that kind of stuff, there's always going to be people that are willing to put down 50 bucks for that," White said. "It's just so far from what I do."
Also read: "What are we doing wrong?" Francis Ngannou upset over Logan Paul $20 Million dollar payday at his second boxing fight