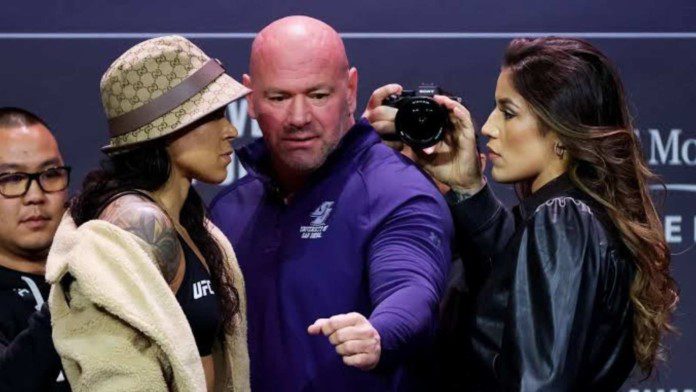 Amanda Nunes (21-4), the UFC Bantamweight champion, and Julianna Pena had their first opportunity to share the stage when they answered questions from media members. Pena has been extremely vocal about her plans to unseat Nunes from the top of the 135-pound division, and she didn't back down when she got in the same room as "The Lioness."
Not only does Pena have every intention of dethroning, but she plans on doing it twice. Pena knows an immediate rematch will be coming her way if she pulls off the upset. When Nunes was asked about the game plan, Nunes said, "I'm ready for everything she bring up Saturday," Nunes added, "I will finish her, this belt not going anywhere". There was still a lot of animosity between the two fighters.
Nunes tried her best to avoid any trash talking before the fight, but it was all inevitable as the animosity between the two fighters seems to be more than just "Fight promotion". Nunes claimed, "She has nothing to lose. I have to really be ready for everything she brings. She's definitely dangerous. She's definitely a very good fighter and I'm going to be ready to go. She's never fought a lioness before."
Watch the press conference, the segment begins at 20:26
"One of us is going to be dead wrong"- Amanda Nunes fires back at "delusional" Julianna Pena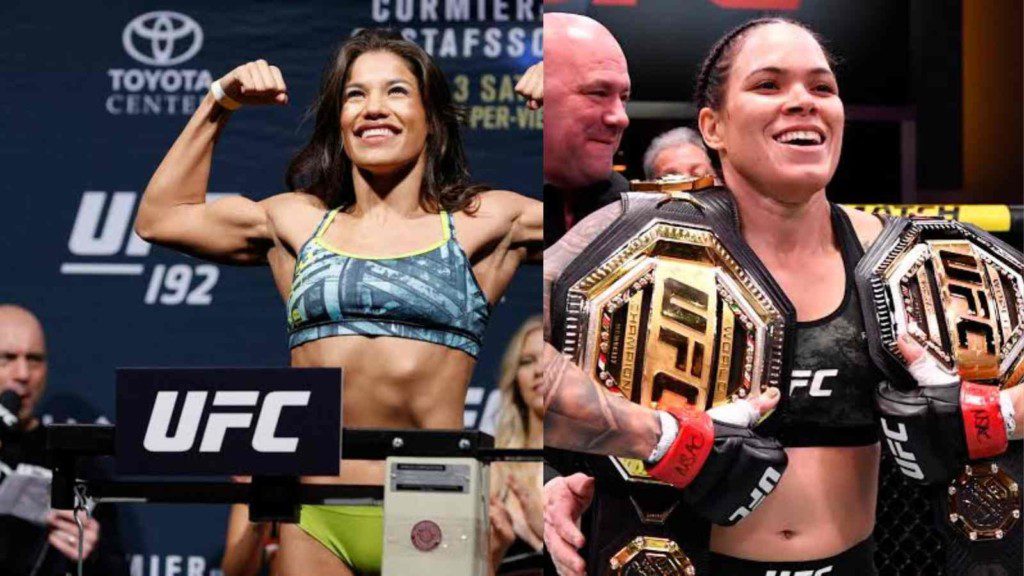 Nunes wasn't going to tolerate Pena's claims. She interrupted the challenger and let her know that reality will prove different.
"You know that's not going to happen, right?" Nunes said. "You're not going to be a champion, girl," Pena said all the talk is going to be meaningless once they step in the octagon. She has been calling for a fight with Nunes for years, and is filled with the utmost belief it will translate on fight night.
Nunes has yet to be tested on the ground by someone of her caliber. Pena would love to exploit that perceived weakness and can see her ground game leading her to a win on Saturday night.
Nunes disagrees. When asked about those comments from Pena, she was quick to shoot down that assessment and referred to her fights against Miesha Tate and Sara McMann as evidence for why it could not be more wrong. Though Tate and McMann are well-known for their wrestling prowess, Nunes overwhelmed and submitted both women inside of one round.
"What about her best friend, Miesha Tate? What about Sara McMann? Sara McMann almost beat her. Sara McMann gives up on the fight. If she didn't give up, she would've beat Julianna, you know? I beat Sara McMann years ago. I feel like she can talk about whatever she wants. I feel like she has to do that to bring all the attention. I'm going to tell her she can have all the attention she wants. All of it because Saturday is my night, baby. December is my month, so nobody is going to take this belt from me."
"We will find out Saturday night," Pena said. "One of us is going to be dead wrong." Nunes, who has won her past 12 fights under the UFC banner, called Pena "delusional" at Wednesday's media day. She emphasized that again to close the exchange.
Also Read- "Always cheering for you"- PFL'S Kayla Harrison to Amanda Nunes ahead of her UFC 269 scrap