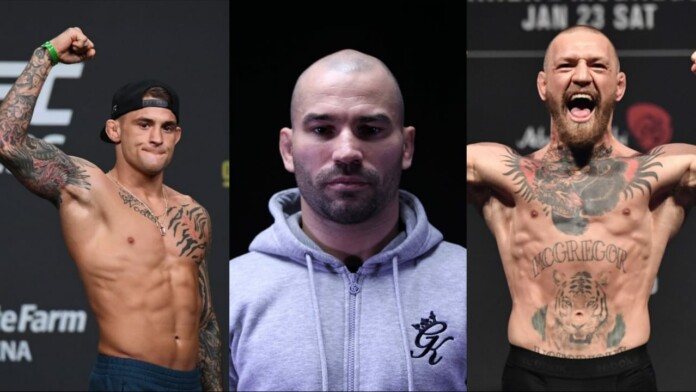 Conor McGregor and Dustin Poirier are set to faceoff on July 10, 2021 at UFC 264. This time they will be fighting in front of a full house in Vegas. The trilogy bout actually materialized after Poirier exacted revenge over Conor for his UFC 178 loss in September 2014.
Earlier this year at UFC 257, Dustin knocked Conor out for the very first time in his MMA career. As as result the score in the rivalry was 1-1. A trilogy bout was agreed in the immediate aftermath, and now they are all set for the super clash.
Elsewhere, Artem Lobov, Conor McGregor's training partner and former UFC Featherweight weighed in on the fight between Dustin and Conor. He claimed that McGregor would knock Dustin out this time around. But Lobov also gave props to Dustin for improving monumentally since the first fight at UFC 178.
'We have to give credit to Dustin' – Artem Lobov
Lobov was quoted as saying, "We have to give credit to Dustin. He's done his homework. He's improved a lot since the first fight and he did a good job. But I think now when Conor is switched on, he knows what's up. His full focus is on this fight. He's studied him, he looked at what the issues were in the second fight and honestly when Conor shows up like that? There's no stopping him. So I see him stopping Dustin early, first, maybe second round. I want to say first. My prediction is first round but it could go into the second." [via Bloody Elbow]
Both McGregor and Dustin have been actively training for the trilogy fight. McGregor has very often taken to social media to share his training videos and photos. He will be wary of the calf kicks that rendered him motionless last time.
The winner of the fight is expected to face lightweight champion Charles Oliveira. The Brazilian recently won the lightweight championship at UFC 262, after knocking out Michael Chandler in two rounds, in a wild, wild match.
Do you agree with Artem Lobov's preditcion?
Also Read : Who won the heated rematch between Jon Jones and Daniel Cormier?
Also Read : UFC confirms that TJ Dillashaw vs Cory Sandhagen has been rebooked for July 24