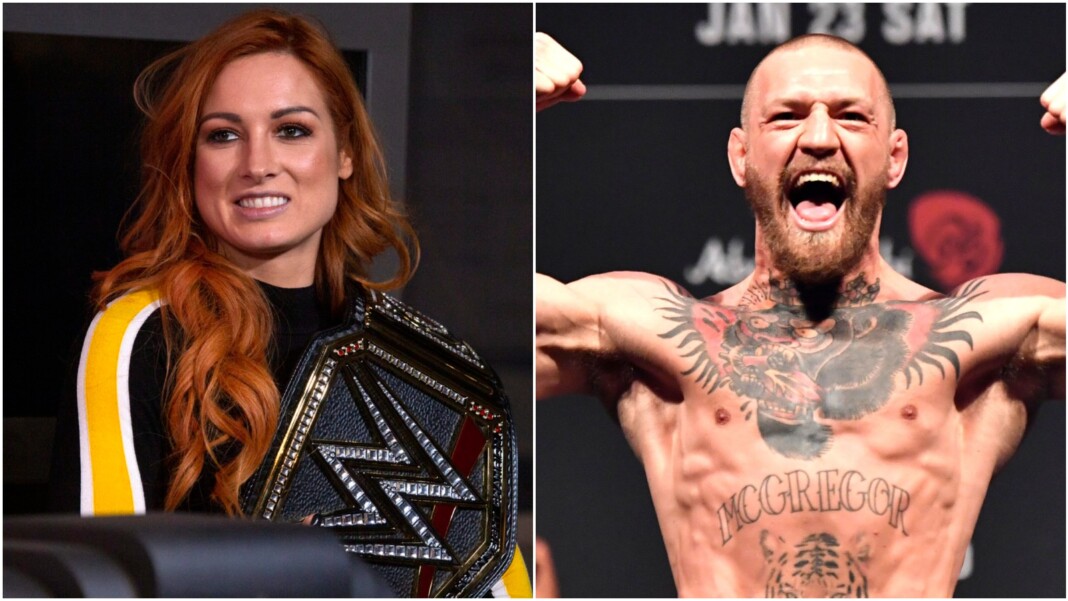 WWE Superstar Becky Lynch has lent her voice for a bone-chilling UFC 264 promo that highlights Conor McGregor. McGregor is set to fight Dustin Poirier next weekend in the main event of UFC 264. The pair are set to face-off for the third time, with the scoreline currently even at 1-1. The high-voltage clash is set to take place at the T-Mobile Arena in Las Vegas.
With the fight inching closer, BT Sport recently released a promo highlighting the charismatic Conor McGregor. The voiceover was provided by WWE's very own Becky Lynch. Lynch was beyond perfect as she splendidly highlighted the mind of warriors and fighters.
It is also worth noting that Lynch is Irish like Conor McGregor. Lynch ended the voiceover in style addressing her fellow countryman McGregor as 'brother'.
'For the man who changed the game, we needed The Man'
Lynch can be heard saying, "Some are born to take the middle path — the safe stretch of road. But us warriors are born with something in us. The light and the dark. The fire and the ice. The good and the bad takes us down a different path. A path to glory that threatens to destroy us.
She concludes, "For each battle is not fought on the canvas, but in the arena of the mind where there's a fine line between genius and madness. Loved for the enemies slain. Loathed for the destruction left behind. For the most notorious, it's not where the journey takes them, but when the journey ends. So, go forth, brother, and let the battle begin."
McGregor will be looking forward to getting that W, come the next weekend. A win will get him the opportunity to be just one step away from getting his hands back on the lightweight belt, as it was confirmed earlier by the promotion that the winner of the trilogy fight would take on newly-crowned champ Charles Oliveira.
Also Read : Instagram Rich List 2021: Conor McGregor and Floyd Mayweather feature in the top 100
Also Read : Sean O'Malley Net Worth, MMA Career, Income, Personal life, earnings and more