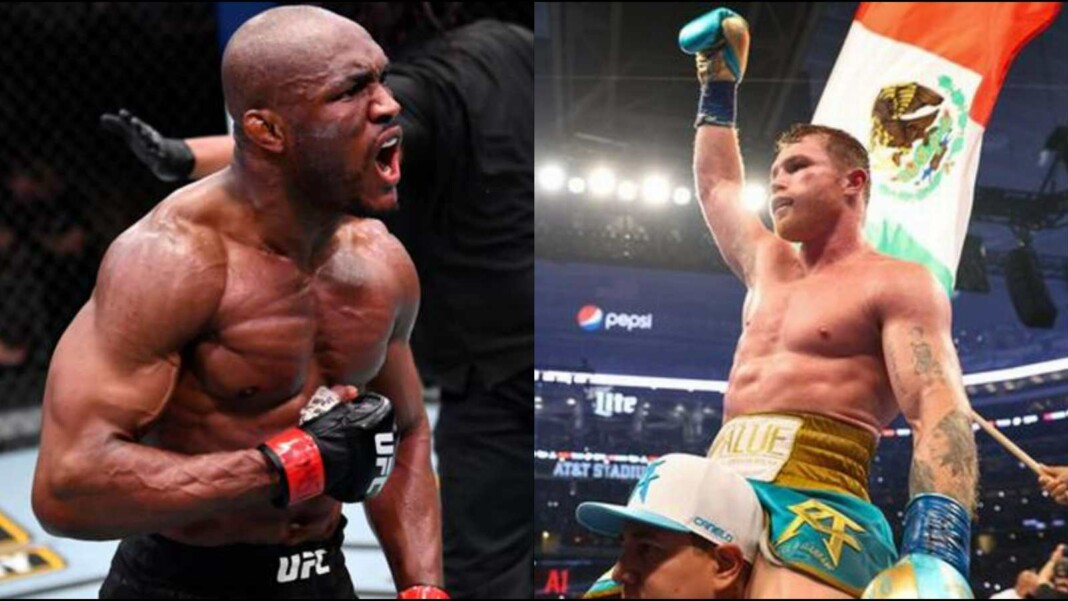 A thing of similarity between UFC Welterweight Champion Kamaru Usman and boxing's multiple division champion Canelo Alvarez, they both are at the top of their sport. There's a separate fan base for MMA and a separate fan base for boxing, nonetheless, these are the fans that love the violence. It's not surprising to see a boxing fan showing interest in watching an MMA fight and vice versa. What if they see a crossover of an MMA fighter fighting a boxer?
That's what Kamaru has talked about in the past showing interest to fight Alvarez, but does Alvarez want it the same way? Let's see what's going on in the Mexican boxer's mind regarding the "Nigerian Nightmare's" proposal.
Canelo Alvarez gives his verdict on any possibility of a superfight with UFC Champion Kamaru Usman
In an interview with TMZ, Alvarez says "I don't see [the fight happening], it does not make sense for me because I just wanna be good in [boxing], I want to make history in boxing. I don't see anything [else] right there." So this can be a permanent and a temporary statement as well, it also depends on how long will Usman chase this superfight while he is into MMA simultaneously.
For now, we are sure Canelo isn't interested at all despite the magnificent success of such an experiment in the past. Back in 2017, UFC's megastar Conor McGregor made his way into the boxing ring by calling out and dealing with the now retired, undefeated professional boxer Floyd Mayweather. Mayweather defeated McGregor via 10th round stoppage. Mayweather is also the boxer to hand Alvarez his only professional career loss.
Both the fighters are fighting in their respective sport tonight as Usman defends his title for the fifth time against Colby Covington at UFC 268 in Madison Square Garden, New York, the USA. Canelo on the other hand is defending his WBA, WBO, WBF and The Ring super middleweight title against American boxer Caleb Plant. Canelo Alvarez is also getting his shot to earn the IBF title.
Also Read: Canelo Alvarez vs Caleb Plant Prediction, Odds and Fight Preview