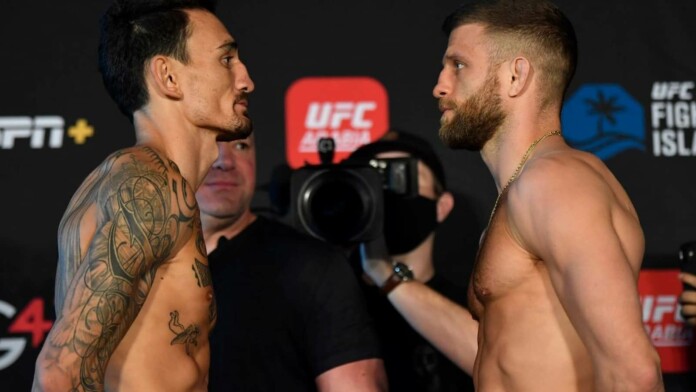 The fight between Calvin Kattar and Max Holloway in January will undoubtedly go down as one of the greatest fights in the history of UFC. Though Kattar faced a lot of damage from the former featherweight champion, he is ready to go back in and fight Max again. That fight is an example for upcoming fighters in the lesson of "toughness".
In the main event of UFC on ABC, Calvin Kattar lose a one-sided decision to Holloway. Both the fighters showed mental strength and toughness as they went through the whole of five rounds. That fight recorded the most number of strikes thrown in history. Calvin Kattar was beaten up so badly even then he did not call quits. Max Holloway later praised his opponent for exhibiting that kind of toughness.
Recently Calvin made an appearance on MMA Fighting's What the Heck where he spoke about the legendary fight against Max Holloway. "I'm ready for round six, I feel great," Kattar said on What the Heck. "Like I said, credit to him, he fought great, but I'm hungry to get back and when I don't achieve my goal the first time, I just come back hungrier. I'm ready to go."
"Max is tough as they come," he continued. "He's on that upper echelon and when you come to that top-3, you've gotta be ready. I've just got to pick things up. He did a couple of things real well, things that I'll take from here and improve on and come back. I know I have a tough test ahead of me, whoever's next, and that's exactly what I want."
Calvin Kattar praises his coach for not throwing the towel in that fight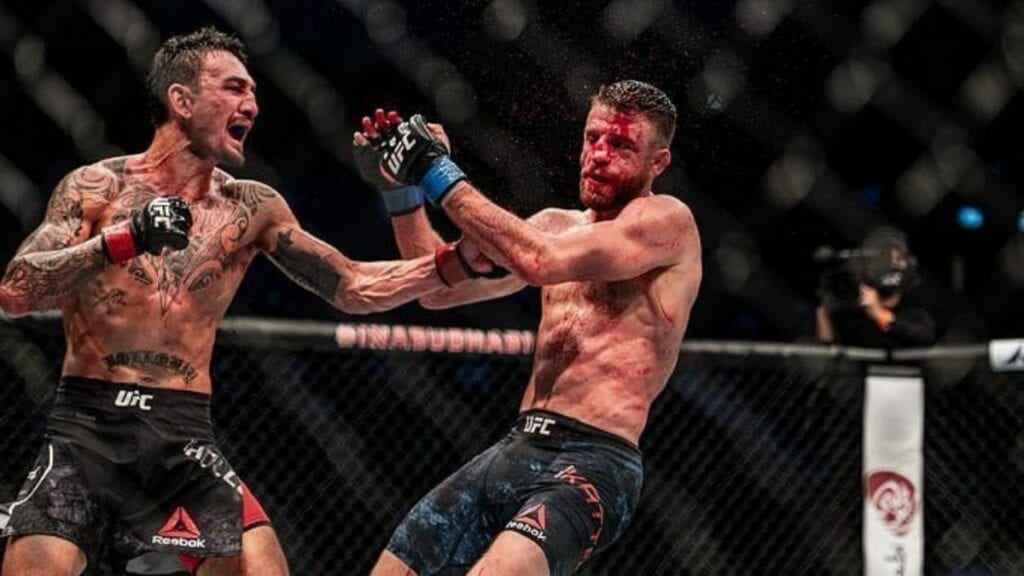 Calvin Kattar does not let the last fight dictate his life decisions. So the featherweight wants to go back to the octagon and fight Max when time permits. "I mean, really, I just hold myself accountable to my own expectations," Kattar said. "I feel like I should beat a guy like Max and anybody in the world on any given night. Just that night it was Max Holloway's and credit to him."
A lot of the viewers criticised Calvin's coach Tyson for not throwing in the towel when he was struggling to keep his hands up as he was completely beaten but Kattar defends his coach. "Tyson gets a lot of slack no matter what he does," Kattar said. "He could have thrown in the towel, he would have got a lot of slack from me.
"If he didn't, he's getting a lot of slack from everybody else. Just through the fourth and fifth rounds, it's not what I took from it, aside from the things I did I think a lot of people just realized kind of the things that I'm talking about. I'm not gonna take a knee for anybody, how bad I want it. I know how tough I am," Calvin Kattar said. Do you think we will be able to see a Kattar vs Holloway fight again?
Also read: Islam Makhachev unhappy about the new matchup with Thiago Moises, trashes Top 10 of lightweight division on Twitter