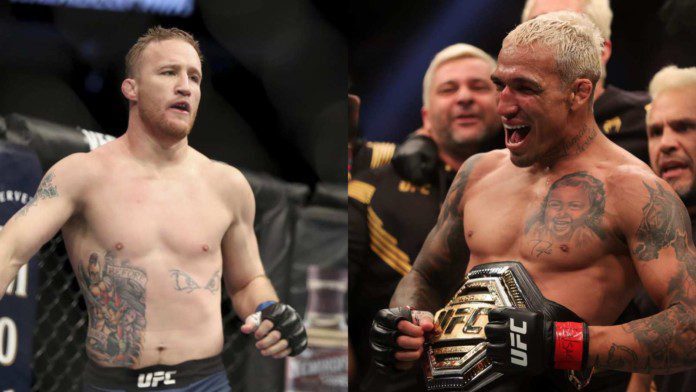 The UFC Lightweight champion, Charles Oliveira defended his title for the first time in one of the biggest fights of his career against the former interim Lightweight champion, Dustin Poirier at the main event of UFC 269. Oliveira entered into this fight as an underdog but he defied all the odds and proved why he is holding the Lightweight throne.
'Do Bronx' was underestimated by many fellow fighters, even the former UFC Lightweight champion; Khabib Nurmagomedov picked Poirier to win this fight. But Charles Oliveira submitted him via rear-naked choke in the third round and added first title defense to his perfect resume.
The whole MMA fraternity shared mixed reaction to Oliveira's win and talking about the same, the former two-division UFC champion, Henry Cejudo provides a breakdown of this fight at UFC 269 in his latest episode with The Schmo, Cejudo says, "Charles 'Do Bronx' Oliveira does a really good job, the way he starts the round, he doesn't finish the round as well as he started."
"It happened in that fight against Michael Chandler, there he started the fight very well and towards the end of the round he kind of starts to lose the round, but when he comes back at the beginning of that second round, the beginning of the third round he always tends to invest in those rounds."
Henry Cejudo continued, "That's exactly what he did against Dustin Poirier, he really brought the pace and pressed him extremely, he softened them up, and even though he lost again at the end of that first round without which I would give it to Poirier. He still came back in the second round and for that reason, he won."
Henry Cejudo claims Justin Gaethje is going to be a bigger test for Charles Oliveira than Poirier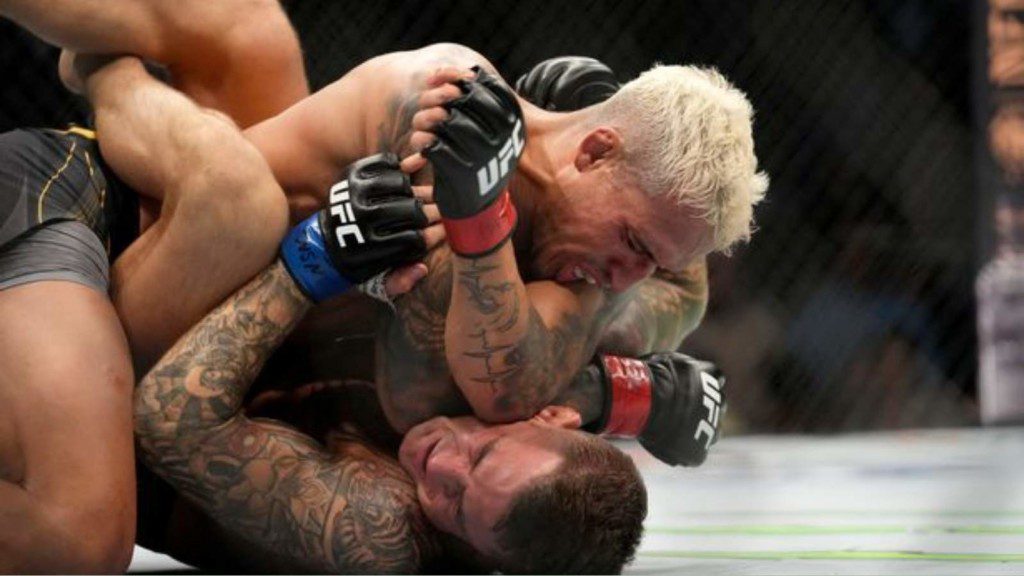 After securing a win against Poirier, 'Do Bronx' is already matched against his next challenge, i.e. one more former interim Lightweight champion, Justin Gaethje. 'The Highlight' was sitting in the very front row during the fight and after Oliveira's win, he stated that he can't wait to get his hands on the champ.
Talking about the fight between Oliveira and Gaethje, Henry Cejudo added, "I do see at times with Charles Oliveira, I still see that breaking point with him and that's the only thing that scares me because I do see him king of fading away and wonder what the guy like that's a little more relentless, someone like Justin Gaethje, that's going to be an interesting fight but Charles Oliveira did his job."
"I do believe Charles Oliveira is the most technical fighter in UFC and I think he could submit and now he's a knockout artist and the real thing is that can he go through that grind, is he bulletproof? does he have that experience of going through and he showed that against Dustin Poirier. So I think he got Justin Gaethje's respect and I think it's going to be a good fight. Now the favorite is going to be Charles Oliveira because now he's shown it."
Also Read: "What date am I fighting Oliveira?"- Conor McGregor trains his aim at Charles Oliveira, overlooks Dustin Poirier rematch.