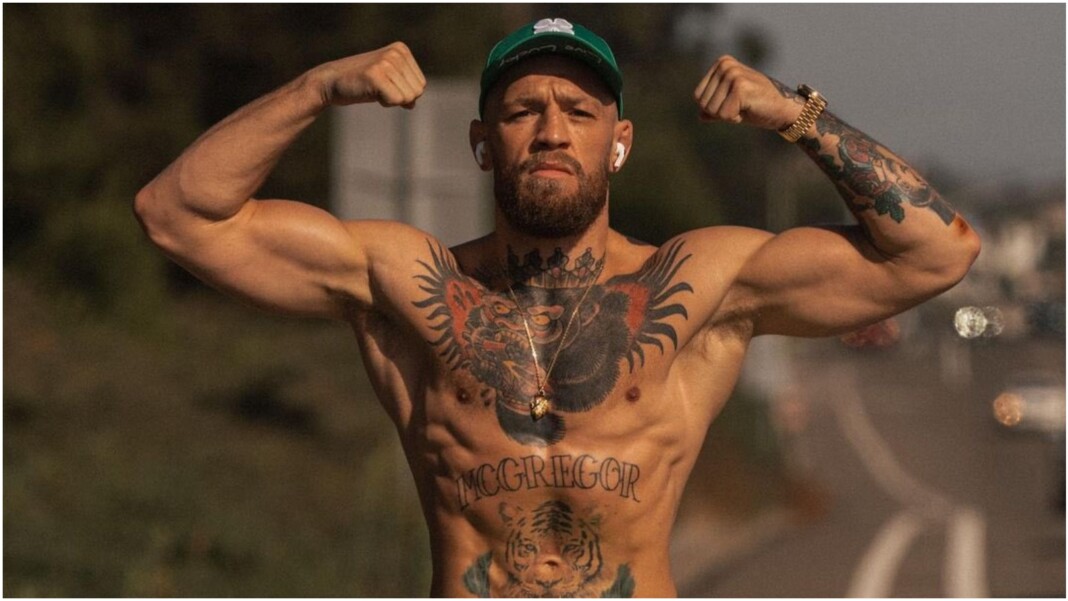 Conor McGregor vs Dustin Poirier 3 is just a week away. The pair will be fighting it out in a trilogy bout on the 10th of July at UFC 264 in Las Vegas. The fight headlines a stacked card that also features a welterweight bout between Stephen Thompson and Gilbert Burns.
With the fight rapidly approaching, both the fighters have been sweating it out and putting in the hard yards. McGregor especially, has taken to regular cycling in a bid to boost his cardio. In a recent photo he shared on Instagram, he was seen flexing, seated on his cycle attired in yellow shorts.
However, fans were left concerned over a bright red spot near his left elbow. Very soon they began speculating it to be a possible staph infection. A day later a fan asked Conor McGregor on twitter, if it was a staph infection that he was having. McGregor cleared the air stating that it was a bruise due to vicious elbows.
Uncle Chael – "Couple days of antibiotics, and you brush it off"
Chael Sonnen in his YouTube channel explained about the same. He stated that it can't be a staph infection in the first place, and even if it was one, it wasn't serious.
Sonnen was quoted as saying, "You don't start, in my experience, with a staph infection that progresses, and all of a sudden, you're hospitalized. It's right off the bat. How do we realize that Conor has the one that we're shrugging our shoulders? Even if he has it, let's pretend that he has it."
Sonnen continued, "The mere fact that he was out, that he was training, taking his shirt off to take the picture in the first place, tells at least me, with my experience with staph, that he's got the later one. He's got the one – couple days of antibiotics, and you brush it off." [via MMAMania]
Since McGregor himself had revealed that it wasn't anything serious, there is no cause for concern here. He will be out there on the 10th of July, fighting it out in front of a full Las Vegas crowd.
Also Read : Instagram Rich List 2021: Conor McGregor and Floyd Mayweather feature in the top 100
Also Read : Sean O'Malley Net Worth, MMA Career, Income, Personal life, earnings and more