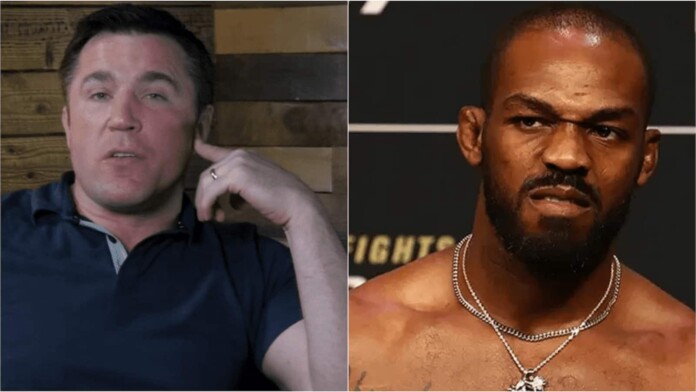 Jon Jones and Chael Sonnen's rivalry dates back to more than 8 years before. The pair then had an on-court rivalry, and now that Sonnen has retired they have begun feuding online, especially on Twitter. After Jones' recently tweeted that he was giving birth to something big, a lot of fans trolled him for his usage of words, and Uncle Chael was one among them.
Sonnen even put out a video on his YouTube channel with the thumbnail showing Jon Jones giving birth in a labour room. This didn't sit well with Jones as he blasted Chael Sonnen on Twitter with some nasty tweets, aimed at Sonnen and his wife. In reply Sonnen today posted another YouTube video, explaining that he had angered Jones.
'He is such a tough guy' – Chael Sonnen on Jon Jones
Sonnen was quoted as saying, "You take a guy like Jon…He is such a tough guy. Jon can take whatever Chael is gonna dish out, or so I thought."
He continued, "Jon, I'm a troll. This is what a troll does. A troll comes at you over the internet from several states away where he's protected in the hope of getting an emotional reaction from you. And he gave it to me! So point, Chael. Couldn't have succeeded any better but over-performed my own expectations I must tell you. Jon was very upset."
Sonnen clearly stated that he had no intentions of hurting Jones. But he selected the wrong time. Jones is currently facing uncertainty over his future in the UFC due to a pay dispute with UFC President Dana White. A lot of fights have slipped out of his hands in recent weeks.
Chael Sonnen responds to Jon Jones' retaining his advisor
Jones yesterday announced that he would be retaining his advisor Richard Schaefer in a bid to chase greatness and massive pay-per-view events. Schaefer is the former CEO of Golden Boy Promotions, and is well reputed in the combat sports community. Sonnen reacted to Jones' announcement in the same video.
He said, "Richard Schaefer is damn good. He really is. Richard Schaefer is the one that built Golden Boy Promotions. Oscar [De La Hoya] stepped in front of the camera, Oscar gets the credit, and Oscar was The Golden Boy, and they were partners but make no mistake, Richard Schaefer built that company and he did a very good job. [via MMA Fighting]
Also Read : Who won the heated rematch between Jon Jones and Daniel Cormier?
Also Read : UFC confirms that TJ Dillashaw vs Cory Sandhagen has been rebooked for July 24