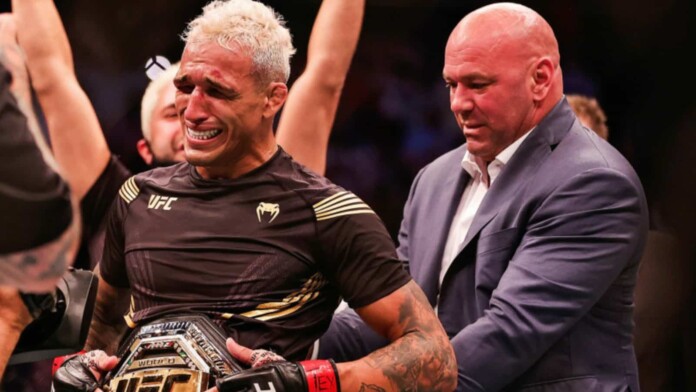 Charles Oliveira is now the king of the lightweight division but his heart still lies at the 145-pound division. 'Do Bronx' revealed in his post-fight media that he still thinks about the featherweight division.
From the year 2012-2016, Charles Oliveira tried his hand in the featherweight division but couldn't make his best out of that weight class. One of the main reasons why the Brazilian decided to move back up to the lightweight division was because he was a regular at missing weight. Once he missed his weight by 10 pounds in the year 2016. That incident saw 'Do Bronx' moving to the lightweight for definite.
Charles Oliveira recently became the lightweight champion of the UFC when he took out Michael Chandler at the UFC 262 main event held at Toyota Center in Houston, Texas. "Do Bronx" knocked out Chandler in the second round to wrap the vacant lightweight title around his waist. In the post-fight press conference that he might be interested in moving down a weight class.
"I still feel like a featherweight," Oliveira said via translation when asked if he's closing the door on featherweight for good. "If Dana White gave me the opportunity to go back to the featherweight division and win, I'd take it," Oliveira said talking to the reporters of MMA Fighting. At the featherweight division, Charles won 7 out of his 12 fights. Which isn't too bad of a record.
"I feel like a lion" says Charles Oliveira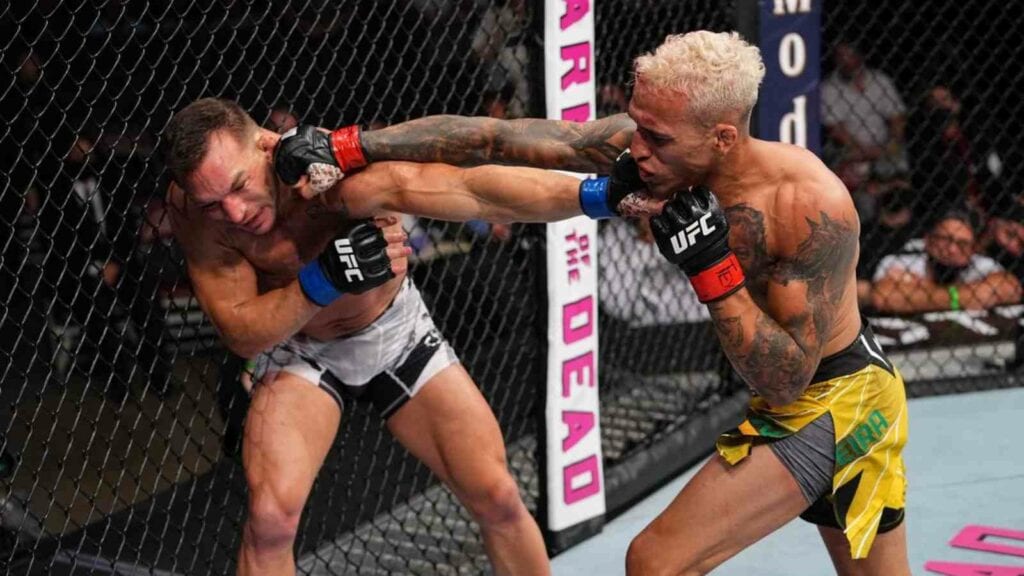 Charles Oliveira has been a highlight fighter all his life. Even as a featherweight, the lightweight champion had some great fights. Some notable ones were the fights against Max Holloway, Cub Swanson, Frankie Edgar, Jeremy Stephens, and Anthony Pettis. There is no doubt that if the champion decided to step down, he would have a line of fighters waiting to go at him.
"I feel ready," Oliveira said. "Like I said, it's always in the time of God, but now I feel like a lion, I feel like I'm ready." Charles Oliveira is in a very good space right now and he thinks he could take on anyone given he feels like "A lion". Do you think Oliveira should continue his reign as a dominant lightweight or become ambitious taking over the featherweight division?
Also read: "Islam Makhachev just gonna smash 'em all," Daniel Cormier says the lightweight division is scared of Makhachev