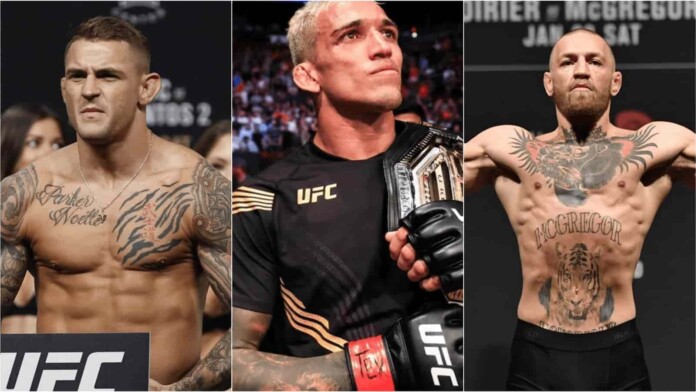 Charles Oliveira made millions of heads turn at UFC 262. The Brazilian became the 11th lightweight champion in the history of the UFC. The way he clinched it was even more impressive. Oliveira was down and out in the first round. He was totally dominated by his opponent Michael Chandler, and was almost knocked out in round 1.
However, in the second round he came back like a Phoenix, knocking out Chandler just 19 seconds into round 2. He joined some elites of the game like Khabib Nurmagomedov and Conor McGregor, with that win. He is now set to defend his lightweight title against the winner of Conor McGregor vs Dustin Poirier, at UFC 264.
Charles Oliveira is on a 9-fight win streak!
Despite being the lightweight champion, Oliveira has opened up as the underdog; according to odds from BetOnline.ag, Oliveira is +155 vs Dustin Poirier and +145 vs Conor McGregor. On the other hand, Dustin is a -180 favourite, while McGregor is a -165 favourite to win the fight.
Oliveira is on a massive win streak of 9 wins. His last loss was against Paul Felder, back in 2017. And since then, the submission artist from Brazil has cake-walked past most of his opponents. At least that is why he is not the overwhelming underdog for the fight.
Dustin meanwhile is coming off his win against Conor at UFC 257, which is clearly why he is a clearer favourite than the Irishman. Who knows, the odds will surely change once the fight is done, since a fighter goes out of the picture, and also because of the way the fight is going to be won.
What are your thoughts on this? Should Oliveira be starting as the underdog?
Also Read : 'I don't give a f**k about you' – Dana White goes off on a violent rant against Oscar de La Hoya and Triller Productions
Also Read: Anthony Joshua vs Tyson Fury set to take place on the 14th of August 2021; Tyson Fury confirms on social media