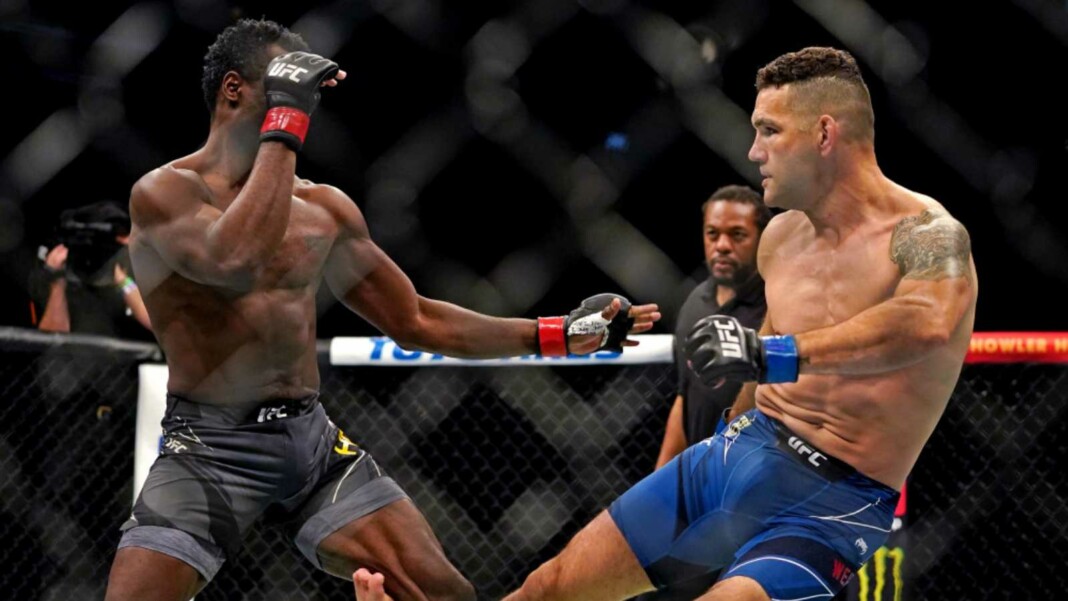 Chris Weidman suffered a nasty injury at UFC 261. The All American stepped inside the Octagon in a bid to get back to middleweight relevance. He took on Uriah Hall in the main card, and just 17 seconds into the fight Weidman had his leg snapped in two after Hall checked Weidman's vicious leg kick.
Chris Weidman grimaced and writhed in pain, even as the referees and officials rushed to his aid. He was taken to the hospital in no time and was operated on the very next day. Since then, he has been healing steadily. But, there was a point in his recovery when Weidman revealed that he feared walking again.
However, a few weeks later he began showing a lot of improvement, and in recent weeks he has also begun working out in the gym. He even posted a 'light' sparring session and exclaimed how good it was to be back.
'There's still a lot of milestones I've got to get through' – Chris Weidman
In a recent interview with Damon Martin of MMA Fighting, Weidman has revealed that he will try to recover as quickly as possible. He just had one thing in mind, somehow get back to the Octagon. However, he did acknowledge the fact that there would be setbacks on the way.
Weidman was quoted as saying, "There's still a lot of milestones I've got to get through and I'm sure there's going to be some setbacks, but I'm prepared for it. Nothing's going to break me. I'll just keep moving forward. If at the end of the day, I'm in the gym and as I'm as good as the doctors say I'm going to get and I can't do anything that I used to be able to do, I'm not going to fight."
He concluded, "If I think I can be the best in the world, and I can do what I need to do with this leg, then I'm going to fight."
Chris Weidman will be seeking Anderson Silva as inspiration
Anderson Silva injured his leg, in a strangely similar way against 'The All American' himself. It was at UFC 168 in December 2013. Silva then took 12 months to recover, and on the 31st of January 2015, he was back. 'The Spider' faced the tough-as-nails Nick Diaz that night.
Hence, Weidman will be looking forward to getting back to the Octagon at least once. Hope he does!
Also Read : Conor McGregor fastest knockout: What is The Irishman's fastest KO and how many knockouts does he have
Also Read : Ariel Helwani is back with his own podcast and numerous other ventures