Ciryl Gane MMA Record: What a stunning rise Ciryl 'Bon Gamin' Gane has had in the last two years. The Frenchman recently became France's first-ever champion after beating Derrick Lewis in the main event of UFC 265 to win the interim heavyweight title in only his 10th MMA fight. Having been a kickboxer before, Gane entered the MMA scene quite late – when he was 28 years old.
He was a big name in Muay Thai (Kickboxing) as well. The 31-year old was unbeaten in his Muay Thai career. He made his Muay Thai debut when he was 24 years old, back in November 2014. He finished his career with a record of 13 wins and no losses, with 9 TKO wins and 4 via. decision. It was only after this, Gane decided to take the MMA plunge.
Here is everything you need to know about Ciryl Gane's MMA record.
Ciryl Gane MMA Record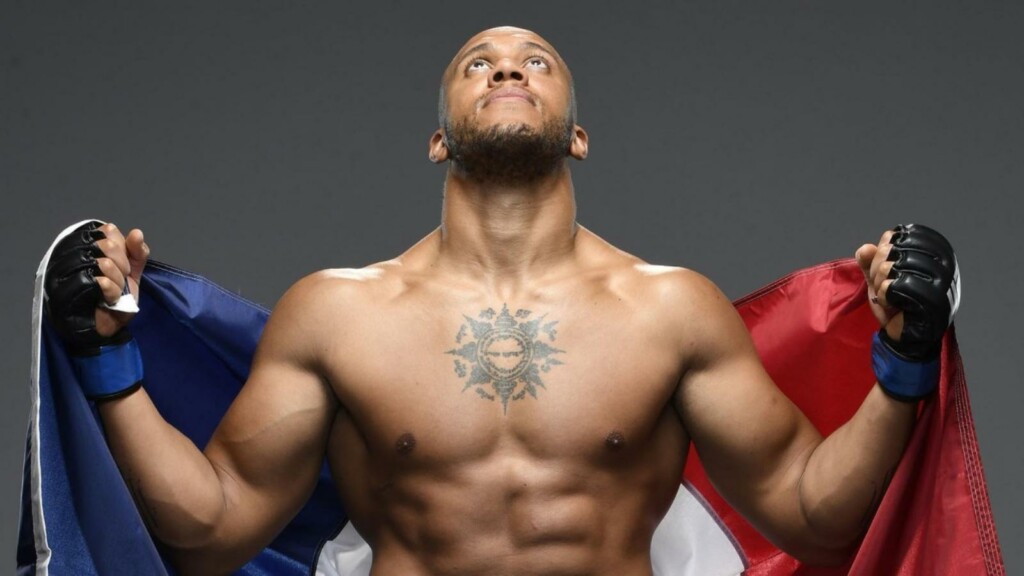 Ciryl Gane made his MMA debut on the 2nd of August in 2018, when he was 28 years old. Gane took on Bobby Sullivan in a promotion called TKO Fight Night. The Frenchman needed just 1 round to submit Sullivan with a front choke. Gane continued in the same promotion until he went 3-0 up.
And a 3-0 record at the back of an impressive kickboxing (Muay Thai) background was enough to earn him a chance in the UFC. Gane made his UFC debut on the 10th of August, 2019 at UFC Fight Night: Shevchenko vs Carmouche 2. He faced Raphael Pessoa and earned yet another first-round submission victory to go 4-0 up.
At UFC Fight Night: Maia vs Askren, Gane beat Don'Tale Mayes via. submission in the third round to make it 5 in a row. He followed it up with a victory over Tanner Boser in December 2019.
Then came Gane's real challenges. He took on the dangerous Junior dos Santos at UFC 256, and knocked the veteran out in the second round with an elbow. Gane slowly began rising the ranks and he earned his first headliner event – a fight against Jairzinho Rozenstruik. A snoozefest saw Gane come out unscathed via. unanimous decision.
Gane, then took on Alexander Volkov in June 2021, and earned another unanimous decision victory to set up an interim heavyweight title clash against Derrick Lewis. At UFC 265, Gane knocked out Lewis in the third round to bring up his 10th consecutive victory, and eventually the interim heavyweight title.
Ciryl Gane MMA Record: Gane's MMA record stands at 10 wins and 0 losses.
Also Read: Ciryl Gane Net Worth, MMA Career, Income, Personal life, earnings, and more
Also Read: WATCH: Derrick Lewis grabs the interim heavyweight title belt during UFC pre-fight presser