Colby Covington recently discussed Charles Oliveira's win over Dustin Poirier at UFC 269. He gave some insight into the impact it may have on the legacy of former lightweight kingpin Khabib Nurmagomedov. Covington, on Submission Radio, reasoned that Khabib, in his illustrious 29-0 career, never fought any elite wrestlers. 'Chaos' also opined that 'The Eagle' actually lost to Gleison Tibau when he fought him at UFC 148.
Covington said, "Yeah, it definitely delegitimizes his legacy. I mean, he never really fought a high-level wrestler that could challenge him or that was good, you know, in both areas of striking and wrestling and submissions and defensive wrestling so, you know there have always been those doubts about Khabib's legacy you know."
He had an interesting route and he took some time off in between his career and he got good matchups, people that didn't know how to wrestle and I mean even if a lot of people thought that he to lost a guy he used to train with all the time, Tibau. Gleison Tibau. He won a split decision over him, but a lot of people thought he lost that fight so I definitely think that puts a damper on Khabib's legacy."
Watch Covington's full interview on Submission Radio below:
Charles Oliveira overcoming all odds against Dustin Poirier at UFC 269, Khabib Nurmagomedov congratulates the champion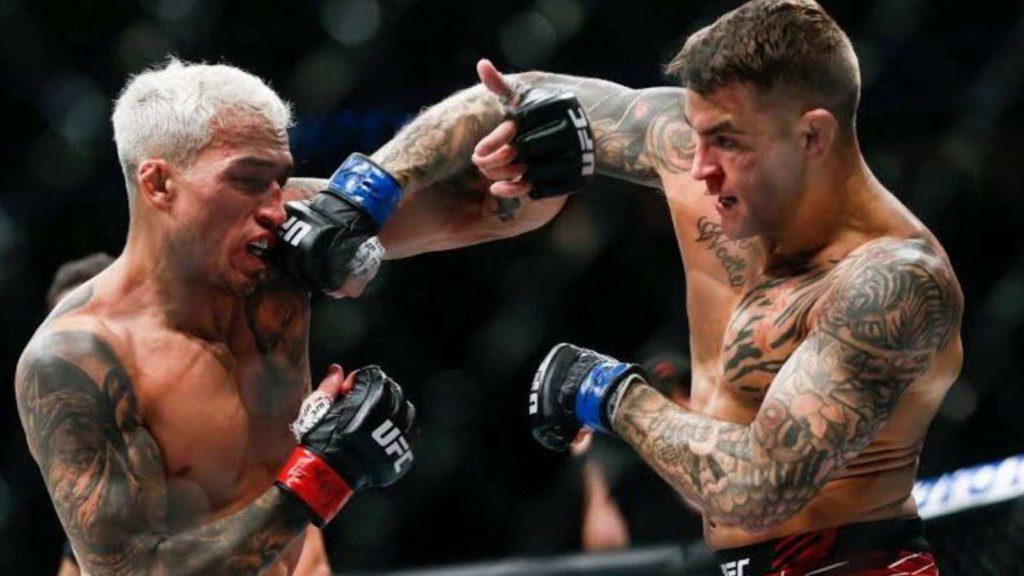 Oliveira defeated Dustin Poirier by submission at UFC 269 with a standing rear-naked choke. Poirier also lost to Nurmagomedov at UFC 242 via rear-naked choke. Although both Poirier's title-fight losses came in Round 3, 'Do Bronx' managed to beat 'The Diamond' one minute and four seconds faster than Khabib Nurmagomedov.
After the Brazilian's thrilling victory, 'The Eagle' himself, congratulated Charles Oliveira for his performance on Twitter.
Oliveira entered the fight looking for the respect and the validation that comes with the title of being UFC champion, and with his performance over Poirier, he most definitely earned it. A logical contender for Oliveira is waiting in the wings, but Poirier's future is far less clear.
There are a lot of good 155ers to challenge Oliveira, like Islam, but none of them have the resume of Gaethje. He's next in line to face Oliveira for the UFC Lightweight championship sometime in 2022.
Also Read- "History has a new name and it's Charles Oliveira," "Do Bronx" bites back at Khabib Nurmagomedov for underestimating the champ