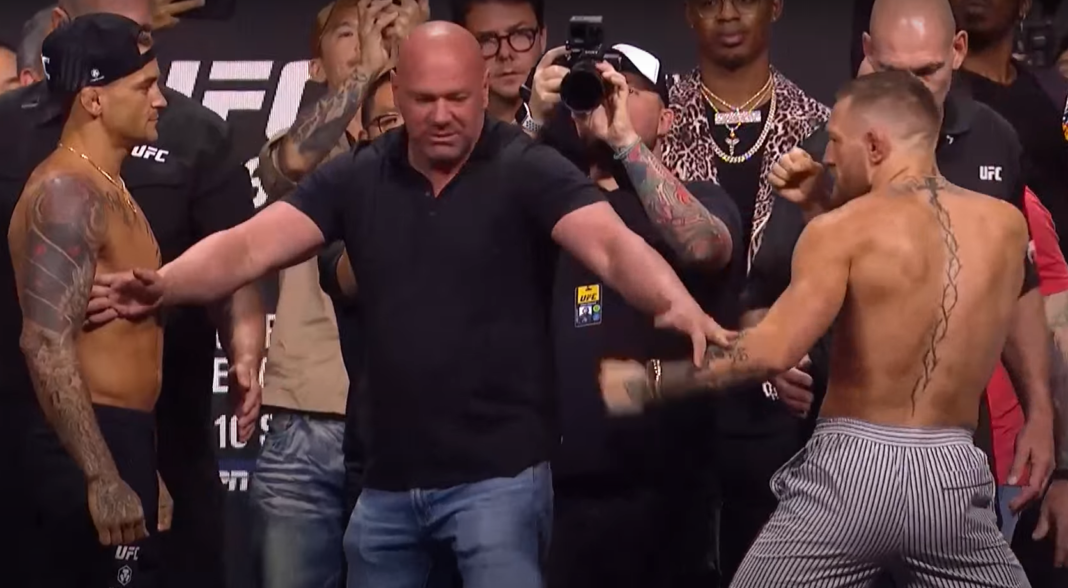 In a matter of hours, Conor McGregor and Dustin Poirier will get to know their fate. The pair are set to face off in the main event of UFC 264 at the T-Mobile Arena in Las Vegas. Both the fighters weighed in successfully and hours after the weigh-ins, they had their ceremonial weigh-ins.
UFC President Dana White didn't have much to do, as Conor McGregor stayed within his limits, not attacking Poirier during the staredown. However, at the post weigh-in interview with Joe Rogan he fired an ominous warning to Dustin Poirier. 'The Notorious One' stated that he was going to teach Poirier a lesson for disrespecting him when he showed kindness, while planning to leave him for dead inside the Octagon.
"Tomorrow night I'm going to make this man pay with his life and I mean it" –
McGregor told Joe Rogan, "In 16 hours' time, this man is going to learn, that if you disrespect a person's kindness and take it as a weakness, you must pay. Tomorrow night I'm going to make this man pay with his life and I mean it. You're dead in that Octagon tomorrow night." [h/t Firstsportz.com]
McGregor sounded like he meant it. He was motivated on another level. But that wouldn't be enough as everyone saw his weakness the last time he fought Poirier. With his back against the wall, McGregor will be looking forward to getting that win, and staying in the lightweight title frame.
Poirier, on the other hand, seemed unfazed. When asked by Rogan about what McGregor's words meant to him, he claimed that they were nothing but "noise."
Who do you think will get to settle the score in the rivalry? Will it be Dustin Poirier all the way? Or can Conor McGregor bounce back from his UFC 257 loss?
Also Read: Instagram Rich List 2021: Conor McGregor and Floyd Mayweather feature in the top 100
Also Read: Sean O'Malley Net Worth, MMA Career, Income, Personal life, earnings and more