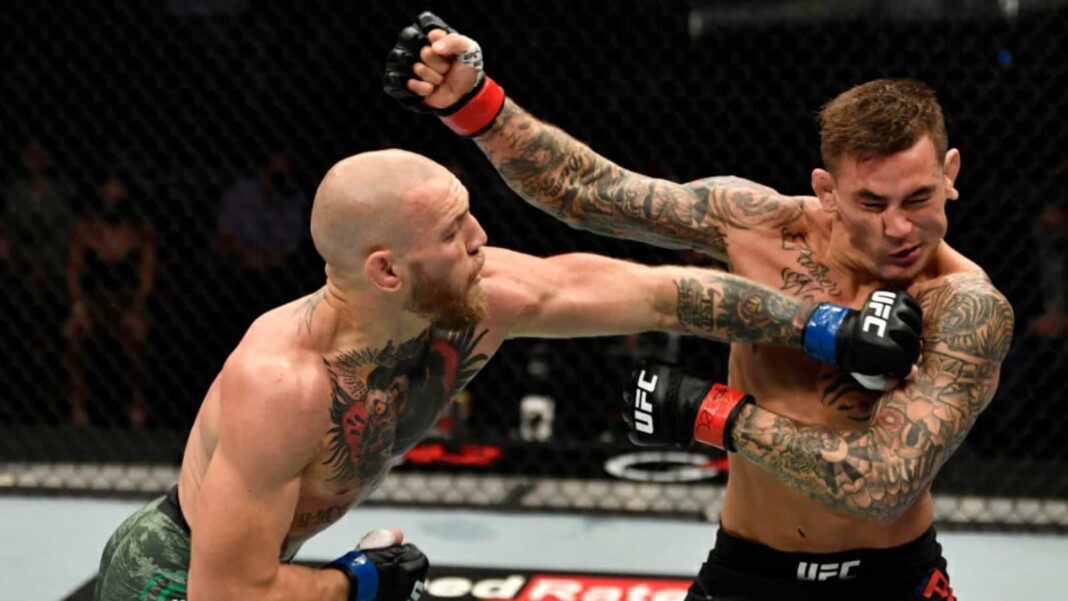 Conor McGregor vs Dustin Poirier 3 is almost upon us. With the fight just 5 days away, McGregor has begun his mind games this time – something which he failed to do last time around, which several people claim to have led to his downfall. The fight is set to take place at the T-Mobile Arena in Las Vegas and will be headlining UFC 264.
Conor McGregor recently took to Twitter and put out a voice tweet, where he can be heard referring to Dustin Poirier as a 'peahead' while warning that he was coming for him. McGregor had got into Poirier's head the first time the pair met at UFC 178, back in 2014. McGregor's words 'peahead' and 'hillbilly' stood out during the pre-fight press conference.
'Sh*tty Hillbilly' – Conor McGregor taunts Dustin Poirier
McGregor can be heard saying, "Dustin, peahead…I am coming for you peahead…Sh*tty Hillbilly!" McGregor got into Poirier's head the first time the pair fought. However, he was a mere shadow of his usual 'trash-talking' self at UFC 257. It was humble Conor that turned up that night. He ended up losing as well to make the scoreline 1-1.
And now it looks like McGregor has gone back to his usual 'Notorious Self' which is clearly evident from the trash-talking he has already started. The pre-fight press conference is due soon and it will be interesting to see how McGregor goes about it. He will be looking forward to mentally destroy Poirier.
However, Poirier is a much mature fighter now. He wouldn't let McGregor's words affect him. He will be backing his top-notch skills which he used to knock out McGregor the last time at UFC 257.
Will McGregor be able to get into Poirier's head like the way he did at UFC 178?
Also Read: Instagram Rich List 2021: Conor McGregor and Floyd Mayweather feature in the top 100
Also Read: Sean O'Malley Net Worth, MMA Career, Income, Personal life, earnings and more