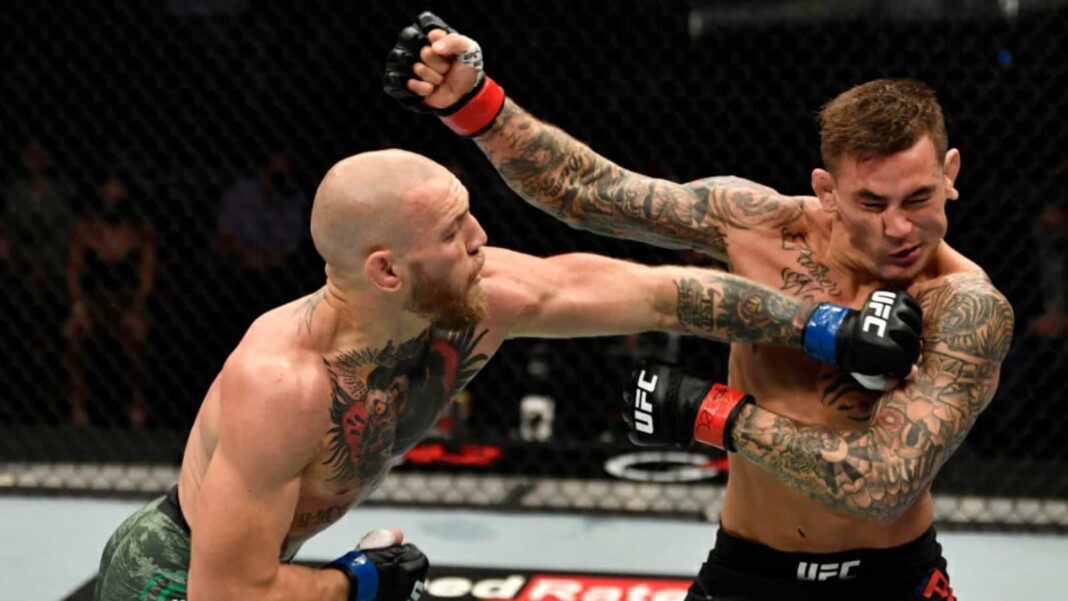 Conor McGregor is just a few days away from his career-defining match against Dustin Poirier at UFC 264. The pair will be headlining a stacked card which is set to take place at the T-Mobile Arena in Las Vegas. With the fight inching closer, both the fighters have been busy giving interviews across various media outlets.
In a recent interview with Ariel Helwani, who was making his first appearance for BT Sport, Conor McGregor claimed that Poirier would be trembling right now. McGregor went on to reveal that Poirier knew he got whacked in both the rounds at UFC 257. Finally, he sounded off a warning that 'The Diamond' would be eating a ton of shots from him.
'I had him out on his feet in both rounds' – Conor McGregor on Dustin Poirier
McGregor was quoted as saying, "Of course, he's trembling. Even after the last win Ariel, [imitating Dustin] 'I don't like this anymore. I don't wanna do this anymore.' Imagine after your biggest win you're saying that, it is because he knows he got electrocuted in both rounds, he got rattled. I had him out on his feet in both rounds. Multiple times in the first and even in the second…So he knows the shots he ate, he's gonna eat a hell of a lot more of them." [h/t FirstSportz.com]
McGregor is in the last chance territory. He very well knows that a loss would affect him mentally. With a title fight at stake for the winner, McGregor will be looking forward to turning back the clock and revisit his glory days. He is ranked number 5 in the lightweight rankings currently and a loss might push him into oblivion.
Poirier, on the other hand, will be having the momentum of the win last time around. The number one ranked lightweight contender will be hoping to stick to the basics and get his hands raised, come this weekend.
Also Read: Instagram Rich List 2021: Conor McGregor and Floyd Mayweather feature in the top 100
Also Read: Sean O'Malley Net Worth, MMA Career, Income, Personal life, earnings and more