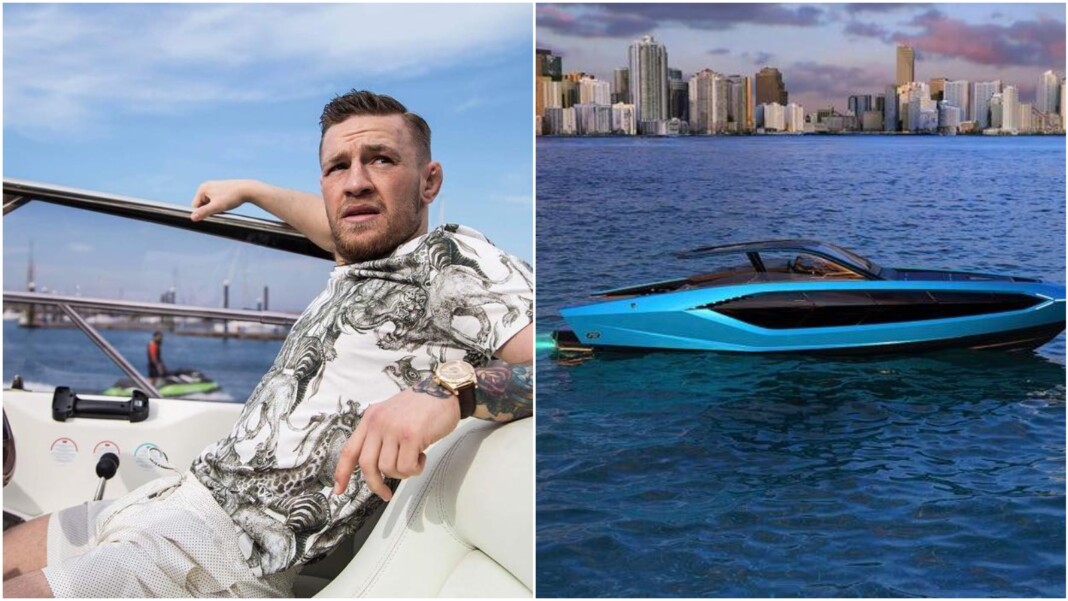 Conor McGregor is currently recovering from ankle surgery he underwent a month ago after suffering an ankle break at UFC 264, against Dustin Poirier. He is also serving a six-month medical suspension, and will be back only in the second week of January 2022.
Of late, McGregor has been pretty active on social media, albeit playing Jekyll and Hyde on Twitter. The 'Tweet-and-delete' Conor aims shots at former fighters and rivals whereas the calmer one answers fan Q&A. Of late, he has been offering several consoling messages to ailing fans and also answering several fan questions.
In a recent Q&A session, Conor McGregor revealed that he was planning to set the Guinness World Record for fastest time to lap Ireland by a power boat. He was pretty confident of setting the record. And the boat, McGregor was referring to was his super yacht which has a top speed of approximately 120kph.
"4000bhp powering a full carbon vessel" – Conor McGregor
McGregor's Tweet read, "Not sure but I plan to set the Guinness world record for fastest time to lap Ireland by power boat. The boat that holds the record currently was man built. Pretty cool boat but I am going take that record handy. 4000bhp powering a full carbon vessel. It's a wrap hahaha."
The Irishman is a big fan of boats. He owns quite a few luxury boats. The boat he is looking to set the record with is the Lamborghini Super Yacht, which was delivered to McGregor a month ago. He had ordered the same a year back. The stunning boat dubbed 'The Supercar of the Sea", costs a staggering 2.7 million Euros.
Inside the Octagon, McGregor is in a bit of a rut. The Irishman recently suffered back-to-back defeats for the first time in his MMA career, losing both fights to Dustin Poirier. He will be looking forward to finding his feet at least the next time, when he gets back into the Octagon.
Also Read: I liked how Cristiano Ronaldo looked more" – Khabib Nurmagomedov unhappy with the way Mike Tyson presented himself in his podcast recently
Also Read: UFC Vegas 35: Edson Barboza vs Giga Chikadze Prediction and Fight Preview