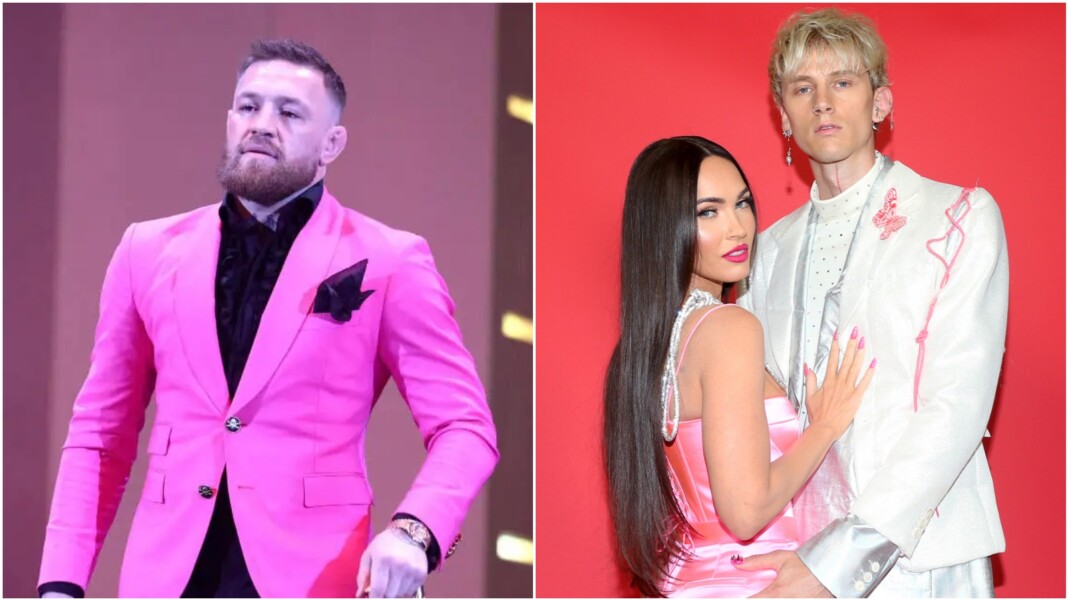 Conor McGregor and rapper Machine Gun Kelly had a nasty run-in at the recently concluded VMAs. McGregor was seen throwing a drink at the Cleveland-based rapper. He also lost his cane in the process. Had there been no securities, it would have escalated into yet another public brawl for the Irishman.
It wasn't clear what triggered the incident. Some sources claimed that Conor McGregor had asked MGK for a picture and was shoved by his security. A few other sources stated that the Irishman wanted a picture with MGK's partner Megan Fox.
"Your wife is in me DMs" – Conor McGregor
With various sources claiming different reasons for the same, one source ExtraTV has come up with an interesting take. According to the source, McGregor had slid into Fox's DMs, which her partner MGK was not happy with, and hence the scuffle at the VMAs.
It is quite ironic as to how everything has come full circle in just a couple of months. Just ahead of UFC 264 (trilogy fight) against Dustin Poirier, McGregor had accused Poirier's wife Jolie of sliding into his DMs. He even posted a few screenshots to prove the same.
And, he just didn't stop there. He kept on repeating "Your wife is in me DMs," until it became a catchphrase. Now, although no one knows what exactly triggered the McGregor-MGK incident, McGregor DMing Fox is ironic in gargantuan proportions. It is also a well-known fact that Fox is a fan of the UFC, and often turns up when 'Mystic Mac' takes center stage.
Also Read: "So let's fight" – Nate Diaz accepts callout from Vicente Luque
Also Read: "What am I watching", "An absolute disgrace" – Twitter reacts to Evander Holyfield vs Vitor Belfort