It's been almost two weeks since the live event of UFC 264 has gone down, the main event of the night was headlined by the trilogy match between Conor McGregor and Dustin Poirier, this match had an anticlimactic ending to it, and the events that followed weren't that great either.
Conor broke his foot just as the first round was ending, and Dustin was declared the winner of this bout, soon after the fight ended Conor passed some incredibly disrespectful comments towards Dustin's wife and his family.
Many people believed that it was totally uncalled for and Conor is definitely in the wrong for passing on such comments, the former UFC lightweight champion Khabib Nurmagomedov called Conor out on Twitter, he wrote, "Good always defeats evil. Very happy for @DustinPoirier I hope you will get the belt end of the year."
Now Conor has replied to Khabib, in the most disgusting way possible, with a deleted Tweet, he wrote, "Covid is good and father is evil?" This was a nod to Khabib's father, Abdulmanap Nurmagomedov who passed away in 2020 after a series of COVID-19 complications, Khabib was devastated by this loss, and he retired from the sport of MMA to spend some more time with his mother.
This was a cheap move, to say the least, and it'll be interesting to see Khabib's reaction to this.
Conor McGregor posted a series of disturbing Tweets towards Dustin Poirier's family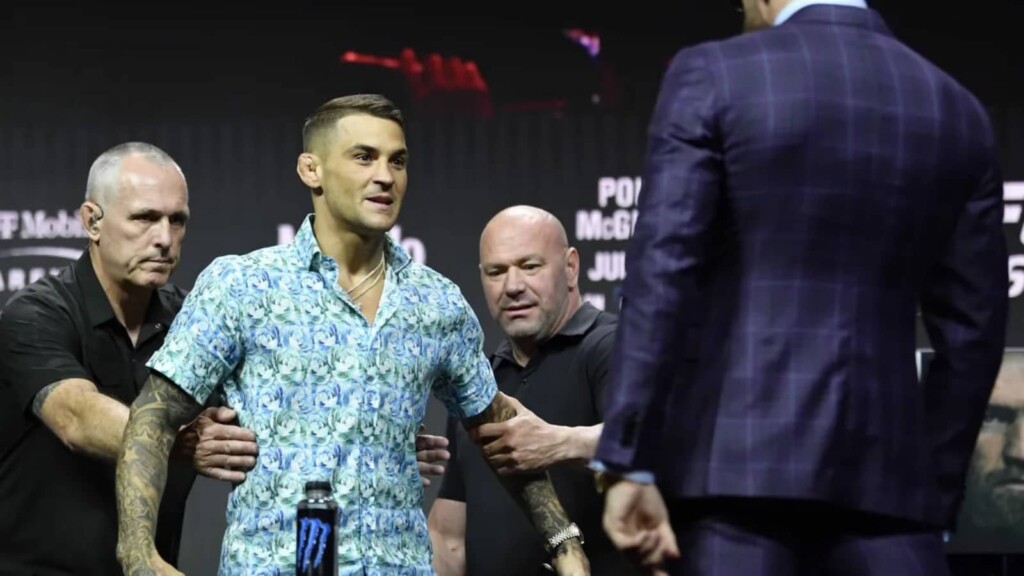 Conor completely lost it during the post-fight conference with Joe Rogan, he called out Dustin's wife Jolie Poirier for trying to get in his dm's. After the fight, he had to undergo surgery, and immediately after getting the procedure.
He posted a series of disturbing-deleted Tweets towards Dustin's family particularly his daughter, he posted
"I'm dangerous man."
"Gonezo."
"Your wife is your husband."
Besides this, McGregor also posted an image of Dustin with his daughter, which appeared to be zoomed in than the normal picture. The tweet, "I'm a nasty dude I promise you" is in reference to Poirier's words in the trilogy promo – 'Violence is coming'. "Your wife is your husband", was something McGregor kept mentioning at the pre-fight presser.
Also read- "He might have had Plan B" Dustin Poirier accused Conor McGregor of providing fabricated evidence for his injury