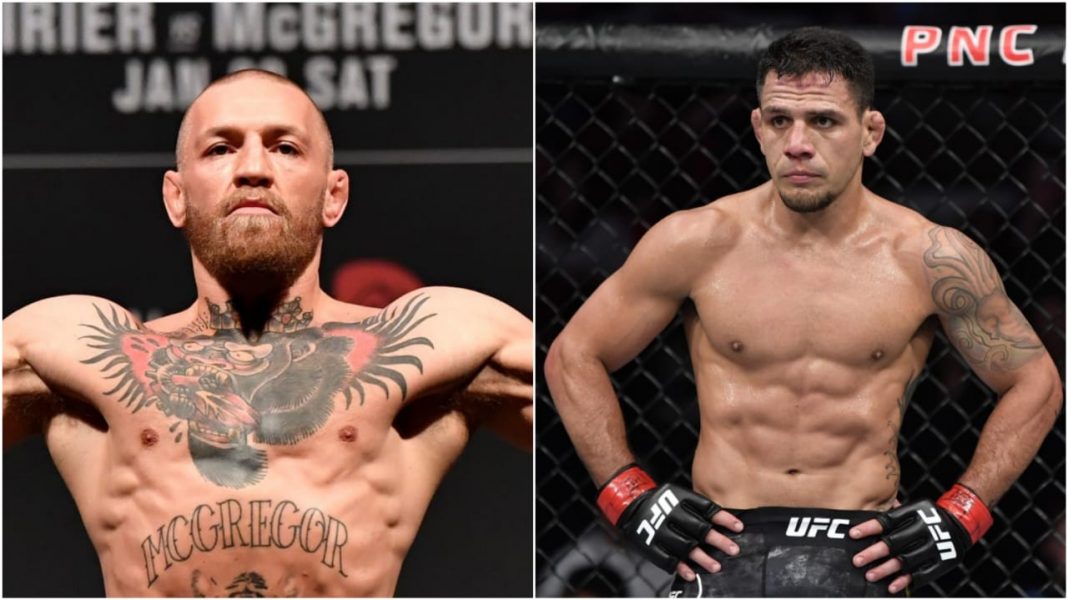 Conor McGregor has been busy gearing up for his trilogy fight against Dustin Poirier on the 10th of July. The pair will be headlining UFC 264 in a fight that might see the winner fight for the lightweight title against 'Du Bronx' Charles Oliveira.
Since the fight is a mega-crucial one, the UFC had been searching for a backup fighter. Recent reports state that former lightweight champion Rafael dos Anjos might probably be the backup fighter after being spotted cutting weight at the Las Vegas, fighters' hotel.
Rafael dos Anjos and Conor McGregor came close to fighting in 2016
With the reports of RDA being the backup for the McGregor-Poirier trilogy rife, McGregor put out a tweet claiming that he would fight both dos Rafael dos Anjos and Dustin Poirier at the same time. McGregor's tweet read, "Put dos anjos in at the same time."
This didn't sit well with Rafael dos Anjos, as he clapped back at Conor, tweeting, "Alcoholic hallucinosis from drinking cheap whiskey until 3:39 am."
Rafael dos Anjos and Conor McGregor were scheduled to fight on the 6th of March in 2016. McGregor had recently become the featherweight champion back then, and expressed his desire to become the 'champ-champ'. His wish was granted, and a fight against dos Anjos was made official.
However, with just a week left for the fight, RDA pulled out from the fight due to a foot injury. That was when Nate Diaz stepped in and changed the course of history for the Irishman. He became the first man to defeat McGregor in the UFC. RDA, on the other hand, would go on to lose his lightweight belt to Eddie Alvarez that same year, who in turn lost to McGregor at UFC 205.
Also Read: Instagram Rich List 2021: Conor McGregor and Floyd Mayweather feature in the top 100
Also Read: Sean O'Malley Net Worth, MMA Career, Income, Personal life, earnings and more