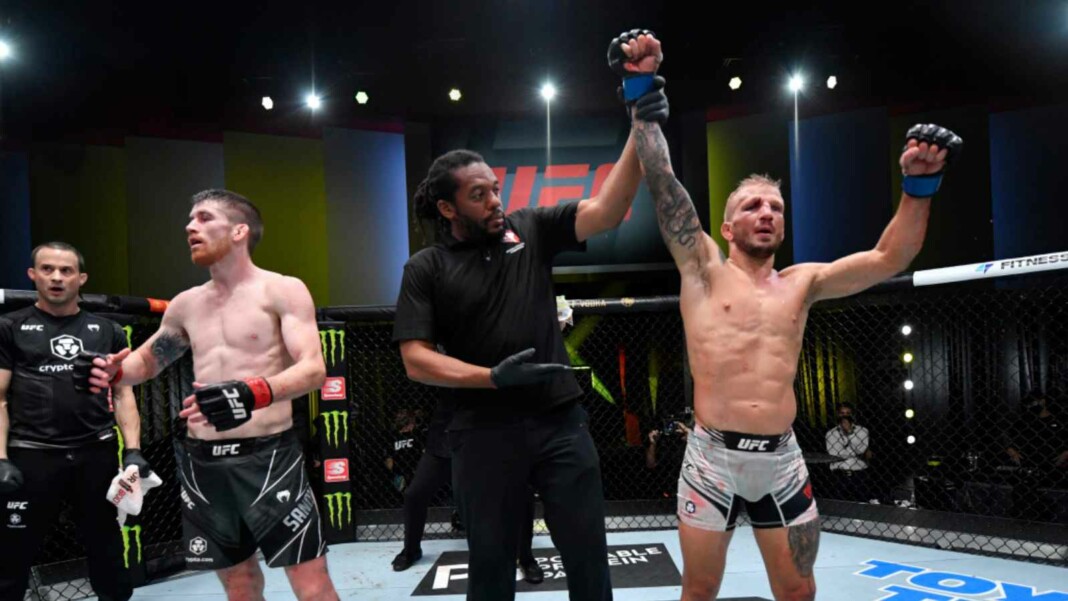 Cory Sandhagen who was on an upward surge suffered a big setback at the hands of the returning TJ Dillashaw in the main event of UFC Vegas 32. 'The Sandman' went down to TJ Dillashaw via. a narrow split decision, despite a large number of people feeling that he should have won the fight.
In a recent interview with MMA Fighting, Cory Sandhagen reflected on his loss to Dillashaw. He provided a round by round breakdown of the fight. However, he did say that he should have won the fight, while also acknowledging the fact that he knew why the judges chose Dillashaw as the winner.
"I can see how a judge would give TJ the nod" – Cory Sandhagen
Sandhagen had the following to say about the first round, which had an explosive Dillashaw continuing to come forward with power and aggression: "I would give TJ round 1…I think I was maybe chasing submissions a little too much."c
Round 2 was clear as day. It was a round where Sandhagen inflicted maximum damage on the former two-time bantamweight champion. Speaking about which he said, "Obviously I beat him up pretty good."
Here is what Sandhagen told about round 3 and round 4. "Round 3 and Round 4 were probably the closest rounds. I still think I was landing the clearer shots and doing more damage."
Sandhagen felt that he clearly won the 5th and final round, which proved to be the most decisive round. He said, "Round 5, I think I won…He wasn't able to do any damage and he wasn't able to take me down…I won the fight more by my standard…I can see how a judge would give TJ the nod because of aggression and him moving forward."
Cory Sandhagen issues a statement following his loss to TJ Dillashaw
A day after his loss to Dillashaw, Sandhagen issued a statement on Instagram that read, "My thoughts on the fight, as I'm sure some of you are curious: I believe I should have done more to win. I made a few mistakes that gave him a nod from the judges. I kept myself protected and defended almost all the shots while scoring the harder and cleaner ones. He was able to control against cage for longer, while not doing any damage.. up to you if you score that as winning."
Sandhagen continued, "I will give credit to TJ for fighting tough. It was a coin toss. If it's damage, I win. If it's control, he wins. So it goes…thanks for the support from everyone.. gonna keep climbing.
Also Read: Zhao Shuai Net Worth: Know all about The Chinese Taekwondo practitioner, Bio, Career achievements, Coach, Parents, and more
Also Read: Jang Jun Net Worth: Know all about The South Korean taekwondo practitioner, Bio, Career achievements, Coach, Parents, and more