Cory Sandhagen vs TJ Dillashaw was one of the greatest displays of modern mixed arts in recent times. The fight that headlined UFC Vegas 32, went the full 5 rounds, and only a split decision from the judges could separate the two fighters. Dillashaw who was returning to the UFC after more than 2 and a half years due to a drug ban, walked home a chuffed man, after the judges scored the fight in favour of him.
While many felt that Sandhagen should have won the fight, 'The Sandman' himself didn't whine or moan about the loss. He took the L like a champion, and his recent Instagram post wherein he issued a statement proves how sportive the rising bantamweight fighter is.
Cory Sandhagen stated that he should have done "more to win." He then pointed out that he had made a few mistakes like "keeping himself protected while scoring the harder ones." The number 2 ranked bantamweight seemed undeterred as he promised to keep climbing.
'I will give credit to TJ for fighting tough' – Cory Sandhagen on TJ Dillashaw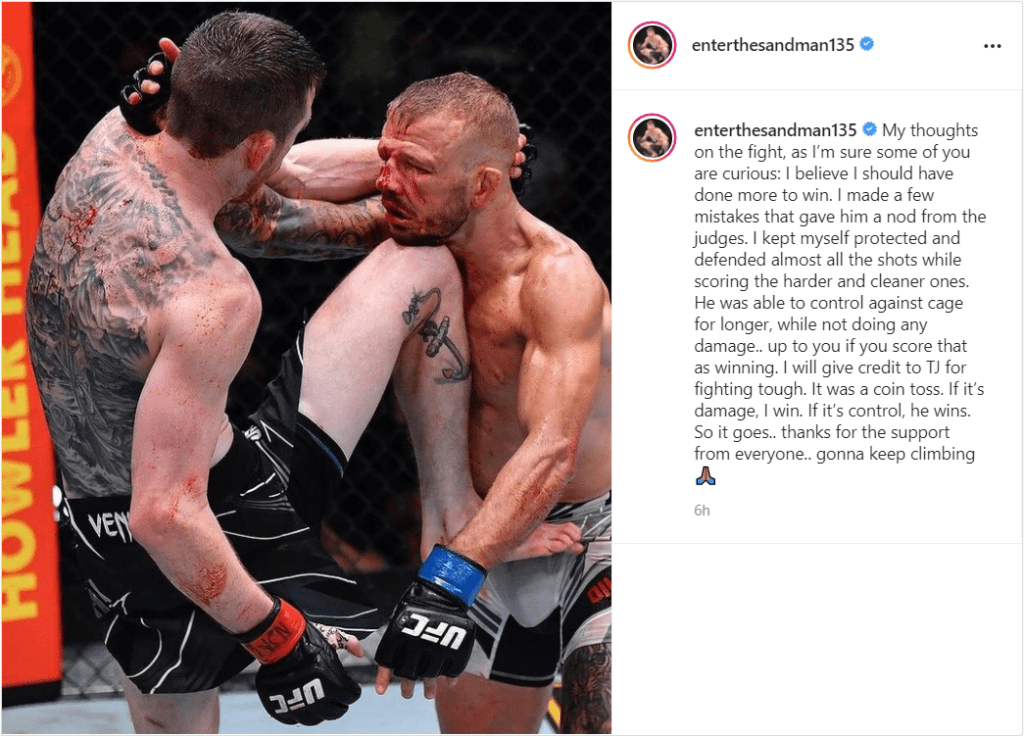 Sandhagen's post read, "My thoughts on the fight, as I'm sure some of you are curious: I believe I should have done more to win. I made a few mistakes that gave him a nod from the judges. I kept myself protected and defended almost all the shots while scoring the harder and cleaner ones. He was able to control against cage for longer, while not doing any damage.. up to you if you score that as winning."
Sandhagen also gave props to Dillashaw, he wrote, "I will give credit to TJ for fighting tough. It was a coin toss. If it's damage, I win. If it's control, he wins. So it goes.. thanks for the support from everyone.. gonna keep climbing."
Sandhagen's quest for the bantamweight title took a massive hit following the loss. He looked visibly dejected when TJ Dillashaw's hand was raised. He will have to take another long route to get to the top now.
As for TJ Dillashaw, he called out Petr Yan and Aljamain Sterling, stating that he would be ready to face the winner of their rematch which is expected to take place at UFC 267, later this year in October. He will be ecstatic that he returned with a bang.
Also Read: Zhao Shuai Net Worth: Know all about The Chinese Taekwondo practitioner, Bio, Career achievements, Coach, Parents, and more
Also Read: Jang Jun Net Worth: Know all about The South Korean taekwondo practitioner, Bio, Career achievements, Coach, Parents, and more