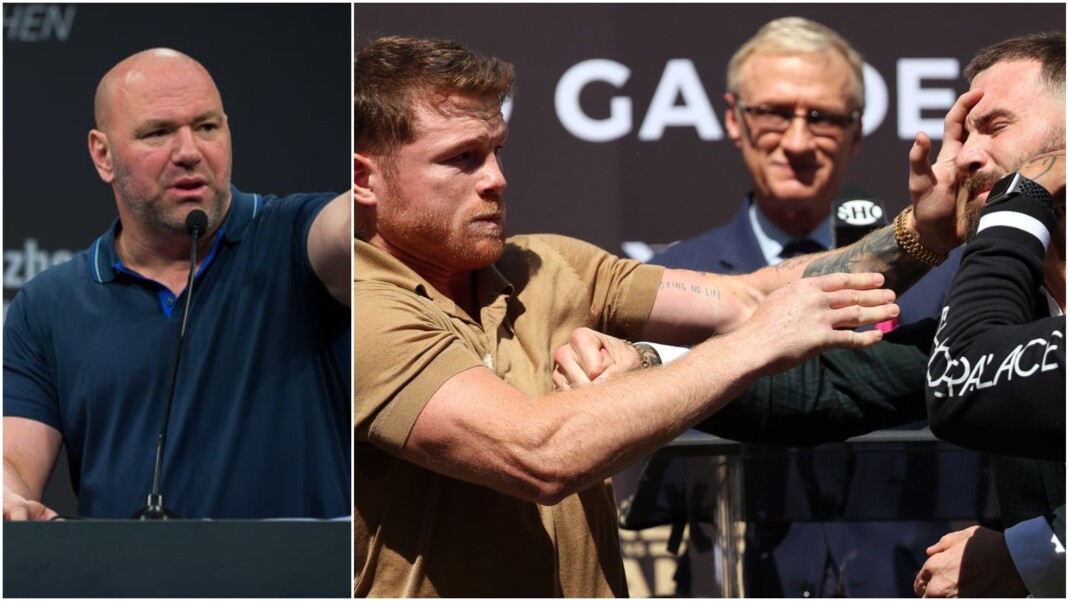 Canelo Alvarez and Caleb Plant will be facing off on the 6th of November at the MGM Grand Garden Arena in a title unification bout. Alvarez will be looking forward to getting hold of Plant's IBF Super Middleweight Title and make all the super middleweight titles his.
During the first press conference they had recently, a nasty scuffle ensued between Canelo Alvarez and Caleb Plant. The two boxers came to blows eventually. While Alvarez accused Plant of abusing his family (especially his mother), Plant vehemently denied it, and echoed the same on social media as well.
Hearing about the same, UFC President Dana White shared his views on the incident. In an interview with South China Morning Post, White thrashed 'Showtime Production' for the way they handled the fighters' safety. Calling Showtime dumb, White went on to sarcastically mock them.
"Those guys are really good at what they do" – Dana White oozes sarcasm
Dana White was quoted as saying, "How long have you been in the business that you would let two fighters go up to each other face-to-face without somebody there to try to [keep them from fighting]. And then, when it breaks out, there's like two women that are there before there's a man anywhere near it. You couldn't be f*cking dumber than what they did today, risk a massive fight with one of the biggest stars in the sport, by not having the fighters safe."
He continued, "I'm not surprised. Sh*t Showtime is, they're great. Those guys are really good at what they do, from production to press conferences. They're f*cking awesome." [via MMA Fighting]
This is not the first time, White is going off at someone who is not careful at the weigh-ins. He tore into UFC matchmaker Sean Shelby when he failed to check Jeremy Stephens, who in turn pushed Drakkar Klose so hard that Klose ended up withdrawing from the fight (due to a neck injury).
Back to Alvarez-Plant, Plant was left with a nasty cut below his right eye. He was seen wiping the blood off with a towel. With over a month left to go for the fight, the games have already begun. Let's hope Canelo Alvarez vs Caleb Plant turns out to be a cracker of a contest.
Also Read: Everything you need to know about the Bellator 266 judging controversy – Phil Davis vs Yoel Romero
Also Read: Who was Heather Ceballos? Here's everything you need to know about the deceased UFC employee