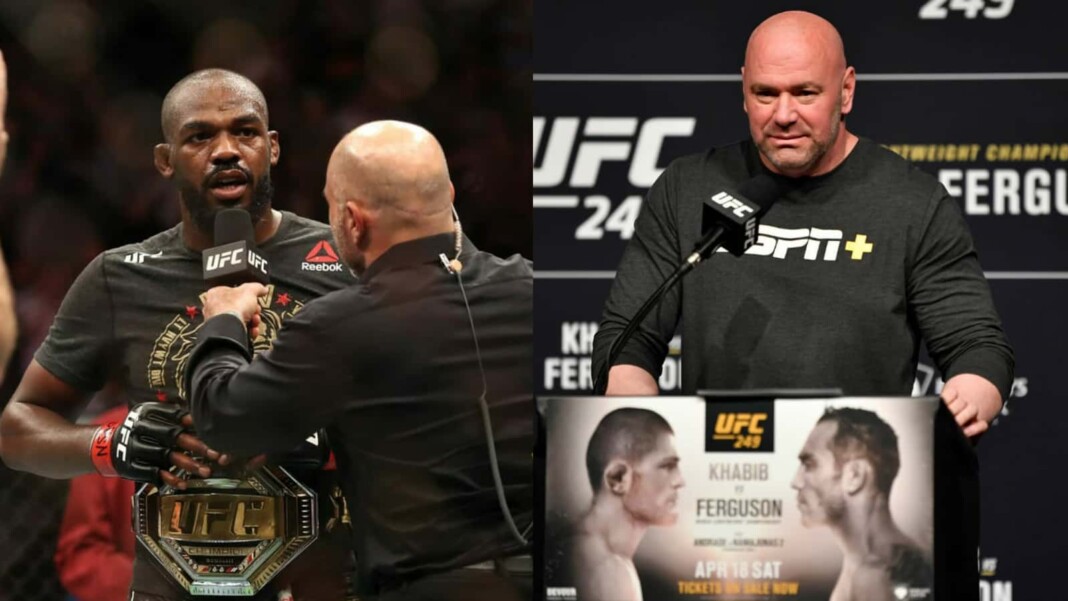 The former UFC Light Heavyweight champion and number one pound-for-pound fighter, Jon Jones doesn't seem to have things going in his way with Dana White, since he asked for a better contract to move up to Heavyweight and challenge Francis Ngannou for his title.
The UFC president Dana White made it clear that they already moved ahead of Jones and they are trying to book a match between Derrick Lewis and Francis Ngannou, for 'Predator's' first title defense.
Jon Jones was offered Stipe Miocic but he declined to fight him as he wants to fight on his terms against the newly crowned heavyweight champion. Talking about it in his latest interview with TMZ Sports, White says if Jones thinks of his retirement, it won't be a bad idea.
Dana White says, "That's up to Jon, He could absolutely fight again at 205 pounds. He said he wouldn't fight Stipe Miocic, and now Derrick Lewis and Francis Ngannou are fighting, so we'll see how that fight plays out. There's nothing wrong with going out on top either – Jon Jones is undefeated, he's never been beaten."
Dana White believes Jones got nothing more to prove to anyone
White suggested the idea of number one contender between Jon Jones and Stipe Miocic to face the winner of Lewis vs Ngannou 2. But Jones isn't interested in this fight and now Dana White said that Stipe will face the winner of this fight, which left Jones in jeopardy for his future.
Dana White added, "For those people that don't know, you see that one loss on his record, he didn't lose that fight. He won that fight in dominant fashion like most of his fights."
"It was a time when the Nevada Athletic Commission was at its weakest, and there was a referee that shouldn't have been in there, and he stole that fight from Jon Jones. So, it wouldn't be a bad thing for him to go out on top."
What are your views on this? What do you think 'Jonny Bones' future is going to be now?
Also Read: Dana White gets called a "Little B*tch" by Oscar De La Hoya for not allowing Georges St Pierre to fight.