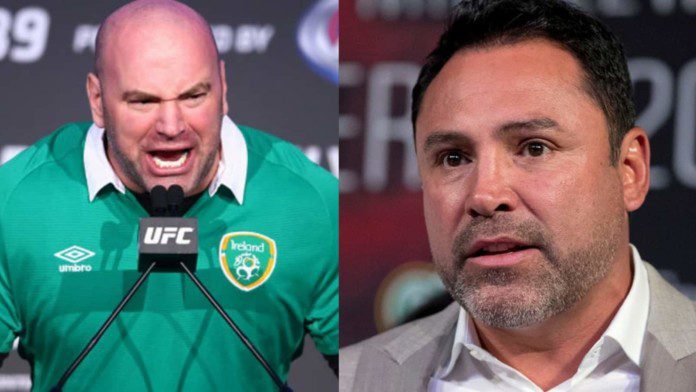 UFC President Dana White is one bad guy when it comes to being clear about who he likes in the scene of fight business and who doesn't, and sometimes, he is pretty straight and nasty about it. White made his recent appearance in a podcast known as The Fight With Teddy Atlas which is hosted by legendary boxing trainer and the former helping hand of the late great Cus D'Amato, Teddy Atlas. The show is also co-hosted by Ken Rideout. White came out to talk about many things associated with the growth of UFC and mixed martial arts in general from 1993 up till now.
Out of the many people that White doesn't like, Oscar De La Hoya truly stands out for him. De La Hoya, a former boxer and currently a promoter who works through his company named "The Golden Boy Promotions," was considered as one of the best Latin American boxers of the late 20th century. Eventually and unfortunately, after his career as a boxer, De La Hoya didn't seem to have much success as a promoter and added to that, he also pulled off bad blood against White. The two seemed to hate each other from the very core of their heart.
Dana White delivers sarcastic jab in trolling De La Hoya, says he "advanced the sport of boxing big time"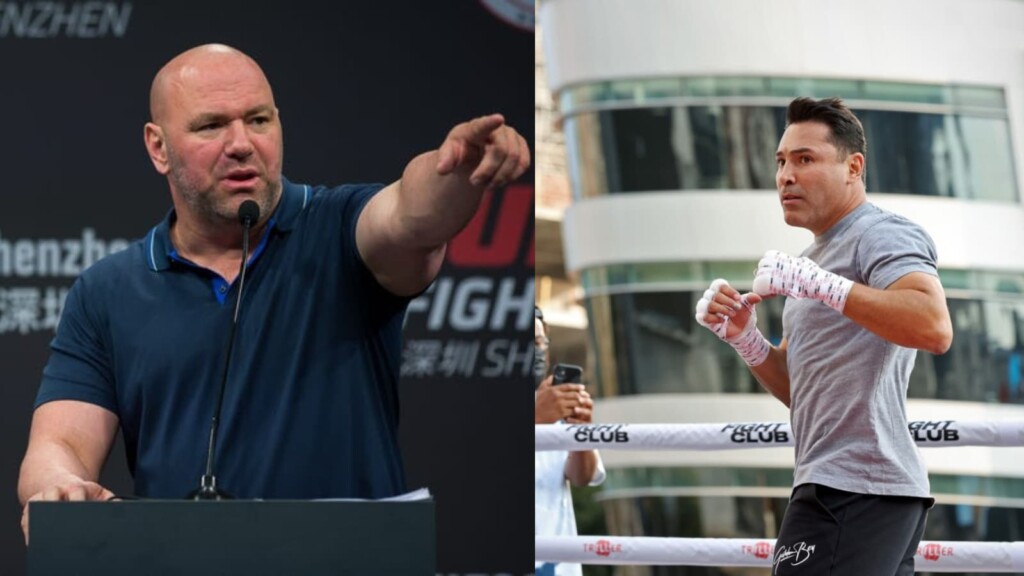 Earlier this month, Dana White talked about former UFC Lightweight champion and retired, undefeated mixed martial artist Khabib Nurmagomedov working as a promoter for the latter's Eagle FC. It was in November of 2020, a month after his retirement when Khabib brought the promotion and so far, he is doing really well with it.
To White's comments, Oscar De La Hoya took it to Twitter and tweeted to Khabib, "@TeamKhabib I've been a promoter in boxing for 20 years and promoted all the best including Mayweather Pacquiao Canelo. It's not complicated you go and do your thing, MMA fighters deserve to get paid fairly. I'm in your corner." Now, in his interview with legendary boxing trainer Teddy Atlas and Ken Rideout, White reacted to the tweet by De La Hoya.
"I have left him [De La Hoya] alone [in terms of beefing], you know," said White, "I was telling, uh, you know Khabib [Nurmagomedov] just started his own promotion [Eagle FC] and I said listen, Khabib has no idea but he's gonna know… he's gonna learn what it's like to be a promoter and then De La Hoya comes out and says 'Ah Khabib, it's easy,' YEAH IT'S EASY! You don't f**king do anything, you lost every fighter you ever fucking had you literally do nothing, of course, it's fucking easy."
In the end, White had to take this sarcastic jab that can have anyone rolling, "You've advanced the sport of boxing BIG TIME! Oh my god, Oscar!"
What do you make of Dana White's comments on Oscar De La Hoya? Do you think De La Hoya doesn't have as much success as a promoter as he used to have back in his days as a legendary boxer? De La Hoya was not long ago making rounds of news on coming back to boxing for exhibition matchups when he was announced to be fighting Vitor Belfort back in September before he pulled out due to Covid, despite being fully vaccinated. Do you think De La Hoya should return to boxing considering his history with narcotics and his age of late forties?
Also Read: "One of the best things in boxing," Canelo Alvarez wins Ring Magazine's 2021 Fighter of the Year, recalls the fight he enjoyed the most