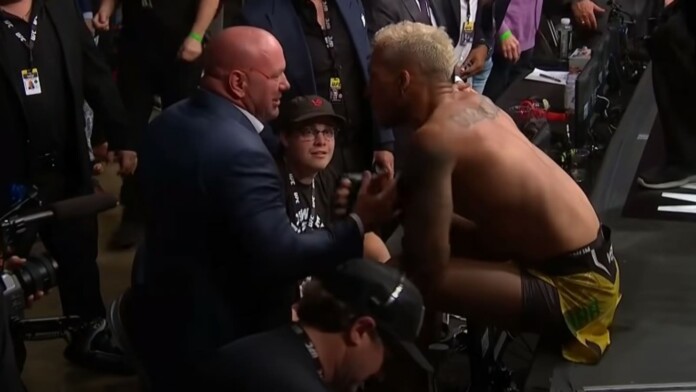 Charles Oliveira couldn't control his emotions as he jumped over the fence to share his moment with Dana White after he knocked out Michael Chandler at UFC 262. The Brazilian knocked him out and jumped over the fence to talk to Dana White, Joe Rogan, and his team after becoming the 11th UFC lightweight champion.
Charles Oliveira has waited a long time for his title shot and 'long' is an understatement. "Do Bronx" has been in the UFC for over a decade now and this is his first-ever title shot. So I wouldn't blame Charles for the way he acted out after he knocked out the "Iron" Michael Chandler. Charles jumping over the fence to talk to UFC President Dana White was a very special moment.
The Brazilian jumped the fence and spoke to his boss and Dana White later revealed what the champion said to him after winning the knockout. That moment might have made the UFC 262 even more special for the fans and for Oliveira for sure. Dana White later revealed what the Brazilian said. "Thank you for everything you have done for me. Tonight was the biggest opportunity of my life and I can't tell you how much I appreciate it, how much it means to me," Dana said in the post-fight media.
"He's a great kid" Dana White on Charles Oliveira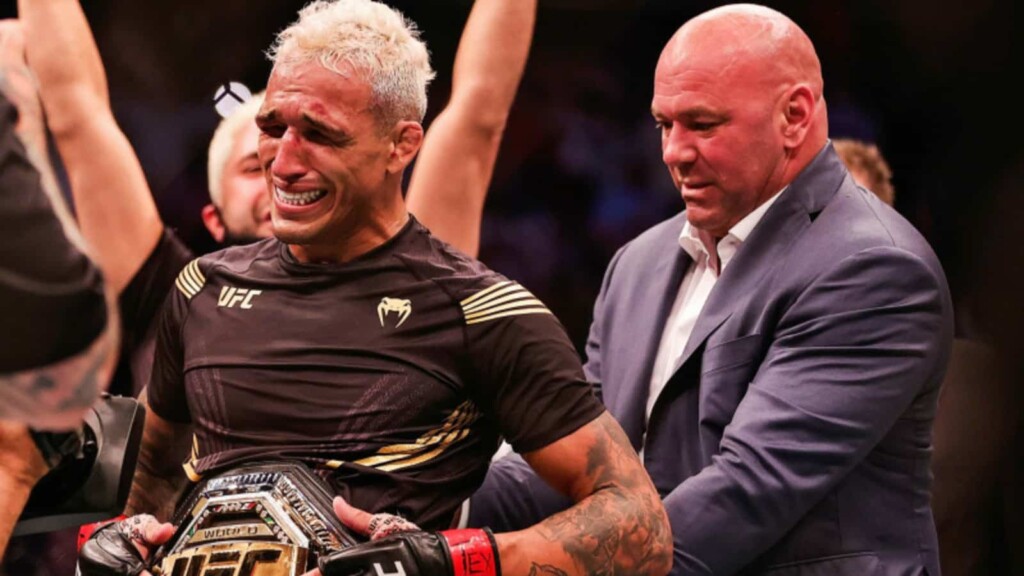 Dana White was accused of being biased towards the fellow American Michael Chandler in the title bout as "Iron" got the title shot after fighting only once in the UFC. But the post-fight conference cleared it that Dana is a huge fan of Oliveira. The boss was very impressed with the performance and happy for the Brazilian.
It won't be much of a surprise if UFC goes to Brazil to host the next Oliveira bout given it would be a title defense. But again only if the conditions permit given the pandemic. Dana called Oliveira a "great kid" and thinks he could do great wonders. After the fight was over, White wrapped the belt around Oliveira where he was seen crying happy tears.
Also read: "That has to be the No.1 contender fight" Ariel Helwani believes the winner of Conor McGregor and Dustin Poirier should fight Charles Oliveira