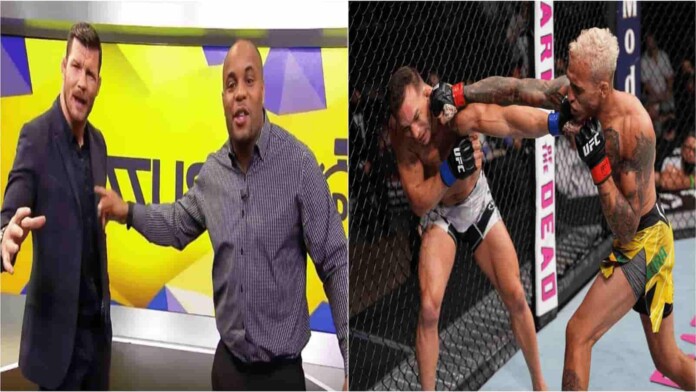 Charles Oliveira emerged victorious against Michael Chandler in the main event of UFC 262 to become the 11th lightweight champion in the history of the UFC. The match was totally wild. The first-round saw Chandler dominate Oliveira, after he had some significant ground time. But, just 19 seconds into the second round, Oliveira finished the fight with a flurry of punches.
The recent development is that two of the judges who scored the main event, had given a mind-boggling 10-8 for Michael Chandler in the first round. 10-8s are usually awarded when one fighter completely dominates the other. But in this case, Oliveira did inflict significant damage in the first round.
UFC commentators Michael Bisping and Daniel Cormier were absolutely livid with the judges. While Bisping called it ridiculous, DC went on a rant saying the judges had stopped valuing ground control.
'Charles had some big moments' – Michael Bisping
Bisping tweeted, "That's ridiculous. Charles had some big moments and was threatening submissions from his back."
Oliveira did look threatening as Bisping pointed out. He was keeping Chandler on tenterhooks with his threatening submission moves. Chandler got the better of the Brazilian, only in the last 90 seconds of the round, after catching him with a proper hook.
'This is absolutely insane' – Daniel Cormier
Daniel Cormier tweeted, "This is absolutely insane, while chandler did win the round Charles had the back and landed some shots. The judging last night was bad, there seems to be no value in ground control anymore. Vivian got to the mount and controlled, attempted sub and still lost the round."
Cormier also pointed out the fight between Viviane Araujo and Katlyn Chookagian where a round was awarded to Katlyn despite Araujo getting to the mount and attempting to submit 'The Blonde Fighter'.
Do you agree with Daniel Cormier and Michael Bisping?
Also Read : 'I don't give a f**k about you' – Dana White goes off on a violent rant against Oscar de La Hoya and Triller Productions
Also Read: Anthony Joshua vs Tyson Fury set to take place on the 14th of August 2021; Tyson Fury confirms on social media