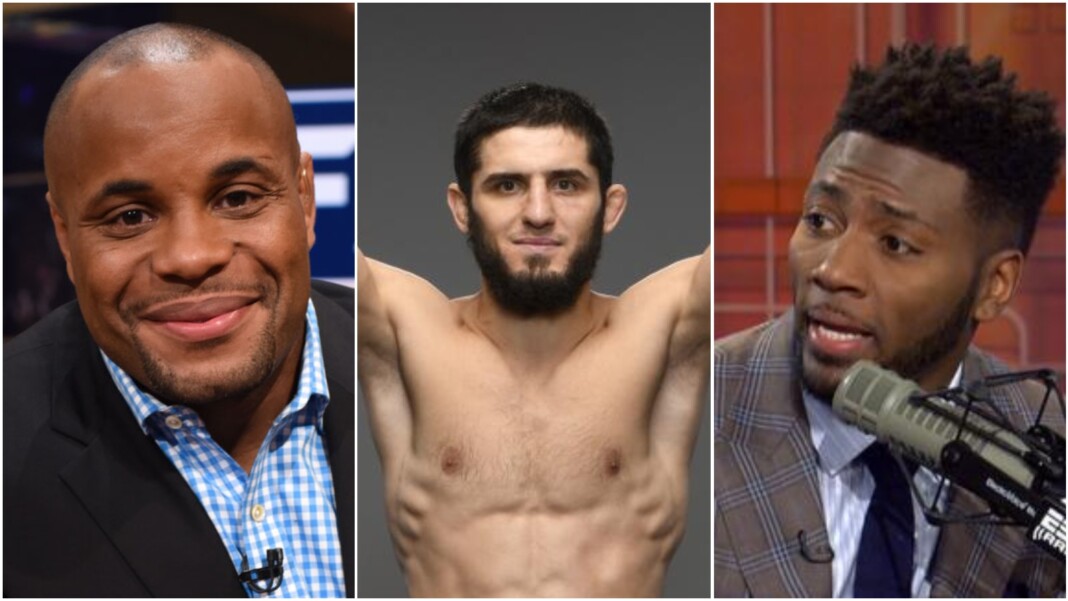 Daniel Cormier and former American Football Safety Ryan Clark have found their footing after the departure of famed reporter Ariel Helwani. The new DC&RC show has slowly begun growing up on fans, after massive aversion towards the show, especially due to Clark's views.
In the latest episode of DC&RC, Ryan Clark took a cheeky dig at Daniel Cormier for always placing UFC lightweight Islam Makhachev on a pedestal. He called out DC for portraying Makhachev as one of the most exciting fighters he has come across, even as the former heavyweight champ burst into laughter.
Cormier has always had a soft corner for his American Kickboxing Teammates, Khabib Nurmagomedov and Islam Makhachev. While Khabib is one of the greatest fighters of all time, Makhachev might be on his way to becoming one too. But are they the most exciting fighters to watch?
"He was surely one on yesterday haha" – Daniel Cormier on Ryan Clark
Posting the clip of the same, Cormier jokingly wrote on Instagram that Clark was blowing up his admiration for Makhachev to gargantuan proportions. But he did acknowledge that he has overvalued Makhachev quite a few times.
Daniel Cormier wrote, "This guy, @realclark acts as if I have said @islam_makhachev is the greatest thing since sliced bread. I don't think I've ever given off the impression that I overvalue Islam lol(ok maybe a little) He was surely on one yesterday haha."
Makhachev was expected to fight Rafael Dos Anjos at UFC 267. However, RDA pulled out due to an injury, and was replaced with Dan Hooker who fought as recently as UFC 265 in the last week of September. Makhachev is currently on an eight-fight winning streak, and will be looking forward to keeping it going.
Also Read: UFC Vegas 38: Santos vs Walker prelims results
Also Read: Alex Oliveira net worth, MMA career, Endorsements, Girlfriend, Parents and More