When the history on the rise of UFC will be written, Diego Sanchez will be one of the first names that should be there in the mention. The former UFC lightweight and welterweight and the former lightweight title challenger and the first-ever winner of The Ultimate Fighter franchise had some of the toughest battles outside the Octagon, but even tougher outside of it.
After a rather tragic departure from the UFC as well as separation from his coach Joshua Fabia, Sanchez was rather living a humbling, blissful family time, until he was tested positive for Covid earlier this month. Despite being better in the middle of this journey, it's been informed by Sanchez via his Twitter now the condition is even much worse.
TUF S1 Winner Diego Sanchez receives wishes of speedy recovery as he suffers from Pneumonia Covid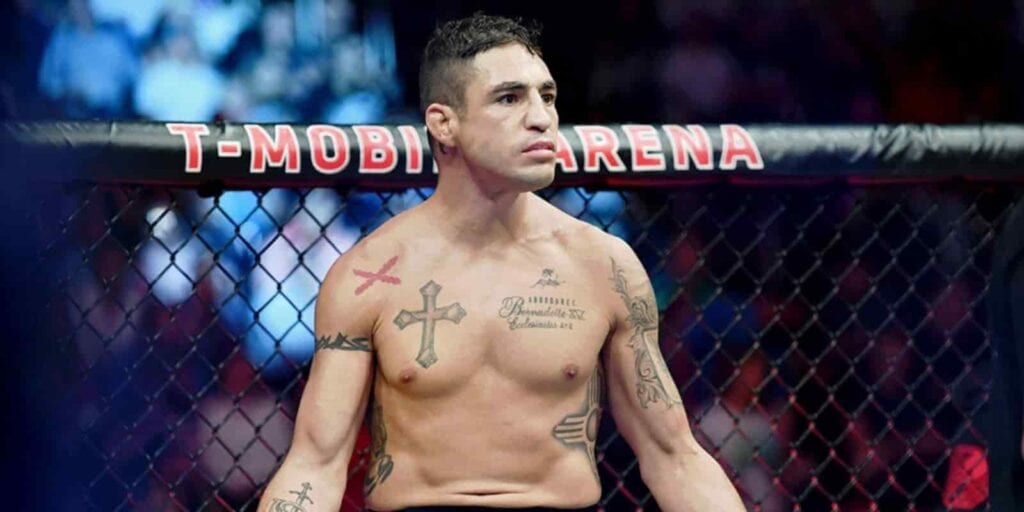 Diego Sanchez took it to Twitter to give his update on his battle with Covid and it was rather surprising and a bit unfortunate, Sanchez is now affected with Pneumonia too. He posted a picture of him in the hospital bed and said, "Pneumonia Covid never give up"
After an hour, Sanchez tweeted "Blood clots now! Covid is no motha f***in joke," and in another tweet said "Blood clots in both my legs"
After this, Sanchez received wishes from the MMA community and more so, from fighters that were previously his colleagues during his time in the UFC. Here's WEC-UFC featherweight Cub Swanson tweeting "Hey @DiegoSanchezUFC Stay strong brother my family is praying for you!"
Former UFC fighter Diego Brandao gave his strong wishes like that of a close friend, he said "don't you die I'll still wanted kicking your ass #godbles #Diego the fake up #Mother F… you can't go away saying people are dead look where you are for God's sake be more humble"
Sportswriters James Lynch and Elias Cepeda came in to give their wishes for the recovery too!
Here are Diego Sanchez's fans wishing him in huge numbers from all over the world!
We wish a speedy recovery to one of the most fan-favourite fighters the UFC ever had, a living legend, Diego Sanchez in his prime has defeated the very reputed fighters in Nick Diaz, Kenny Florian, Karo Parisyan, Clay Guida, Jim Miller and many more.
Also Read: "He's not a well-rounded fighter," Colby Covington believes Israel Adesanya would be a walk in the park in a fight at 185lbs