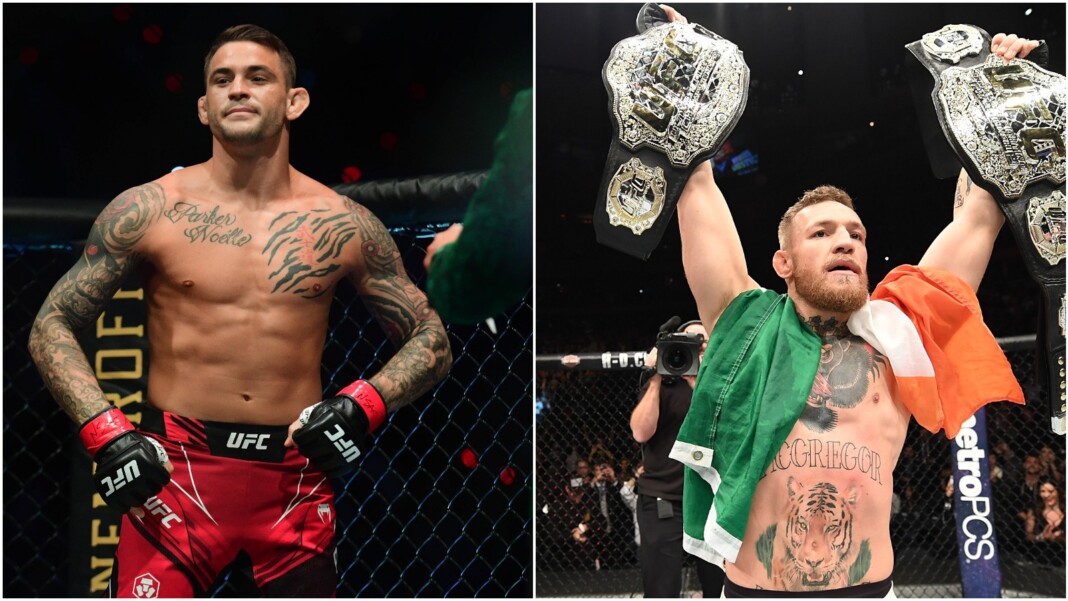 Dustin Poirier has opened up on Conor McGregor returning to his 2016 version. McGregor is probably at the lowest point of his MMA career. The Irishman is winless in 2020, after suffering back-to-back losses for the first time in his MMA career. Both losses have come against Poirier- at UFC 257 and UFC 264 respectively. The first loss was via. knockout in the second round, and the second one – an unfortunate ankle break resulting in a doctor stoppage.
Following his loss, McGregor was slapped with a 6-month medical suspension. He will be out until the second week of January 2022. In a recent episode of MMA Hour (back after a long time) with Ariel Helwani of MMA Fighting and BT SPORT, Dustin Poirier revealed if McGregor would ever return to his 2016 version.
"Maybe he can, who knows?" – Dustin Poirier on Conor McGregor
Poirier was quoted as saying, "I mean. I have no clue Ariel. The road that he is going to have to recover that leg is going to be long. But, when you're committed to things and you bust your a**, a lot of special things can happen. Maybe he can, who knows? Only time will tell." [h/t FirstSportz.com]
The Conor McGregor of 2016 was legendary. 'Mystic Mac' became the first-ever double champ in the history of the UFC after beating Eddie Alvarez in November 2016 (UFC 205). He held both the featherweight (after beating Jose Aldo at UFC 194) and the lightweight title that night.
Ever since that win, McGregor's career has taken a downward plunge. He has just won, one of his next four fights. Losing twice to Poirier, once to Khabib Nurmagomedov and taking a W against a washed Donald Cerrone at UFC 246.
Poirier, on the other hand, is set to take on Charles Oliveira for the lightweight title. The venue and the date for the same are yet to be announced. It will either take place at the end of this year, or at the beginning of next year. 'The Diamond' also didn't write off a quadrilogy fight against McGregor. He was open to fighting McGregor once again, if it made sense.
Will Conor McGregor ever get back to his 2016 self?
Also Read: Who holds the record for most wins in UFC history?
Also Read: Ciryl Gane MMA Record: What is the French champion's mixed martial record?