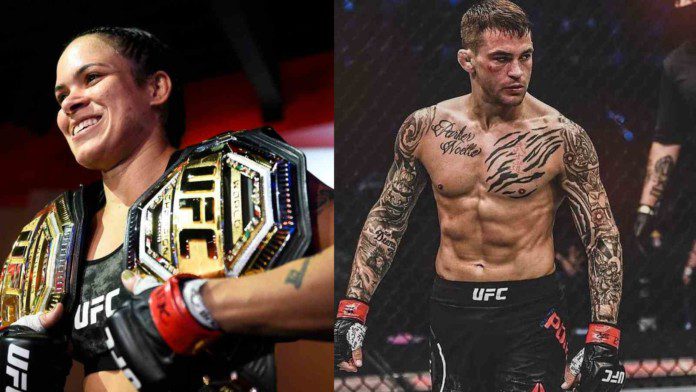 Some of the legends of the MMA world will take on each other in the UFC 269 which will start on Saturday, 11th of December and will go on for a week. The major fights will be Amanda Nunes vs Julianna Pena and Dustin Poirier vs Charles Oliviera.
Brazilians, Nunes and Oliviera will take on Americans Nunes and Poirier in the bantamweight and the lightweight division respectively. So, obviously, Nunes will be rooting for Oliviera. Right? Apparently not! In a recent interview with combate, Nunes said that she will be supporting Poirier. The reason might not be known to many. Both Nunes and Poirier belong to the MMA team, American Top Teams, and have been friends since 2014. Oliviera belongs to the rival camp of Florida.
Oliviera will take on Poirier for bragging rights and also for defending the lightweight title which he holds for the first time. Nunes will take on Pena to defend the bantamweight title. Pena is a strong contender for the title and Nunes will need all the support and willpower she can gather. Poirier will also support his friend Nunes, so the support division is sorted.
Amanda Nunes speaks on her friendship with Dustin Poirier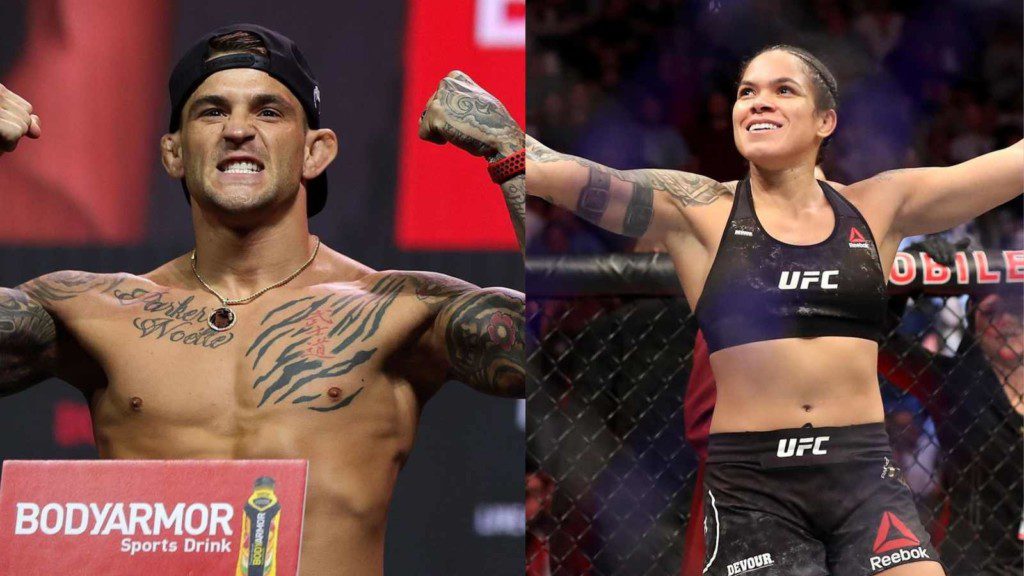 Nunes opened up about her friendship with Poirier in an interview with Comabte. She said, "There's a friendship I've had with Dustin for years. Charles is Brazilian, but my relationship with Dustin is much bigger. In addition to my training partner, he is a guy we talk to, who is together every day. My fans, unfortunately, will be for Dustin. But it will be a fight! The two athletes will definitely be very well prepared. Charles is a great champion, a guy who is a phenomenon, very good at what he does. And I expect a great fight, which for sure will be."
She also added, "When you put your hand on the belt, it gives you a "superpower". When you take it, it's yours, you take it home and see this belt every day, it already gives you a "superpower". For your opponent to already know that you are champion, you already have the advantage. I think this superpower will help you a lot. Because Dustin, who is my friend at the gym, my real partner, is also a great champion, he has already felt that same vibe. 
So, I think this fight will be very dangerous for Charles because Dustin already knows what it's like to be a champion too. It will be a very close fight and the best will win. I think they both have a great ability, both Charles to keep and Dustin to be the youngest champion. They are both great athletes and we will definitely be there ready to put on a great show for the audience." considering the fact that Oliviera is the defending champion.
Watch the exclusive interview by Daniel Cormier and Ryan Clark hosting Amanda Nunes and Dustin Poirier-
Also, read- Charles Oliveira Net Worth, Fighting Career, Endorsement, wife, parents, and more