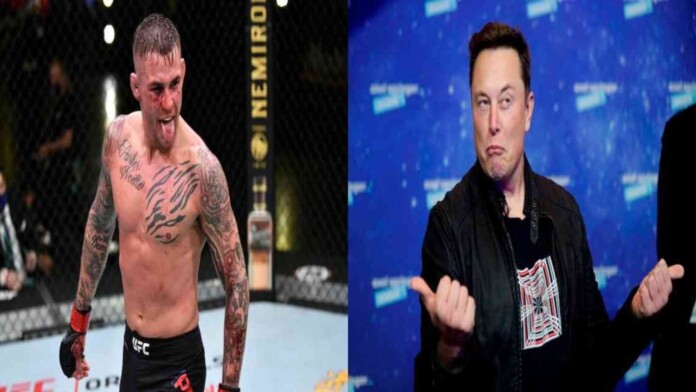 Dustin Poirier has responded to an Elon Musk tweet, asking him for a Tesla. The Tesla Inc. boss tweeted that Tesla has diamond hands, alluding to the recent dip in the cryptocurrency market, especially Bitcoin. Seeing this as a chance, 'The Diamond' Dustin Poirier used the same emoji to ask Musk for a Tesla car.
Musk's tweet read, "Tesla has diamond hands." Poirier wasted no time to reply to the big shot's tweet, he wrote, "Diamond needs a Tesla." On a side note, a win against Conor McGregor at UFC 264 would give him enough money to buy umpteen sports cars!
Dustin Poirier's tweet comes just days after Beneil Dariush called out Elon Musk!
Poirier's tweet comes in the wake of Beneil Dariush's own story with the Tesla boss. Dariush beat Tony Ferguson at UFC 262, and called out Musk at the post-fight interview. The Iranian stated that he was frustrated waiting a long time for his Tesla car delivery, and wanted it to be delivered soon.
Musk immediately apologized on Twitter, and assured him that it would be delivered soon. Quite down to Earth from a man of his stature!
Boss move from Elon Musk as he gifts a 'free car' to Beneil Dariush
Since Dariush's order was being delayed, Musk decided to send a free car for the Iranian in the meantime. Dariush was pictured posing alongside a white Tesla. His manager Ali Abdelaziz acknowledged it tweeting, "@elonmusk came through for @beneildariush with a free car until his order is ready. Elon is a gangster @ufc."
Dariush then replied, "Not winning any style contest, but we find a way."
That was largely heartwarming!
Also Read : 'Snakes in the grass' – Tyson Fury pokes fun at Deontay Wilder as he teases trilogy bout with 'The Bronze Bomber'
Also Read : Michael Bisping and Daniel Cormier slam the judges for awarding Michael Chandler a 10-8 in the first round against Charles Oliveira
Also Read : 'Rían McGregor' – Conor McGregor is now a dad of three!