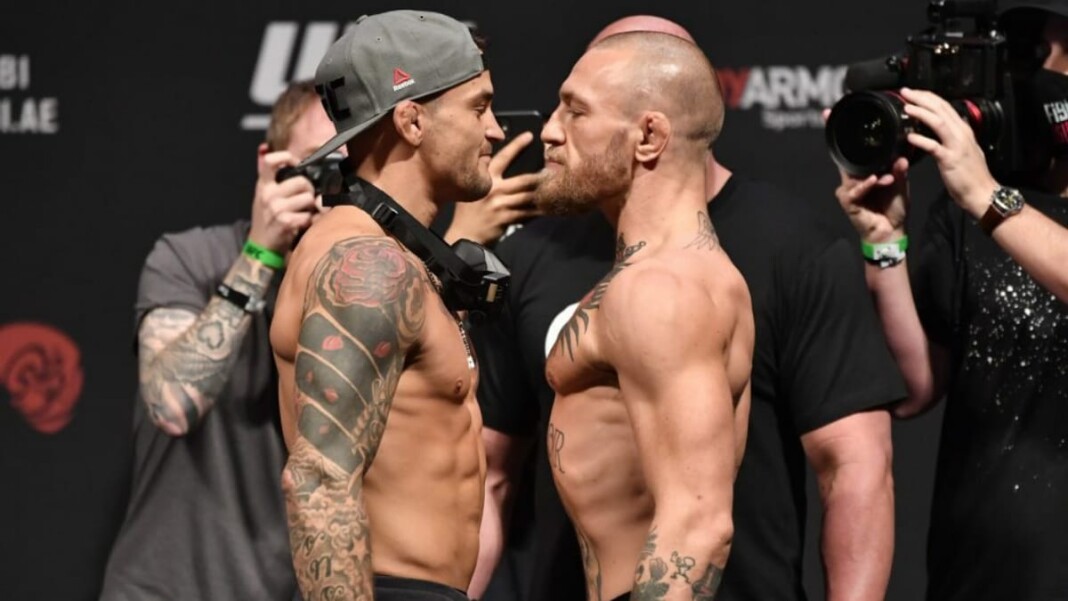 Dustin Poirier will be looking forward to getting his hands raised on the 10th of July in Las Vegas. He takes on Conor McGregor in the main event of UFC 264. 'The Diamond' will be going into this fight, brimming with confidence after he knocked out McGregor the last time out at UFC 257. It was the Irishman's first-ever knockout loss. With the rivalry scoreline currently at 1-1, both the fighters will be looking to go hammer and tongs, come the next weekend.
A fortnight ago Conor McGregor had posted a cryptic tweet that read, "First one to shoot's a dusty b****." He was talking about the fight being taken to the ground, probably alluding to the fact that Poirier might not stand in the center of the Octagon and fight him.
Following McGregor's tweet, Dustin Poirier responded to the same with his own version. In an extensive interview with Brett Okamoto of ESPN, ahead of the trilogy fight, Poirier hit back at McGregor saying that the first one to get takedown would be the 'dusty b****.'
'This is mixed martial arts…Put it all together' – Dustin Poirier to Conor McGregor
Poirier told Okamoto, "How about the first one to get taken down is a dusty b****? This is mixed martial arts. Put it all together. It reeks of insecurity to me."
Dustin crippled McGregor with his innumerable calf kicks at UFC 257. The kicks largely inhibited McGregor's mobility in the fight, as the Irishman failed to check them. Hence, he will be prepared for everything this time around.
The winner of the fight gets to fight newly-crowned lightweight champion Charles Oliveira for the lightweight title. Number 1 ranked Poirier had already risked it all when he declined a title shot at UFC 262, and settled down for a trilogy fight against McGregor in a bid to chase legacy and greatness.
Who do you think will emerge victorious next weekend?
Also Read : "How did I deserve this graciousness" – Sarah Alpar reacts to Jake Paul's donation of $5000; also reaches her target of $30,000
Also Read : "I'm super jealous and envious of the run he's had" – Cody Stamann on Sean O'Malley