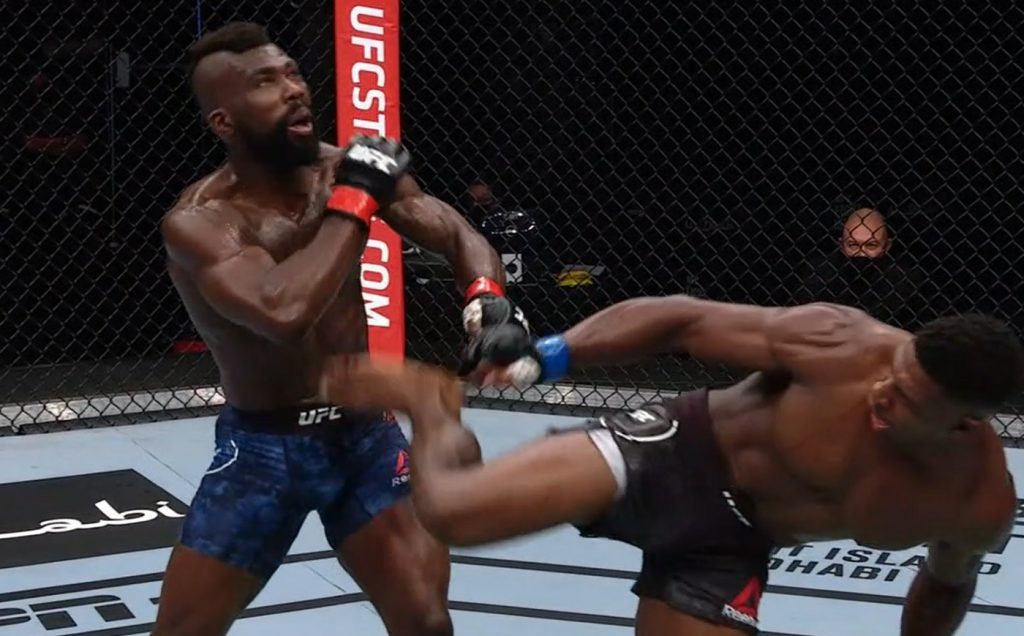 UFC Fight Island 5 is the 5th event that is being organised at Fight Island in Abu Dhabi, UAE. The UFC Fight Island 5 prelims started with a string of decisions, but we did get one of the greatest knockouts of all time — and that was followed by two first-round finishes.
Not just that, UFC Fight Island 5 also got a candidate for Knockout of the Year, thanks to Joaquin Buckley landing a brilliant spinning back kick counter to the face of Impa Kasanganay in the second round.
Watch all results below-
Tom Breese def. KB Bhullar by TKO at 1:42 of round 1: Middleweight
Tom Breese pressed forward, with his jab and followed up by putting a hard right hand behind the jab. Breese repeated the same method again and again, finally following up with more punches that made referee put a stop to the contest.
Chris Daukaus def. Rodrigo Nascimento by KO at :45 of round 1: Heavyweight
It did not take Chris Daukaus more than 45 seconds to end his opponent. Daukaus caught Nascimento with a vicious left hook that dropped him to the canvas. Daukaus then caught him with another hook, that rocked Nascimento so bad, referee had to put an end to the fight in the very first round.
Joaquin Buckley def. Impa Kasanganay by KO at 2:03 of round 2: Middleweight
Joaquin Buckley just gave us the Knockout of the year. Not just the year, this might be the greatest knockout in UFC histoy! As Buckley tried to attack Impa's body with a kick, Impa caught it. Buckley countered it with a jump spinning kick that made Impa fall on the canvas.
Tony Kelley def. Ali AlQaisi by unanimous decision (30-27, 29-28 x2): Bantamweight
Kelley engaged in the very beginning, but AlQaisi caught a kick and took him down. AlQaisi shucked it off and remained in control. AlQaisi fully attacked with a guillotine, but Kelley exploded out and caused a scramble. AlQaisi landed on top but Kelley had him in an unorthodox triangle. Kelley was able to straighten the arm and cranked on it, even putting it under his armpit, but AlQaisi refused to tap and escaped the round. AlQaisi went for it. He hit a set of spinning backfists that connected and started to pour on some volume. Kelley accidentally kicked his foe in the cup, bringing a brief pause the action. The round ended with both guys winging their respective strikes.
Giga Chikadze def. Omar Morales by unanimous decision (30-27x 3): Featherweight
Morales brought pressure to start the final round, but wasn't throwing much. He went went for the takedown, but Giga was able to fight it off and remain standing. Chikadze finally landed clean, sending Morales crashing to there canvas. Giga crashed down with ground strikes, but somehow Morales survived and made it back to his feet. Morale was clearly hurt, but the fight went to the scorecards.
Tracy Cortez def. Stephanie Egger by unanimous decision (30-27): (W) Bantamweight
Egger tried closed the distance in the final round and tried to put Cortez on her back. Cortez was having none of it, though, and even got a takedown of her own. Egger spent some more time defending on the floor, and even gave up her back again before the bell.
Tagir Ulanbekov def. Bruno Silva by unanimous decision (30-27, 29-28 x2): Flyweight
Ulanbekov stayed with his boxing to start the final round. He was making the most of his reach advantage by popping out his jab and then building off of it. Silva was defending the takedowns, but struggled to mount much of any offense of his own.
Also Read: Joaquin Buckley scores knockout of the year against Impa Kasanganay