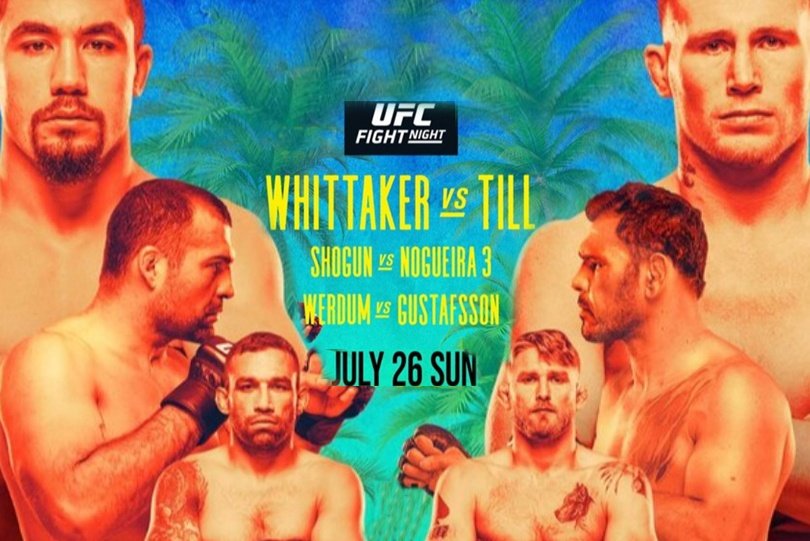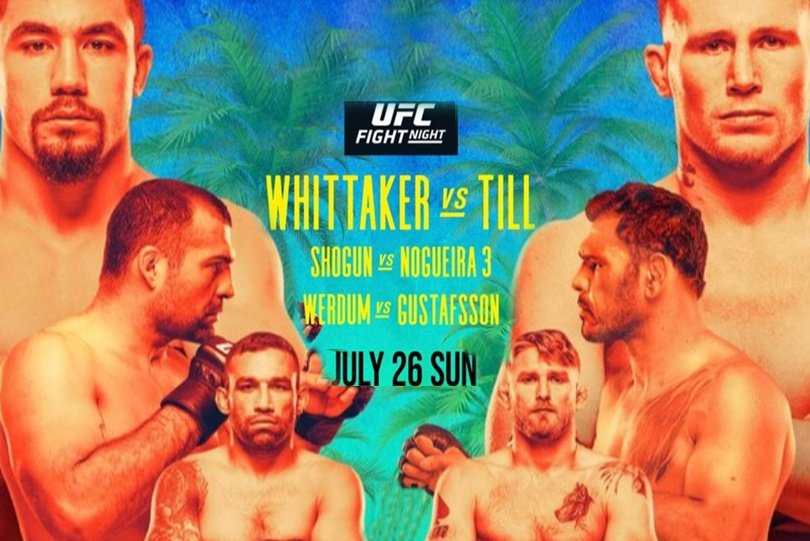 UFC Fight Night finale happened in Abu Dhabi. This was the last event for July. This ended the strings of events promised by Dana white after UFC was resumed ahead of pandemic lockdown
Brief results
Main Card
Robert Whittaker def. Darren Till via unanimous decision (49-48 x3)
Mauricio Rua def. Antonio Rogerio Nogueira via split decision (29-28 x2, 28-29)
Fabricio Werdum def. Alexander Gustafsson via submission — 2:30 of round 1
Carla Esparza def. Marina Rodriguez via split decision (29-28 x2, 28-29)
Paul Craig def. Gadzhimurad Antigulov via submission — 2:06 of round 1
Alex Oliveira def. Peter Sobotta via unanimous decision (30-27 x3)
Khamzat Chimaev def. Rhys McKee via TKO — 3:09 of round 1
Preliminary Card
Francisco Trinaldo def. Jai Herbert via TKO — 1:30 of round 3
Jesse Ronson def. Nicolas Dalby via submission — 2:48 of round 1
Tom Aspinall def. Jake Collier via TKO — 0:45 of round 1
Movsar Evloev def. Mike Grundy via unanimous decision (30-27 x2, 29-28)
Tanner Boser def. Raphael Pessoa via TKO — 2:36 of round 2
Pannie Kianzad def. Bethe Correia via unanimous decision (30-27 x2, 29-28)
Ramazan Emeev def. Niklas Stolze via unanimous decision (30-27 x2, 29-28)
Nathaniel Wood def. John Castaneda via unanimous decision (30-27 x3
Detailed Results
Robert Whittaker def. Darren Till via unanimous decision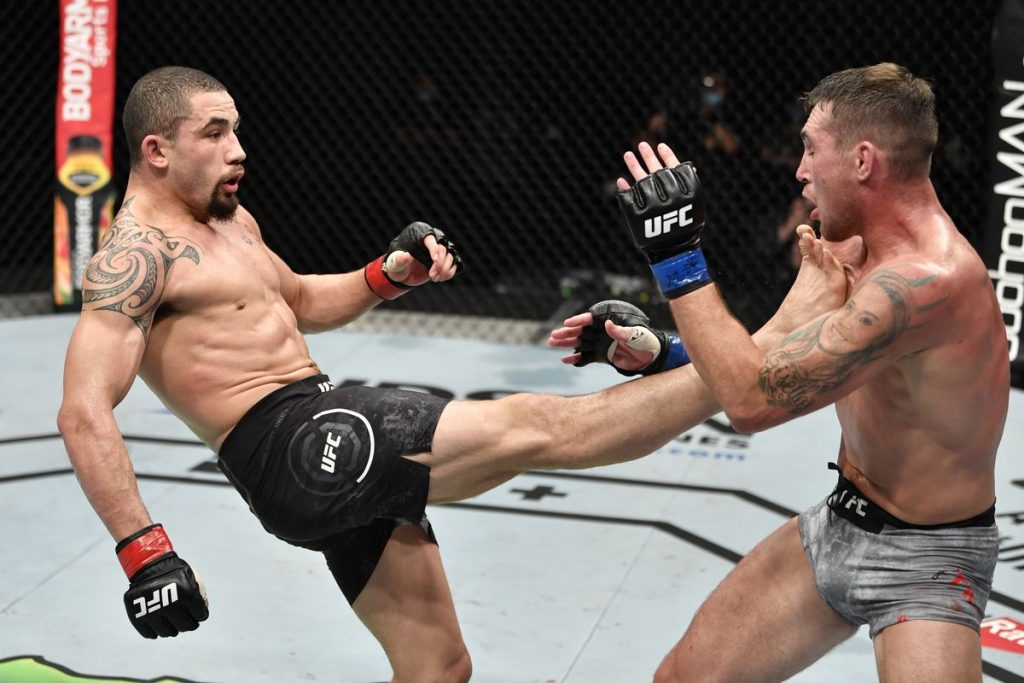 A lot was on the line for former UFC middleweight champion Robert Whittaker heading into his UFC Fight Night headliner against Darren Till.
The fight started with Till racing out of the gates and attempting to charge at Whittaker, who landed a stiff jab give his opponent pause. Till countered a Whittaker punch with a short left elbow that dropped the former 185-pound titleholder.
Whittaker kept the momentum from the end of the first and brought it into the second, dropping Till with a thunderous right hand. The fight came down to the third round as it was about as even as you can get. Neither Whittaker nor Till was able to seize control. Both fighters connected on their fair share of strikes with neither gaining a distinct advantage
Things were looking to be another even round in the fourth until Till threw a vicious elbow to stun Whittaker. The Englishman followed up with a pair of hard-left hands. Till did all he could in the fifth and final round to get a finish
Till found it when he blasted Whittaker with another short elbow that caused the deep gash on Whittaker's eye. Whittaker came right back with a couple of takedowns to keep Till at bay and secure the victory.
Khamzat Chimaev def. Rhys McKee via TKO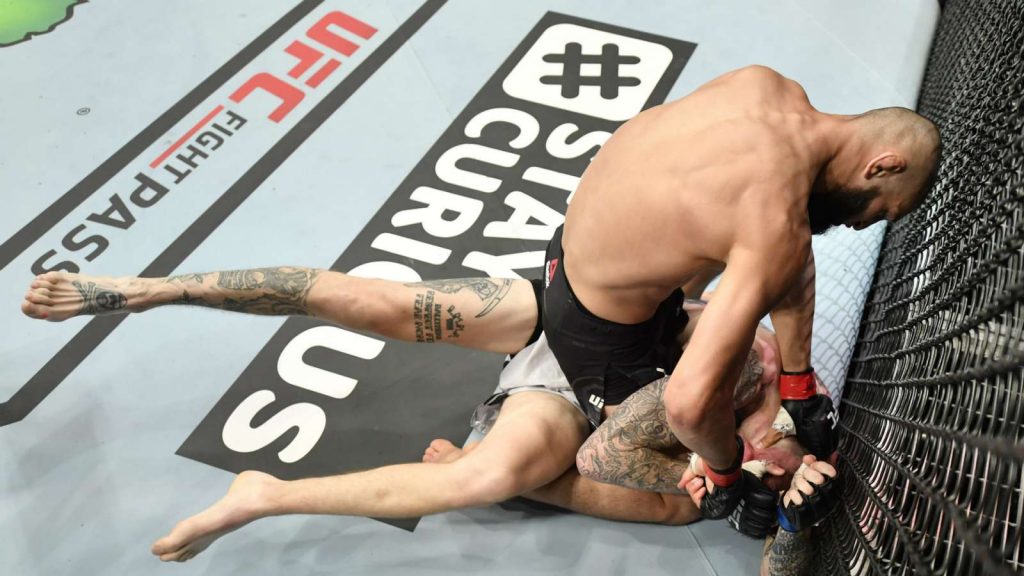 The first-round TKO was his second victory in ten days, which is a UFC record. Perhaps even more impressive is the fact that he won those fights in two different weight classes.
Chimaev impressively collected his win as he didn't absorb a single strike. He took McKee down in the opening seconds and used his impressive grappling to keep his opponent pinned to the canvas.
Chimaev started unloading the heavy artillery while looking for the best way possible to finish the Irishman off. He finally got McKee flat on the mat and uncorked a barrage of shots that forced the referee to put an end to the savagery.
Mauricio Rua def. Antonio Rogerio Nogueira via split decision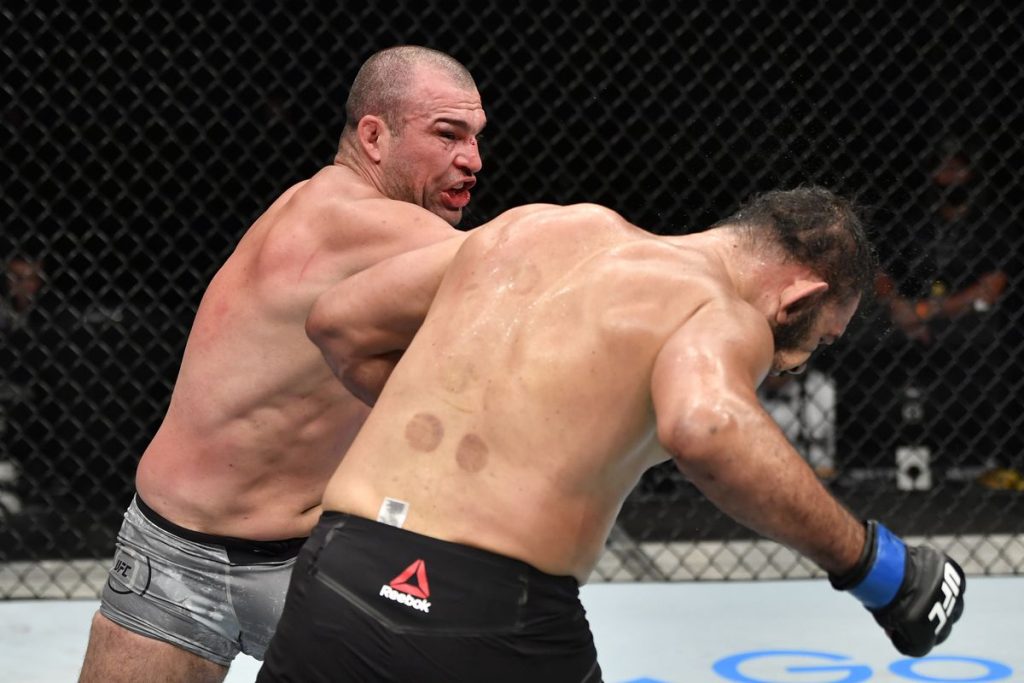 After "Shogun" picked up wins in the first two meetings in 2005 and 2015, Rua (27-11-1 MMA, 11-9-1 UFC) made it a clean series sweep over Nogueira (23-10 MMA, 6-7 UFC) with a split decision victory in the trilogy bout with scores of 29-28, 28-29 and 29-28.
Nogueira was looking to end his MMA career on a high, as he pegged the matchup as his retirement bout. Rua was having none of it, though, and did not allow his fellow Brazilian to go out on a high.
After the fight, Nogueira confirmed he would be walking away from the sport.
Fabricio Werdum def. Alexander Gustafsson via submission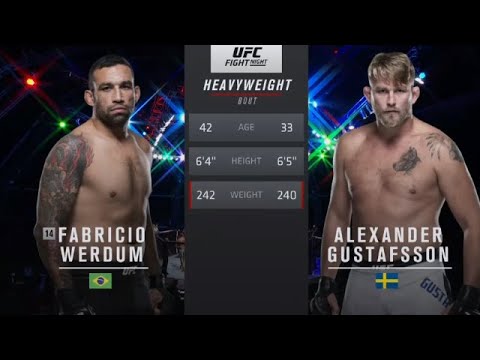 Werdum (24-9-1 MMA, 12-6 UFC), who turns 43 next week, showed he can still get the job done at a high level on the mat, as he spoiled the heavyweight debut of Alexander Gustafsson on Saturday night.
An armbar got the tap at 2:30 of the opening round of their main card fight at Flash Forum in Yas Island, Abu Dhabi, as Werdum won for the first time since 2017 after serving a U.S. Anti-Doping Agency suspension.
Carla Esparza def. Marina Rodriguez via split decision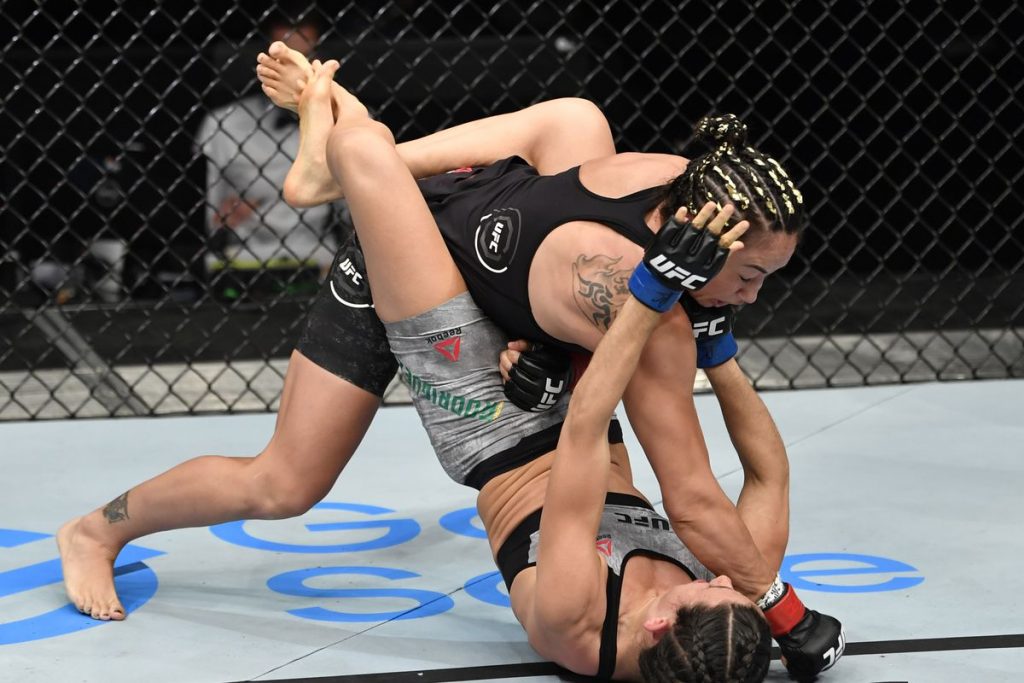 Carla Esparza added to the best winning streak of her UFC career Saturday when she put the first loss on previously unbeaten Marina Rodriguez's record at UFC on ESPN 14.
Esparza wasted no time looking to implement her game plan in the first round. She quickly shot in for a takedown and put Rodriguez on her back, where the fight stayed for nearly four minutes.
Esparza opened the second round looking to do more of the same, but Rodriguez saw it coming. She halted the early attempts and landed some solid shots on the feet, one of which opened some damage around Esparza's eye. Esparza finally got her takedown and did a little bit of work from on top for a few minutes.
With the fight tight going into the final stanza, Esparza merely waited for her time to take to the ground, though, and succeeded in her attempt. It was largely rinsed and repeat for the rest of the fight, and ultimately Esparza got the win.
Alex Oliveira def. Peter Sobotta via unanimous decision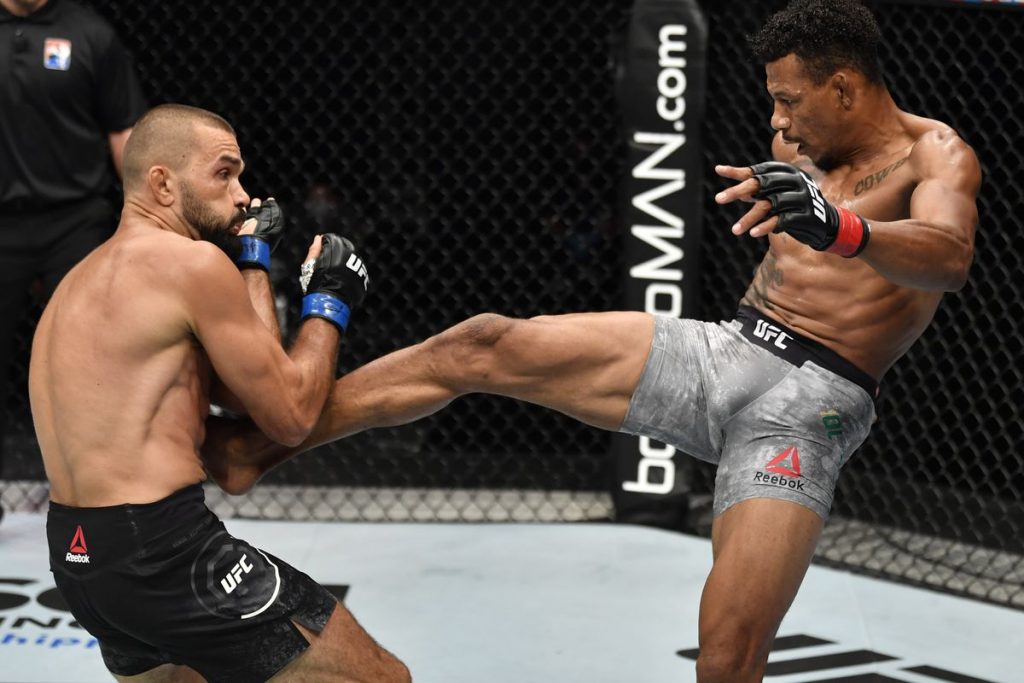 The first round began with some kicks from Oliveira that were just blocked. Sobotta had a kick to the body that was also blocked, but Oliveira returned fire with a front kick to the body. blitz from Sobotta was nicely avoided by Oliveira, who wasn't hit once.
The second round began with a takedown attempt from Sobotta, but Oliveira fended him off with some elbows to the head. A front kick was a little too low from Oliveira, who hit Sobotta in the groin. The action was temporarily stopped. When the action resumed, both men engaged in some tentative striking, not landing much. Oliveira kept holding his fingers open, and eventually poked Sobotta, again stopping the action.
Kicking off the third and final round was a body kick from Sobotta. A big kick to the body from Oliveira forced a Sobotta takedown attempt. A nice jab connected for Oliveira, and he soon followed up with another front kick to the body that seemed to make Sobotta cringe a bit. Sobotta landed a kick to the body of his own, as Oliveira appeared to take the foot off the gas slightly. Sobotta was able to land a nice left hand, but again Oliveira landed a nice kick to the body.
Official Result: Alex Oliveira def. Peter Sobotta via unanimous decision
Also Read: Tom Aspinall makes an exceptional debut; Knocks out Jake Collier in just 45 seconds