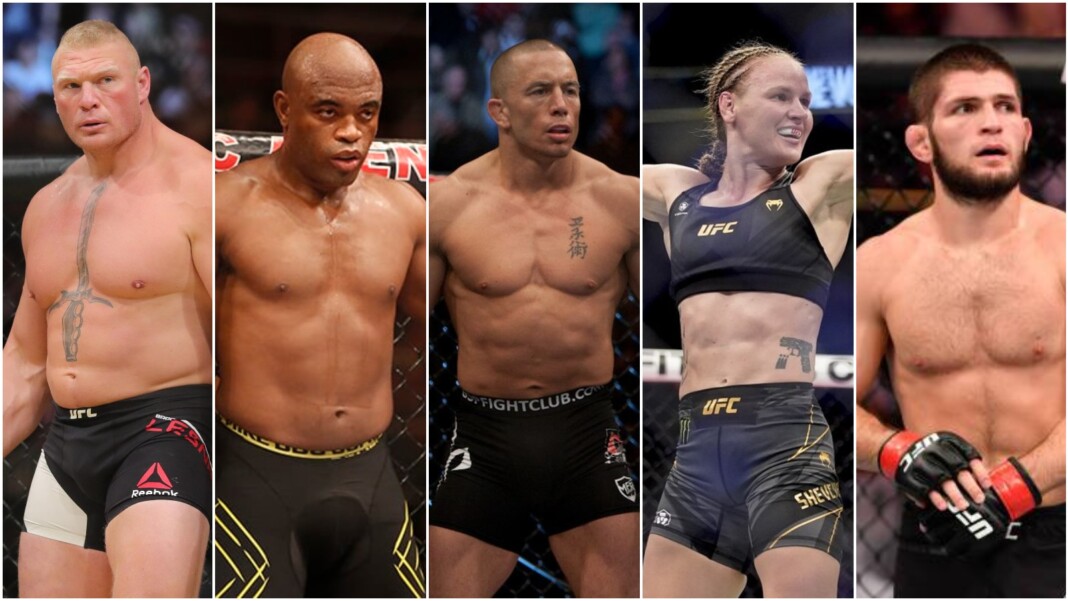 Biggest UFC Fights that never happened: Over the course of the years, the promotion has produced some high-octane fights. While most of the lip-smacking matchups have taken shape and delivered just when the fans needed them, a few have failed to happen.
From a fight being cancelled a whopping 5 times to fighters refusing to move up a weight class, there have been a lot of reasons why some super-fights never came to fruition. Here are 5 of the biggest UFC fights that never happened.
Biggest UFC Fights that never happened
5) Khabib Nurmagomedov vs Nate Diaz
The master grappler vs the man with one of the best 'cardios' in the game. The pair even brawled inside an arena at a World Series of Fighting event back in 2015. The brawl was started after Nate's elder brother Nick Diaz threw a drink at Khabib. A brawl between Khabib and the Diaz bros' entourage ensued.
Since then there was bad blood between Khabib and Nate. Nate even claimed that he slapped Khabib that night. However, a fight between the two was not even booked, let alone take place. However, there were accusations of Nate ducking Khabib multiple times.
The fight according to experts would have most probably gone in favour of Khabib. Diaz is known for his slight struggles against wrestlers. Khabib is considered to be one of the greatest wrestlers in the game. Another point worth noting is that, Khabib easily dealt with a much better striker than Nate – Conor McGregor.
4) Ronda Rousey vs Valentina Shevchenko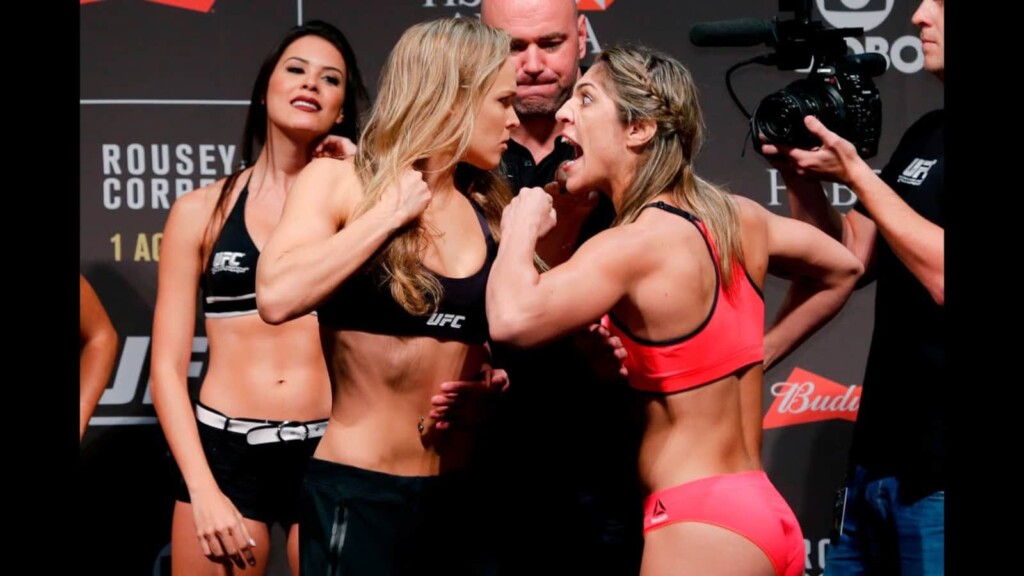 Ronda Rousey might sound like a previous generation fighter. But, the former face of the UFC, is just 34 years old. And just one year separates her and UFC women's flyweight queen Valentina Shevchenko. During the peak of her prowess, she faced a number of talented women viz. Miesha Tate, Holly Holm, Amanda Nunes. But, Shevchenko was never one of them.
Rousey was just unstoppable during the peak of her powers. Before being humbled by Holm, Rousey had beaten each and every 11 opponents of hers in the first round (barring Miesha Tate 2). Shevchenko had joined the UFC, just one month after Rousey suffered her first-ever defeat.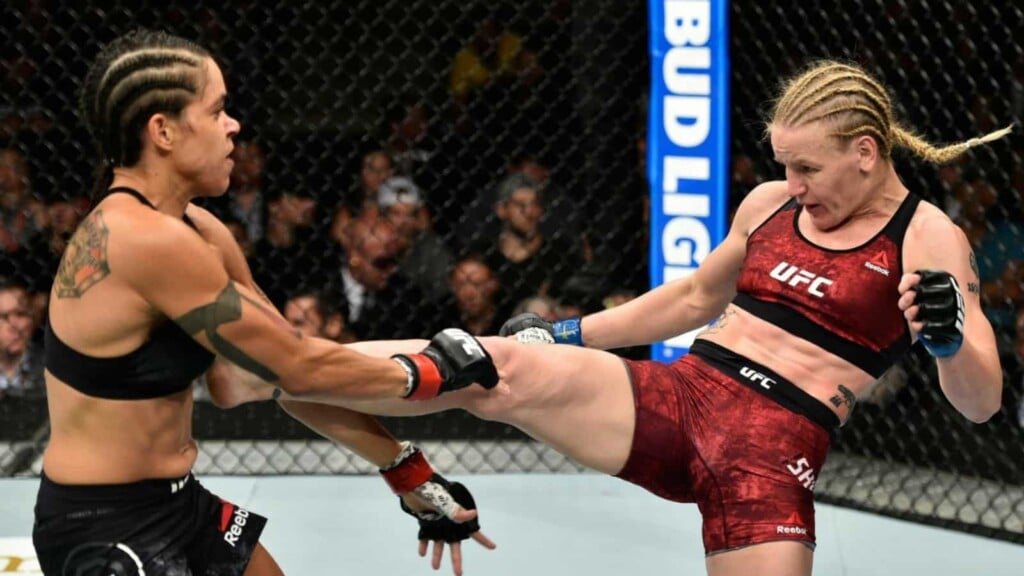 And, in a years' time, Rousey announced her retirement from the sport after a defeat to Nunes. It was only after this – the Nunes-Shevchenko rematch took place. In both the fights, Shevchenko gave Nunes a run for her money, only to go down via. a decision in both the fights.
Shevchenko vs Rousey would have been a wild, wild one if it had happened.
3) Daniel Cormier vs Brock Lesnar
"Listen to DC…Listen to DC!", Daniel Cormier began his callout of Brock Lesnar, after beating Stipe Miocic at UFC 226 in July 2018. In came Lesnar, shoving Cormier so hard that even Jeremy Stephens would have been proud. A matchup between the two loomed large. However, Lesnar announced his retirement a few months later. And now, Cormier is retired as well.
The fight would have been quite intriguing – both wrestlers (Cormier a notch above), Lesnar with the size and power advantage, DC with the skill advantage. Lesnar in his prime was explosive on another level. He was just running through opponents before being humbled by Cormier's training partner Cain Velasquez.
A big point in favour of Cormier is that, he knocked Stipe Miocic, who is considered to be one of the greatest heavyweights of all time, out – which is by no means easy. Has Lesnar done that? Frank Mir, Randy Couture?
2) Khabib Nurmagomedov vs Tony Ferguson
All the aforementioned fights were never booked, but this one between Khabib Nurmagomedov and Tony Ferguson was booked a staggering 5 times. And each and every time either of the two pulled out citing injuries and whatnot. What began in August 2015 never saw the light of the day until Khabib's retirement.
The first time it was a rib injury forcing Khabib out of the fight, next it was 'El Cucuy' with lung issues, the third time it was Khabib's weight-management issues – who could forget the 'Tiramisu gate?'. The fourth time, Ferguson had to pull out due to a ligament injury. A finally the coronavirus pandemic spelt the doom on the fifth and final time the fight was booked – UFC 249.
It's a fight Khabib's late father Abdulmanap Nurmagomedov always wanted to witness.
1) Anderson Silva vs Georges St-Pierre
Anderson Silva and Georges St-Pierre at their primes were levels above the rest. Both the legends hit their peak (in the late 2000s and early 2010s) at the same time. While St-Pierre ruled the welterweight division, Silva was pummeling opponents in the middleweight division. Although, only a weight class separated the two, a duel between them never took place.
UFC President Dana White revealed that GSP was not willing to move up a weight class and hence the fight never came to fruition. However, when GSP made his comeback after four years in 2017, he did fight in the middleweight division. In fact, he ended up winning the middleweight championship after beating Michael Bisping.
St-Pierre retired from the sport in 2019 after bouts of ulcerative colitis. Silva, on the other hand, was released from the UFC in 2020.
Also Read: UFC Vegas 39: Dern vs Rodriguez prelims results
Also Read: Throwback to when Tyson Fury mocked Deontay Wilder ahead of their rematch weigh-in in 2020