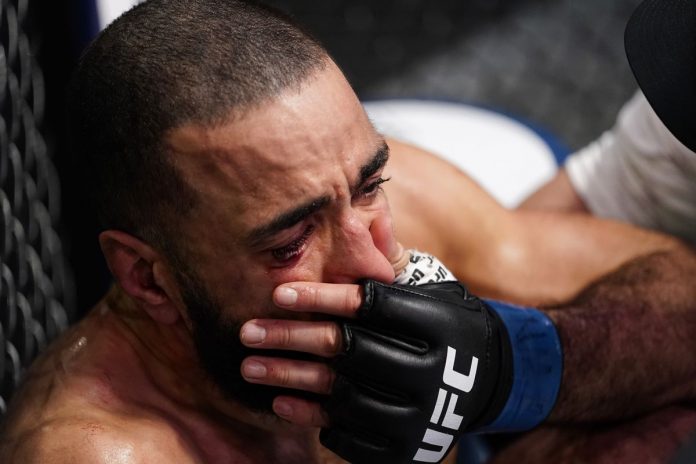 Belal Muhammad suffered a nasty eye injury in his bout against Leon Edwards, at the recently concluded UFC Fight Night. The fight ended up being a no-contest; the reason – an accidental eye poke from Leon Edwards which almost gouged Belal's eye off his socket. Belal was left grimacing in pain; and expressed his desire to take on Leon Edwards in a rematch via Twitter, later in the day.
Several fights have been ending prematurely of late causing frustration among the fight fans, and especially this one didn't sit well with the MMA community. A lot of fighters blamed it on the 'UFC gloves' for such mishaps frequently affecting the fights. There was a resounding outcry for a change of gloves.
'It's time to fix the UFC gloves'
The gloves used in the UFC, allow complete mobility of the fingers, due to a design flaw – the fingers are extended outwards, which increases the possibility of eye-pokes. Since, fingers have to be exposed in mixed martial arts, a glove that covers and curves at the knuckles – which prevents the fingers from being extended outwards, might probably do the job.
Aljamain Sterling, who himself featured in a match that ended due to an illegal strike, just last week, made his opinion known. He tweeted, "We need new gloves. Period! They're out there. I just don't understand what we're waiting for to make these changes. How many more eye injuries do we need to bring these new gloves in, that significantly reduce the spreading of the fingers."
Dan Hardy who is in the middle of a controversy, called for a change.
There was a suggestion from a user to use American boxing and MMA trainer Trevor Wittman's gloves.
Do you think the UFC should look into it as soon as possible and opt for a change of gloves, since there has been an outcry for the same for quite a long time? Sound off your thoughts!
Also Read : An irate Belal Muhammad blasts Leon Edwards