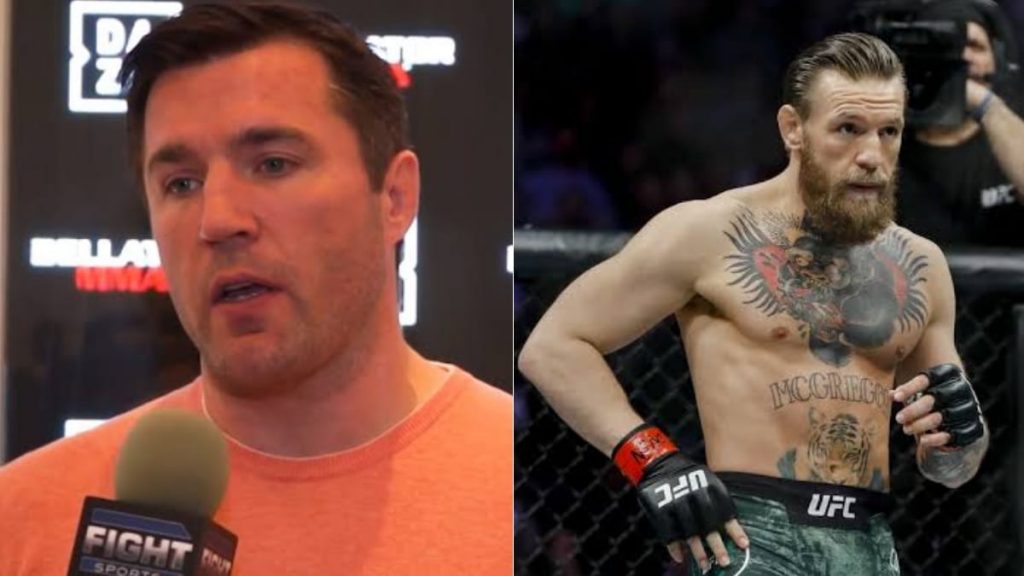 Conor Mcgregor's set of cryptic tweets last Wednesday had the whole MMA world wondering what they meant, including former two-time UFC champion, Chael Sonnen.
"Shitty jocks."
"You can run, but you can't hide."
"Don't be scared, homie."
The tweets were sent out in this order and Sonnen reacted to them on his YouTube channel. Like the rest of us, Sonnen, at first, believed that these tweets were aimed at Khabib Nurmagomedov.
"Conor McGregor sends out a cryptic tweet, the tweet says, and I quote, 'You can run, but you can't hide.' Hashtag: 'don't be scared, homie.' All Conor wanted us to do with that tweet was to speculate as to what the hell he is talking about. And guess what, Conor? You get your way! Because we are drawn to believe that he is referring to Khabib."
The 'Don't be scared, homie' sentence is a famous quote tied to Nick Diaz. Conor had a rivalry with Nick Diaz's brother, Nate Diaz. Sonnen believes that Conor may have confused himself and used Nick's quote to call out Nate.
"'Don't be scared, homie,' that's a Diaz quote. Nick Diaz, to be specific. But I'm not sure Conor would know the difference between Nick and Nate. He might have just got it wrong over time and then re-associated that quote to Nate now," said Sonnen.
"He might have been paying homage, maybe Conor is just an 'OG' cage fighter that is going back to when that quote came about to be funny, or maybe he's not talking about Khabib, he is calling out Diaz. Nick is the one that said it, not Nate, but Conor's got heat with Nate. Make no mistake: part three is happening at some point,".
Sonnen dismissed the possibility that the tweets were targeted at Dustin Poirier, as McGregor and Poirier are already set to fight in January.
Sonnen believes attacking a rival's psyche is a useful weapon in a fighter's arsenal
Sonnen, one of the most controversial fighters of his time, employed similar tactics against his rivals. For him, posting cryptic messages on social media to create intrigue and speculation, is an excellent skill for a fighter to have.
"I did this one time, by the way. I'm trying to think of what my exact message was. But I was talking back to somebody, I think it was Wanderlei [Silva], and it was through Twitter. I didn't have a great line. I knew I didn't have a great line," recollected Sonnen. "So, I capitalized one of the words in the line. I believe I capitalized the word 'real.' I put 'real' in capitals, which phonetically looked great.
For the English language, it's inappropriate typing, but people speculated as to why I capitalized that word. That was my entire intent because I knew the line wasn't good. I only offer that to you because there's something great about when a guy sends out a cryptic tweet. Speculation is the worst thing that you could ever have to deal with."
The tweet that Sonnen was talking about was directed toward Lyoto Machida, not Wanderlei Silva as he incorrectly recalled.
Sonnen then suffered a loss via TKO against Machida in his last professional bout, held at Bellator 222.
A minor possibility could be that McGregor's tweets were directed at YouTube and boxing star Jake Paul. Paul who recently won his match against former NBA player, Nate Robinson, has been calling out "The Notorious" and his camp member Dillon Danis for a while now.
Mcgregor has been ignoring the YouTuber thus far, so it seems unlikely that the Irishman is calling him out. What do you think was the intention behind McGregor's tweets?
Also read; Niko Price versus Cowboy Cerrone becomes no-contest as Price tests positive for marijuana and receives a six-month suspension