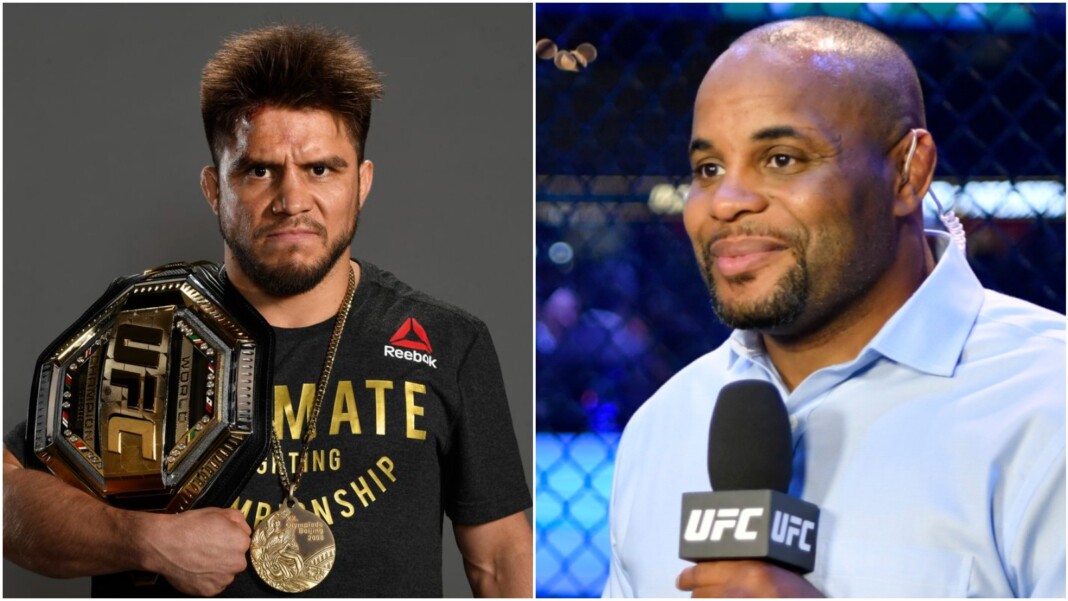 Henry Cejudo is one of the greatest mixed martial artists to have ever graced the Octagon. Having won the Olympics Gold medal in wrestling in Beijing 2008, Cejudo dominated the UFC in the late 2010s. He beat Demetrious Johnson at UFC 227 via. split decision to win the flyweight belt, and won the vacant bantamweight belt a year later.
'Triple C' as he is known, Cejudo defended his flyweight and bantamweight belt once before announcing his retirement from the sport. His last fight was against Dominick Cruz at UFC 249 – a second-round TKO win to successfully defend the bantamweight belt.
More recently, Henry Cejudo expressed his desire to return to the Octagon in a bid to become the featherweight champion as well – which would make him C4 or 'Quadruple C'. Former UFC heavyweight champ and current analyst Daniel Cormier weighed in on the same, and stated how tough it would be for someone to be able to do that.
"Everybody thought Conor was gonna be the one that pursued this first" – Daniel Cormier on Henry Cejudo trying to be a three-division champ
Cormier was quoted as saying, "To be a three-division champion, everybody thought Conor [McGregor] was gonna be the one that pursued this first. Now it seems like Henry [Cejudo is] gonna be the first person to try to attempt to do something that honestly seems impossible."
Alexander Volkanovski is currently the featherweight champion, and he is no slouch. He beat the 'best boxer in the UFC', Max Holloway twice, to keep hold of his title. And his recent win over Brian Ortega proved just how tough he is. Cejudo simply wouldn't have an easy time, fighting Volk.
It is worth noting that, Cejudo has very often expressed his desire to return to the Octagon ever since announcing his retirement. Although he did seem serious this time around, it might just be another typical 'Triple C' statement. What are your thoughts on the same?
Also Read: UFC Vegas 38: Santos vs Walker prelims results
Also Read: Alex Oliveira net worth, MMA career, Endorsements, Girlfriend, Parents and More