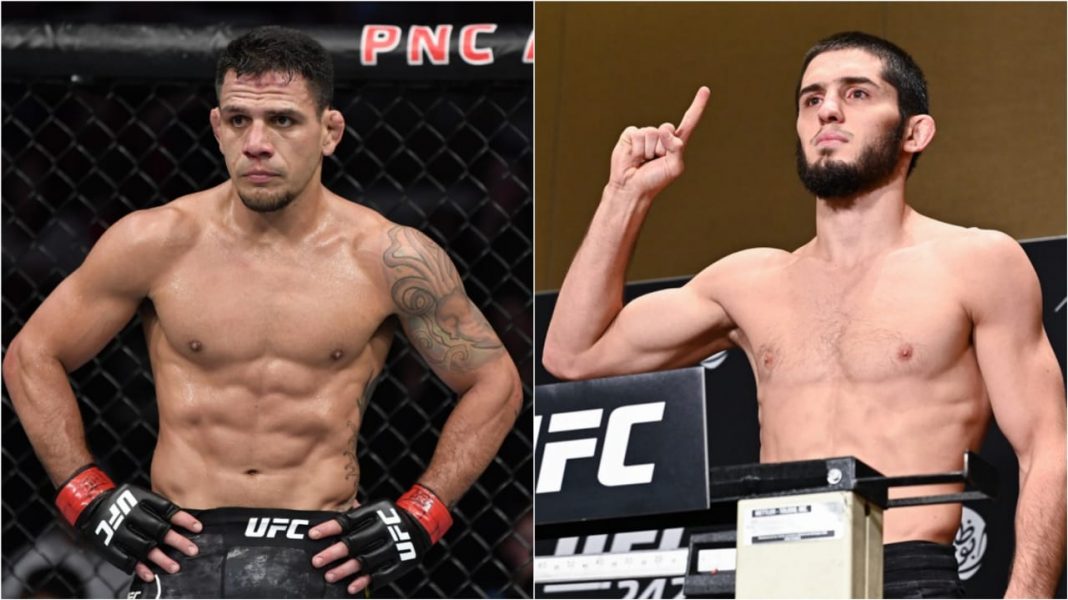 Islam Makhachev and Rafael dos Anjos are neck-deep in their feud now. Following his victory over Thiago Moises in the main event of UFC Vegas 31, Islam Makhachev called out Rafael dos Anjos, Michael Chandler and Tony Ferguson. He had already been accusing dos Anjos of ducking him very often.
Following the Russian's call out RDA claimed on Twitter that he would be ready to fight Islam Makhachev and also that he would defeat him, which would result in Khabib Nurmagomedov coming out of retirement. And now Makhachev has fanned the flames by bringing up an old RDA tweet.
"I'm playing the same you are" – Rafael dos Anjos to Islam Makhachev
A couple of months ago, Makhachev had just broken into the top 15 of the rankings. He was placed below dos Anjos, somewhere around number 9 or 10. Makhachev posted a Tweet from RDA (dated April 14, 2021), which reads, "Got a call couple days ago to fight a top contender on the division, I said yes, I'm waiting on the other side."
A fan replies to the same asking, "Makhachev." And, RDA replies, "???Is this guy a top contender??"
Makhachev posted the screenshot of the above-mentioned tweets and claimed that RDA has been calling him out now because he has gone above him in rankings. Makhachev tweeted, "It's funny that RDA showed up after few days, only when rankings got updated Grinning face don't worry grandpa, I will smash you, despite you are lower in rankings."
Following his win over Moises, Makhachev moved to number 5 in the rankings, going two places above dos Anjos who sat at number 7.
Dos Anjos then replied to Makachev's tweet saying that he was ready. His tweet read, "I'm playing the same you are. Let's meet in the cage. 5 rounds don't be a pussy."
Rafael dos Anjos doubts if it is really Islam Makhachev tweeting from his account
Earlier today, Islam once again clapped back at dos Anjos, writing, "Hey grandpa, what happened now? trying to find excuses to quit? Take the fight and start training, don't be a pussy."
Rafael Dos Anjos then pointed out with a Tweet that – it was not Makhachev who was tweeting from his account. His tweet read, "If was Islam I would seriously reply, but I know it's not him." Who then? Probably Ali Abdelaziz?
Judging by the look of things, Makhachev vs dos Anjos might prove to be a cracker of a contest. Who have you got?
Also Read: Zhao Shuai Net Worth: Know all about The Chinese Taekwondo practitioner, Bio, Career achievements, Coach, Parents, and more
Also Read: Jang Jun Net Worth: Know all about The South Korean taekwondo practitioner, Bio, Career achievements, Coach, Parents, and more